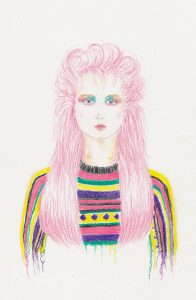 HELLO! I'm Celeste Hawkins from Melbourne Australia!
Welcome to my fun space where I draw, write and most of all have fun and take risks! It's also a place for great stories about artists so if you're looking for inspiration you've come to the right place!
I started here back in 2012 when I had a huge urge to write after taking on some study in the Visual Arts. Having blogged five years before this (but given up due to being bored with my approach and distracted with starting a new teaching career) this time I was determined to make it stick. I knew the topic of art was broad and never ending and loved everything about it. This process involved me connecting with (mostly) Melbourne Artists and just really diving deep into their practices and paths they took to get where they were. I also produced some nice essays, reviews and just a few 'how-to's'. It's all there so browse away! Check out the interview section for some of these amazing artist journeys. And explore the Art Diary series for more! And thanks kindly to The Big Smoke for a review of my blog. Read it here.
If you would like to re-post any of the written content here please contact me on the email address below. For images, please provide a link or written credit to this blog. Thanks!
If you have any suggestions please contact me on :
theartandthecurious@gmail.com
I hope you find a few interesting surprises along the way…
©2012-2018 Celeste Hawkins:All Rights Reserved