By Celeste Hawkins
Many artists past lived through the experience of mental illness. Artists such as Munch and Goya in various stages of their painting careers presented images in their works of tormented and twisted souls, emanating their state of mind.
In contrast, a lot of Knapper's work explores the more surreal aspects of the artist's mind. Unlike the literal, and often dark expressionistic images Munch portrayed years before, Surreal art opens it's doors for viewer interpretation and a key to unlock some of the hidden cavities in the mind of the artist. As you will read below, Knapper also draws on varied mediums such as those from Popular culture to convey his ideas.
 Imaginarium: works by Adam Knapper
Adam Knapper challenges the convention of categorisation both as an artist and in relation to the history of his lived experience of mental illness. Imaginarium gives precedence to Knapper's unique and subjective vision, and aims to question the relevance of knowing the details of an artist's diagnosis in understanding their work.
Spanning the last twenty-five years, Knapper's body of work includes painting, illustration and street art and he has drawn inspiration from a broad range of sources including Surrealism, Pop Art, music and film. This exhibition invites viewers to be guided by their imagination, reflecting Knapper's desire to create a whimsical playground of intersecting ideas and motifs.
Imaginarium is the third in The Dax Centre's program of solo exhibitions, which brings focus to the work of certain artists whose practice raises issues of particular significance within the field of art and mental health.
Kenneth Myer Building
Genetics Lane off Royal Parade
Melbourne, VIC, 3000
Exhibition starts: February 6th
Opening hours: Wednesday – Friday 10am – 5pm
Entry by donation
Current exhibitions:
The Emotional World of Children
and Selected Works from the Cunningham Dax Collection.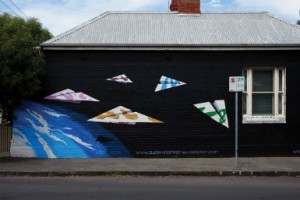 Photo Source:
http://www.thatsmelbourne.com.au/