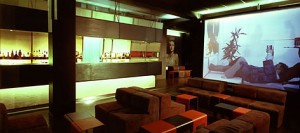 So much great stuff happening in Melbourne at the moment. Two of  my teachers and one former teacher at VU: Paul Borg, Gina Kalabishis and Shannon Smiley had an opening of an exhibition at
Chapman and Bailey
on Johnson Street on Tuesday night. All were mostly oil paintings and brilliantly executed. So much talent in one room!
Now those works were mostly hung on a wall and on some of varying proprtions and some on a large scale. However, for a different art viewing experience of smaller works, you could also get yourself down to Loop Bar in Melbourne and see how the creative talent of artists work is displayed in a unique way. Madeline Scott and the Manager of
Loop
talk here about their very special space for artists:
We had this idea from the very beginning. In the early stages of Loops renovation, I discovered a space at the back, next to the 2nd Screen. I thought if I could put a glass door over this built-in space, it could be used as a vitrine for the display of peoples works. It has been used a number of times by artists but because of its size, shape and its location in the venue it wasn't very popular. The idea lay dormant until we needed to overhaul the window bays. I realized that this was a perfect site to setup Loophole. It allows the public to get up close to the work, and live with it for the duration of their visit.
There is a great urgency for creatives, throughout their working life, to connect with as many people as possible. Exposure is tantamount to an artist work. The right people seeing and supporting the work usually guarantees an artists success. Its a positive thing to an artist, that the boundaries of display have become increasingly blurred. Loop is offering creatives to exhibit here, as an alternative to the white cubes, retail boutiques and corporate foyers, were the public is least expecting to encounter an artists intervention.
Loophole is an opportunity for local and emerging designers, artists, craft and accessory makers to show innovative and experimental work in our cabinet display spaces. The work will be seen in the context of the busy, well established Loop Project Space & Bar.
LoopHole is a unique project- as an alternative to the conventional gallery space, we aim to not only showcase a wide variety of works to an engaged audience, but to offer a free space to young emerging artists to show work, and a space for craftspeople and other artists working outside the typical fine art world to exhibit and be included in the Melbourne art scene.
The next opening is on November 29th from 6-8pm, featuring the works of Rebecca Armstrong.
Go to 23 Meyers Place to check it out!