Hi All,
FINALLY.
The Relaxed Rabbit Guide To Writing Something has arrived. Fifty lovely copies showed up on my doorstep today from Black Rainbow Printing.
The paper is a lovely matt 140gsm 100%recycled and printed with non-toxic inks. Their processes also involve 100% solar power-preserving forests, water and climate. Yay! Not only is it packed with very useful writing tips and a collection of special rabbit illustrations… it's only $10!
You might even like to treat yourself to a gift. How about that?
So head over to the shop link on the home page or enter here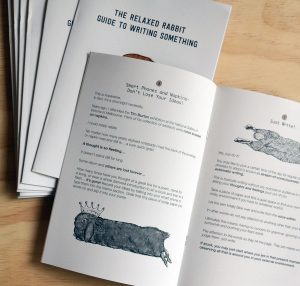 X Celeste