This week folks, I'm reflecting on my ETSY shop. I'd love you to have a gander and see what you think! I've got a new Spoilt Bunny sign and Christmas cards are back again. However, my lovely little shop needs more attention- I know. I've been open for 11 months and it's been growing very slowly. As other life demands sometimes take priority, one can only go at  a certain pace. ETSY requires a lot of work-in the sense that if you want to stand out-you need to spend time on marketing. You are probably an artist or creative type yourself-reading this right now. How much time do you spend on Marketing your wares? If you want to succeed as an artist it should be equal to or more than your creative output in my opinion-based on a lot of research. In other words-you only get out what you put in. Maybe I don't want my little side gig to grow that fast? Also my other side gigs this year have been a residency, learning to weave and working more on my portraits. Oh- and there was that skillshare class I did too! I guess I did expect a little bit that my shop would just kind of 'magically' get discovered and take off a bit on its own. Yes this can happen-but the main ingredients for most are-a range of quality stock and the use of promotional and marketing tools. Also you need to keep stocking your shop to show its plentiful and to turn up more in the search engines of course!
Anyway-its not all doom and gloom but it feels good to come clean about this process. And I am satisfied that I have even opened a store! I still love having the shop and the odd sale to the US or somewhere in Perth. I enjoy packaging up the cards or zines and writing thank you notes to these folk that have taken the time to stop by. My biggest seller is the crowned bunny card birthday card. I am quite proud of the image as it does say everything about my bunny. She is spoilt and bossy. I have even tried to get other rabbits to bond with her through a bonding session at a rabbit orphanage and she wasn't having any of it. I think a portrait should capture the essence of the person or animal and this one is definitely her. Anyone who is mildly obsessed with rabbits will understand where I'm coming from!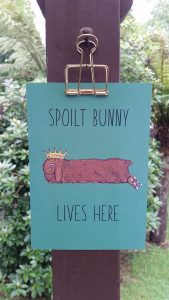 I recently donated a pile of cards to the rabbit orphanage in Olinda for their future stalls and fundraising efforts. They do an amazing job nurturing all these sick or homeless rabbits so was more than happy to oblige.
Catch you soon 🙂
Celeste  X