By Celeste Hawkins
Melbourne media artist Joel Zika has a pretty spectacular show coming up by the looks of these images.
Lecturer and lover of all things dark and digital, he gives us an insight into what motivates and inspires him.
What motivates you to work with this medium?
I predominantly identify as a media artist, I get excited by new technology and new ways that the we use it to communicate. I guess the thing that motivates me is knowing that I can use this media and manipulate it not for commercial purposes but to explore the narratives that interest me.

Who inspires you?
The late Mike Kelly is an american artist who I really admire, he used popular media to create these dark reflections on the way we communicate.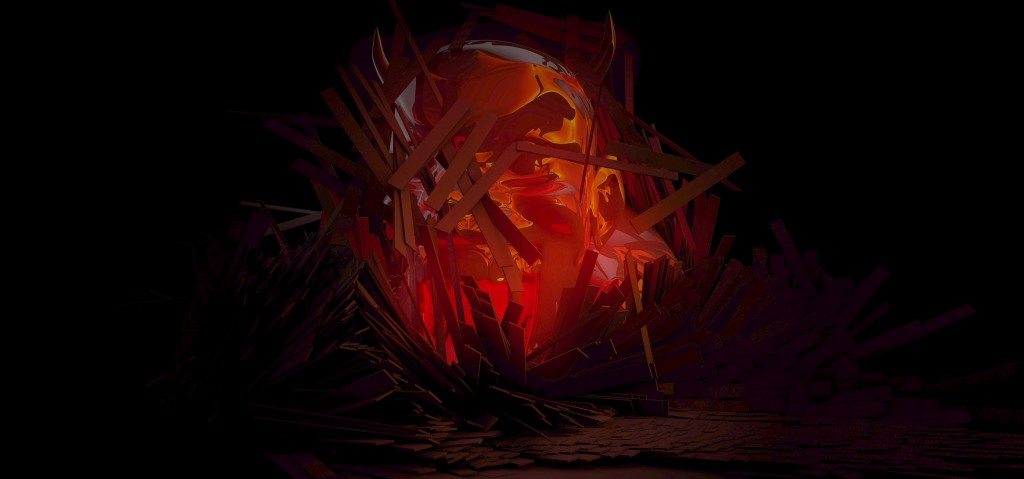 How did it all begin?
I studied Media Arts at RMIT which was an amazing interdisciplinary course at the time. I've been doing postgraduate study alongside exhibiting and lecturing for the last 10 years, my research all centres around looking at popular entertainments to generate ideas for my works. I'm also interested in horror films and the spaces of cinema.
How has the Melbourne digital Art/Multimedia scene evolved over time?
As a 'scene' I'd say unlike the early 2000's its non existent and thats a positive thing. I no longer have chummy technology conversations with people, nowadays everyone knows how to put a video together, art students go and do film courses after their degrees. It used to be that everyone who had a computer thought they could be an animator or a film maker or photographer and what you got was crappy tech art. These days multimedia is ubiquitous and people don't ask 'how you did it?', they ask why. This is a really positive thing and I guess it means the area has evolved (or disappeared?)

What sort of technology is most used now in projections/digital media/displays?
Depending on what I do I work with generally with consumer products, a short throw projector and a laptop. The quality of these products is incredible but the scope of what people want to do has grown. In time I hope we can get lighter, brighter and less power consuming products for projection, this will mean that as many people as can get hold of a computer can work with projection based art.
Why the interest in 'dark ghost rides' of our past?
I've worked with digital illustration and projection since day one, the challenge was to find ways to bring the world that I created on the computer into a real physical space. In a meeting years ago I described the work I wanted to make as a 'Ghost Train' and that struck a cord with the director I was working with. Since then i've been investigating the ghost train because I think it is key in understanding new ways to make narratives in space.
More information below:
Joel Zika – Miracle Strip
Dianne Tanzer Gallery
An exhibition of artworks that awaken a lost world
Artist Joel Zika creates prints, videos and sculptures that bring to life lost amusement parks from the past 100 years.
This exhibition will run in conjunction with the Gertrude St Projection Festival, with Dianne Tanzer Gallery hosting an enormous projection in their front window every night.
'Miracle Strip' refers to an amusement park in Panama City Beach (USA), demolished in 2006 after laying abandoned for over three years. The sight was earmarked to become a major property development only to be left empty in the wake of the financial crisis. Photographs of this site and others have become the inspiration for Zika's brooding gothic landscapes.
Joel's work has long been obsessed with the dark and mysterious world of the amusement park. The dystopian vision of an abandoned fair ground is a space rich with mythological importance in the world of popular entertainment and cinema. In this show Zika plays to that mythology but gives the rides themselves a new kind of life.
The architecture and detritus in the images seems to command a sort of kinetic energy; with beams of wood exploding and falling across the plane. In Zika's world it is the architecture that has been re-animated and given life but the visitors of the past are nowhere to be seen.
Miracle Strip will run from the 15th June to 13th July
Projections will run nightly from the 14th June to 28th July
Dianne Tanzer Gallery
http://diannetanzergallery.net.au/
Tues-Fri 10am – 5pm
Sat 12-5pm
ph: (+61) 03 9416 3956
dtanzer@ozemail.com.au
For further information
Joel Zika
http://www.joelzika.com
joelmzika@gmail.com
Gertrude St projection festival (19-28 July)
http://www.thegertrudeassociation.com/