By Celeste Hawkins
Breathe in breathe out…we are almost there!
And here is my contribution- my final blog post for 2015!
I have had a lot of requests for interviews and write ups this year and you may have noticed my posts have been a little sparse in this past month. Of course, that's only if you pay attention to my  regular weekly posts-as I have done (with a couple of teeny breaks)- for almost 4 years!
As I have decided to devote more time to my own art making, the blog will be undergoing a slight revamp next year.
It will still exist-with the same in depth insights into artists and their processes however! Please pop back around mid January to check it out.
Have a relaxing break.
I hope you get some time for some much needed creativity-whether that be just thoughts about future projects or actually getting stuck in!
Some great stuff on now and coming up-check it out!
x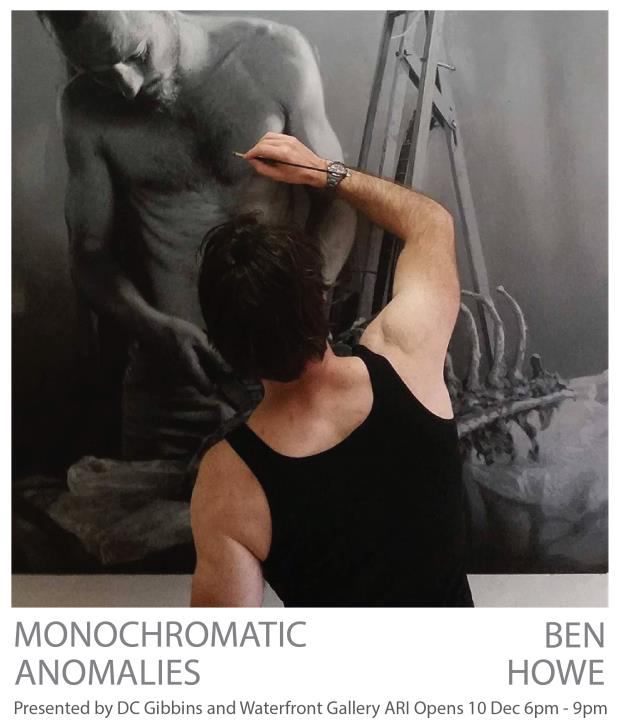 MONOCHROMATIC ANOMALIES Paintings by Ben Howe -10 December 2015 to 10 January 2016 
The MONOCHROMATIC ANOMALIES Exhibition features over 30 works by celebrated Melbourne based artist Ben Howe. The exhibition includes retrospective paintings from two of Howe's most highly regarded bodies of work – the Crowd Series and the Surface Variations Series, but the pièce de résistance of the show will be the unveiling of his recently complete Shangyuan Series, painted during a challenging residency in China, sponsored by the Ian Potter Cultural Trust.
The Shangyuan Series depicts the apparent portraiture of artists against their temporary homes in an artists residency program in Shangyuan, China; minimal, concrete dorms devoid of their own distinct identity save for their signature barren and derelict state. During the creation of this series Ben lost 10kg of body weight, had no access to refrigeration and often went for days without running water. Communication with the outside world was minimal.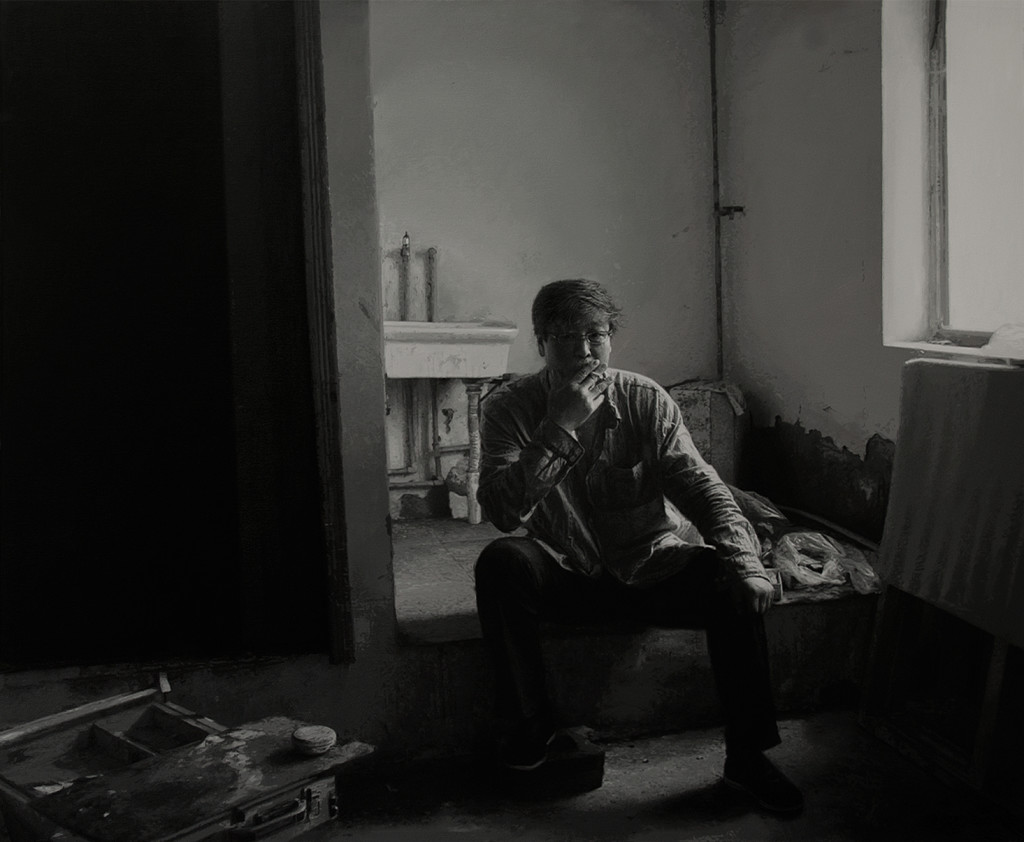 The large monochromatic works interweave themes of dislocation, habitation and the subliminal response of the psyche towards the unknown.
Presented by DC Gibbins and the Waterfront Gallery ARI 100 Lorimer Street, Docklands 3008 RSVP Victoria 0437 922 686 contact@demianfineart.com Wednesday to Saturday 11am – 6pm Sponsored by www.demianfineart.com/news #mononom Waterfront Gallery ARI 100 Lorimer St Docklands 3008
Read more about the exhibition here
And on Instagram here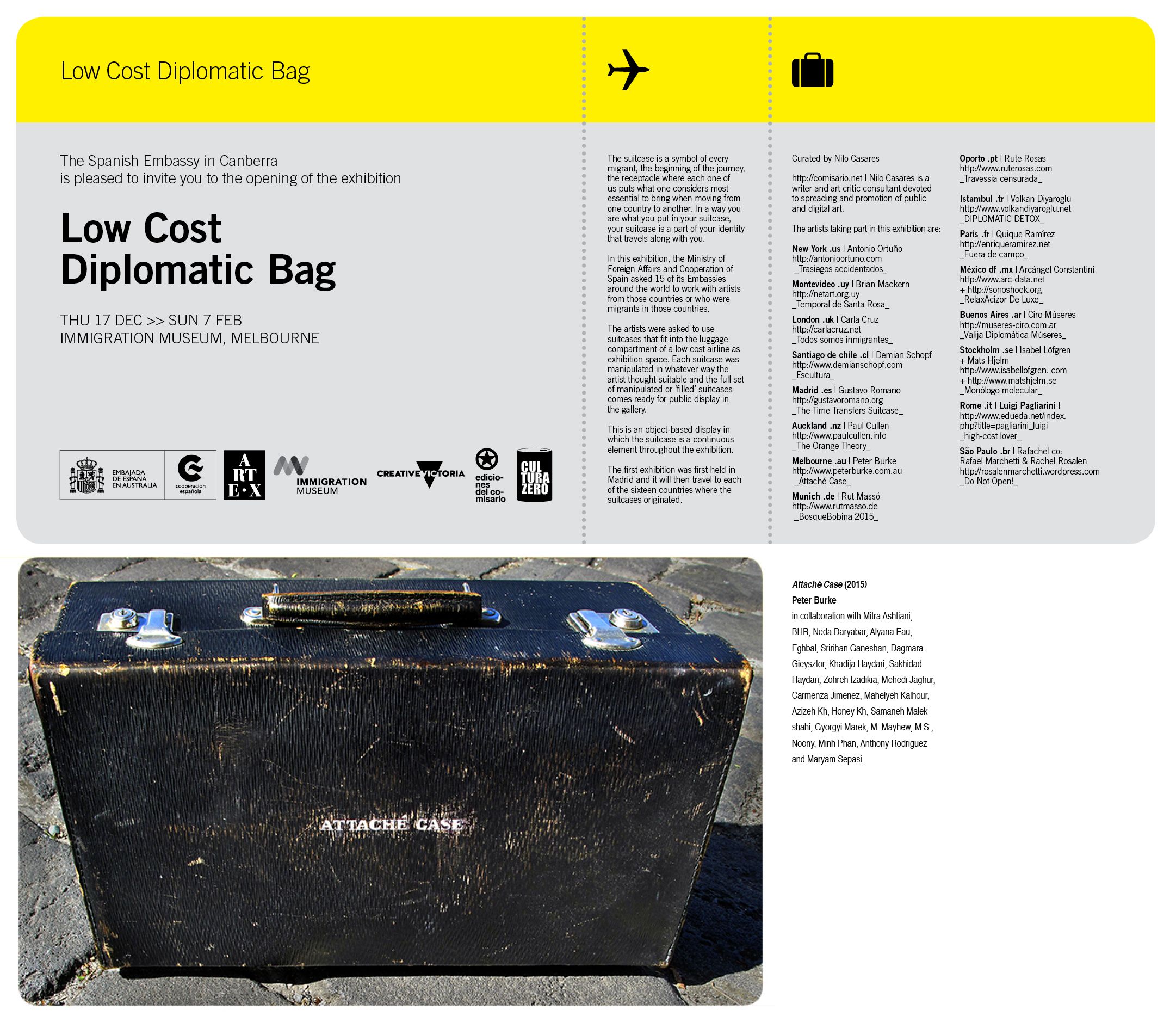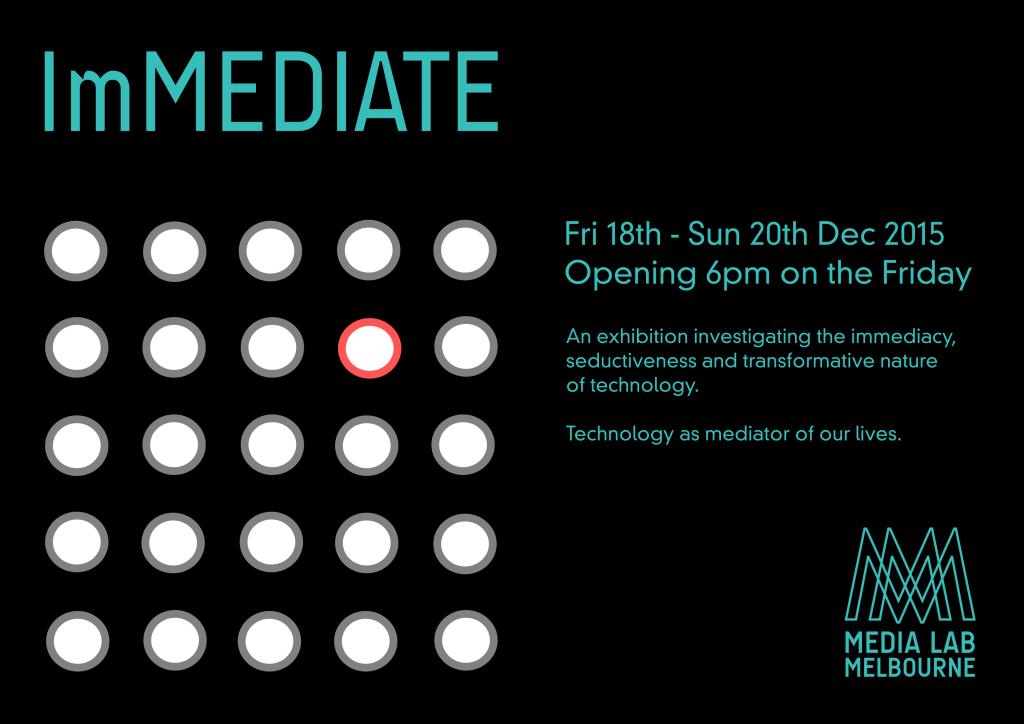 WOMEN IN POWER AT UNIVERSITY ART GALLERY-SYDNEY
A new exhibition celebrating women artists has brought together 14 influential women to select their favourite artwork by a female from the University of Sydney's J W Power collection.
The exhibition also highlights the difficulties women have faced being accepted into significant art collections.
Women in Power is a free University Art Gallery exhibition based on the bequest of J W Power. Among the international and Australian artists are Martha Boto, Bridget Riley and a group Yolngu women from Arnhem Land. The works have been chosen by women from the arts and art philanthropy, law and business. They include High Court Justice Virginia Bell, University of Sydney Chancellor Belinda Hutchinson, and arts benefactors Gene Sherman, Penelope Seidler and Naomi Milgrom.
Each selector has discussed their choice of artwork in the exhibition's catalogue. In doing so, they draw on personal connections, political views, deeply held convictions and affinities with works.
"My selection…was inspired by my interest in women in the fields of science, technology, engineering and mathematics, and our need to create more opportunities for women in these fields," writes Belinda Hutchinson.
Virginia Bell relates her choices of Ramingining collecting bags to nine mortuary poles – also created by the Yolngu people – which stand in the foyer of the High Court. The latter was a gift from the descendants of Yolngu man Dhakiyarr, whose murder trial was acquitted in 1934 because it was believed sensational publicity around the case made it impossible for him to receive a fair trial.
Curator Ann Stephen from the University Art Gallery says 13.6 percent (fewer than 230) of works collected for the Power Collection are by women, a statistic she calls "dismal". The Power Collection was acquired between 1967 and 1989, a time that Stephen says was marked by the second wave of feminism when women gained traction in the art world, though they still have a way to go.
"This exhibition nonetheless entails a theme of empowerment, offering a thumbnail sketch of the crucial era when, for the first time, women artists became a major presence in contemporary art."
Event details:
What: Women in Power
Where: University Art Gallery, War Memorial Arch, Quadrangle, Science Road
When: 7 December 2015 – 8 April 2016 (closed 18 December-3 January inclusive)
Opening Hours: Monday to Friday, 10am-4.30pm and some weekends
Contact: 02 93516883 or art.collection@sydney.edu.au
ART PLAY AT BIRRARUNG MARR
Kaleidoscopic printing, bucket loads of balls and bringing stories to life through song – these are just some of the exciting activities on offer for children in ArtPlay's new January program.
City of Melbourne's Arts and Culture chair Councillor Rohan Leppert said there was something to keep young people of all ages entertained over the summer holidays at the ArtPlay creative studio in Birrarung Marr.
"ArtPlay has again teamed up with Melbourne's artists and organisations to create another world-class art education program for children," Cr Leppert said.
"With more than 300 workshops, events and performances run every year, ArtPlay is kicking off 2016 in spectacular fashion with a program of holiday events that will appeal to all young children."
Museum Victoria in partnership with Benalla Art Gallery present the John Twycross Collection- Rare objects from the 1880 Melbourne International Exhibition displayed at Benalla Art Gallery.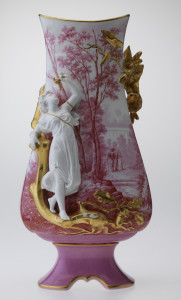 European porcelain vase with a tapering, bulbous rectangular body on foot. White underglaze with a red transfer print of a couple walking in a picturesque landscape. Includes a gilded relief mould of flowers, leaves and trees, and a white classical figure holding a gilded flower.
The John Twycross Collection comprises approximately 200 objects which were bought by wealthy merchant and art dealerJohn Twycross at the 1880 Melbourne International Exhibition and the 1888 Melbourne International Centennial Exhibition.Held during the boom period of 'Marvellous Melbourne', these exhibitions provided a young colony with the opportunity to see the best and latest in trade and culture at the newly-built Royal Exhibition Building.The collection richly illustrates 19th century taste and style and provides examples of the fine art and decorative objects that were exhibited in the British, French, Italian, German, Japanese and other foreign courts.
Held during the boom period of 'Marvellous Melbourne', these exhibitions provided a young colony with the opportunity to see the best and latest in trade and culture at the newly-built Royal Exhibition Building. The collection richly illustrates 19thcentury taste and style and provides examples of the fine art and decorative objects that were exhibited in the British, French, Italian, German, Japanese and other foreign courts. Thirty-four items from the collection have been chosen for display at the Benalla Art Gallery, each a beautiful design object with a fascinating social history.The collection includes European oil paintings, colourful Japanese woodblock prints, exquisite Chinese porcelain vases, a French Ormolou Japonism garniture, German cabinet plates, Japanese ivory Okimono figuresand intricately carved Chinese chess pieces. Dr Will Twycross, the great-grandson of John Twycross, donated the collection to Museum Victoria in 2009 after he developed a desire to return the objects to their spiritual home at the Royal Exhibition Building. He grew up with the objects in his family home in Brighton and remembers playing with the Chinese chess pieces and ivory Okinomo elephant as a small boy. A long-term resident of Mansfield, Dr. Will Twycross said, "I'm thrilled that these objects are returning to north-eastern Victoria to be put on display. They have been animportant and treasured part of my family for four generations and it's wonderful to be able to share them with visitors to the Benalla Art Gallery."
The John Twycross Collection will be on display at the Benalla Art Gallery from 4 December –21 February 2016. Melbourne's World ExhibitionsThe1880 Melbourne International Exhibition and the 1888 Melbourne International Centennial Exhibition were part of a worldwide phenomenonthat had its origins in London in 1851with The Great Exhibition. Held at the climax of Melbourne's boom, the exhibitions were the largest cultural spectacles that Victorians had ever seen and attracted 1.3 million and 2 million visitors respectively. Each exhibition presented innovative designs, new manufacturing techniques and beautiful decorative objects from all over the world. They confirmed the city's place on the world stage, advertising Australian products and facilitating new trading partnerships.For further information, interviews or images, please contact:Anna Quinn | 03 8341 7136 | 0437 565 300 | aquinn@museum.vic.gov.au
Cornucopia at SAM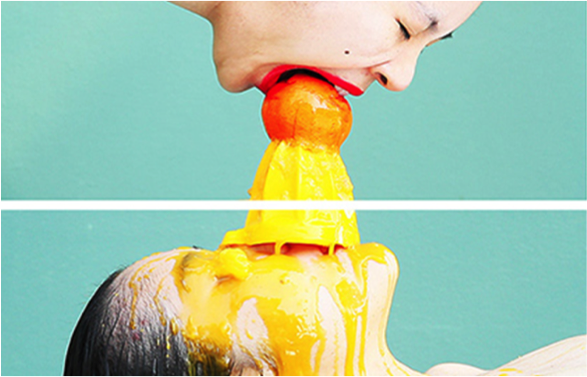 Image: Kawita Vatanajyankur, The Squeezers [still], 2015. Single channel HD video, 2min 35sec, courtesy of the artist and Stills Gallery, Sydney © the artist.
Shepparton Art Museum is excited to announce its first major exhibition in 2016, Cornucopia.
Cornucopia will open at SAM on Saturday 27 February 2016 and run until Sunday 22 May 2016. Cornucopia (meaning Horn of Plenty), showcases works by established and early career artists that utilise food and/or flora as an artistic medium or point of departure.
A multidisciplinary and trans-historical show, the exhibition teases out various strands of investigation around the production, consumption and distribution of food, as well as its metaphoric potential, socio-cultural uses and representation within art history.
The artists featured in Cornucopia include:
Lauren Berkowitz (AU), Julie Crouan (AU), Gabrielle de Vietri & Will Foster (AU), Julia deVille (NZ/AU), Mishka Henner (UK), The Hotham Street Ladies (AU), Georgie Mattingley (AU), Patricia Piccinini (AU), Kenny Pittock (AU), SUPERFLEX (DK), Sam Taylor-Johnson (UK), Kawita Vatanajyankur (THA), Claire Anna Watson (AU) and Andy Warhol (USA).
SAM's Acting Director, Dr Rebecca Coates notes:
'Food, and its ethics, are very much topics of our times. What we consume, how it's produced, and how it arrives at our table are realities of our every-day lives. Cornucopia touches on many of these themes: from food miles and sustainability to famine and lack, or genetic modification and the consequences of globalised production. The exhibition also explores cultural and religious food traditions and the significance of certain ingredients such as olive oil and salt. Located in country Victoria, SAM also celebrates those marvellous Australian institutions such as the CWA and their pursuit of the perfect asparagus roll and cup of tea.'
Exhibition Dates: Saturday 27 February 2016 to Sunday 22 May 2016.
Official Opening: Saturday 27 February 2016
For further information, print quality images, or to arrange interviews, please contact Stephanie Pirrie at Miranda Brown Publicity on:
E: stephanie@mbpublicity.com.au M: 0430 517 722 E: 03 9419 0931