By Celeste Hawkins
French born and Melbourne based artist, Carolyn Cardinet, discusses her latest exhibition "Mémoire De Vie". I first met Carolyn at Victoria University where she was my teacher! Her 15 years of art education, both as student and educator have nurtured her in the traditions of art making as well as developing her critical commentary on the environmental impact of modern day living. She has done this by charting and documenting the journey of everyday discarded objects through a variety of mediums and most notably, through her sculptural installations.
You were born in Paris, renowned for its Artists and Art history. What were your surroundings like as a child?
Born and bred in Paris, the influence of the art world upon my upbringing in France was far and widely spread. My mother always took us to ballet, theatre, and exhibitions, she later introduce us to opera. We travelled to several countries through Europe but also to the US and what was the USSR at the time.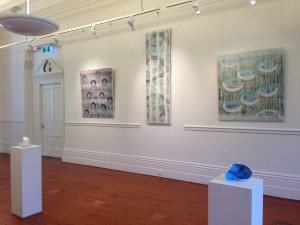 How did you find the art scene when you arrived in Australia?
I think Australia opened my eye to a brand new world of contemporary artists. Although the art scene was smaller, the broadness of spectrum was compelling and inviting in becoming an artist.
Your small sculptural works were inspired by a dream that you had!
Indeed, there was a feeling of an out of body experience. Trying to describe this dreamt felt weird however my conclusion was that this was and must become an artwork and took the challenge to create it. With an overactive and stimulated brain that never stops, I deeply felt that is was important to show a mind that spirals out of control.
The aim was to cast a skull (not gory) and to paint the interior with a landscape and include a rotating mind just like the dream. By that I mean the representation of spinning ideas. The cranium is the vessel for our thoughts, I made 3 half craniums in clay and inserted the thoughts as images (non identifiable) printed on acetate mounted as a rolodex. These versions met my dream but not my overactive mind.
The third skull came together with a darker landscape at dusk painted on the inside and a spiraling effect of thoughts within it. This skull represents my brain as an artist.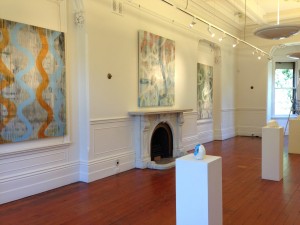 Why the fascination with discarded objects?
I think the proliferation of the found on the beach due to the 7th continent the plastic ocean (The Great Pacific Garbage Patch) has propelled my practice into another direction. I see a similarity between things and humans; in a sense we are close but do not connect. In this fast paced world of the Internet, we are more worried about looking at our computer then making connections and listening to the people around us. My journey as an artist is to describe within my artwork what we do not notice; with the aim to sensitise us to what is important and close to us.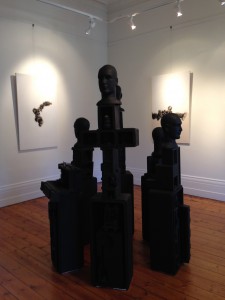 Do you decide the color scheme before embarking on your canvases-or do you let them develop according to your mood?
For my abstract paintings I do allow for 'chance' to happen. At first this applies to the choice of colour as well to the dripping process. Of course along the way the decision for the next move is calculated and in the eventuality of it not working, it is wiped out or covered. Each step made will guide the next. I do not have a finished product in my mind. Otherwise there is no child like play in the making! These paintings are a building process. Often it has taken years to create a mood and depth similar to the passage of time. This ethereality is what moves me on the objects I find.
Why do you use acrylics as your preferred medium?
My formative years were with gouache at school and then oils throughout my art years as a student. I find that acrylic paint is a remarkable medium that allows working on many paintings simultaneously as they quickly dry. I usually have 5 paintings on the go hanging next to each other. As a bonus for health and safety issue in my practice, acrylic paint has no fumes which means no headaches and longer time spent in the studio!
Future Plans?
The future holds more  installation and more paintings in this experimental practice. Look out for my work to feature in Vogue Living in the Nov-Dec issue (Tribal necklace II) and a video on Vimeo to be released soon!
"Memoire De Vie" runs until the 8th of November at the Alliance Francaise in St Kilda.
Please see below for more details!