By Celeste Hawkins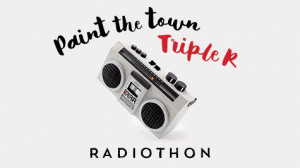 I know I am probably preaching to the coverted for here, especially for some of you Melbourne readers. But for those of you checking this site out from across the seas, or even interstate I'd like to direct you to Melbourne's own independent community radio station-3RRRFM.
It can be streamed online here at www.rrr.org.au or listened to on 102.7FM in Melbourne.
Check out the programs, there's a topic of interest for everyone. Film and television, politics, the environment and the Arts, are just some of the many and varied subjects covered.
RRR is especially known for it's tireless devotion to the Arts and especially in the promotion of new and emerging artists. By artists I mean: musicians, writers, visual artists, performing artists and those participating in art and cultural events.
The show is mainly run by dedicated and passionate volunteers and receives no government funding. If you are a recent visitor to Melbourne, or would like to know more about Melbourne's thriving arts and music culture, I suggest you check it out!
Oh and subscribe too if you want to support a much loved Melbourne institution and you can be in the running to win loads of prizes!