By Celeste Hawkins
I'm sure there are some people still clinging to their TV sets, missing the plethora of wonderful stuff floating around on the web. But, most of those people probably wouldn't be reading this right now! For those of who spend large amounts of time on You Tube and  Vimeo, you would have noticed the digital web series phenomena really taking off.
Click here to explore the Melbourne Web Fest site and to purchase tickets. There have been over 200 entries from around the globe for the 2015 program. These carefully selected entries will be screened during the festival along with the opportunities to network, attend workshops and listen to talks.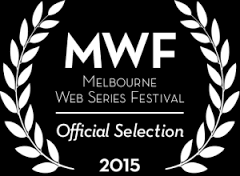 Melbourne WebFest is the hub for web-based content creators to come together to share their experience, network, be acknowledged, and learn about the emerging trends in digital entertainment. It is an opportunity for the public to experience the best in digital series entertainment from around the world.
Listen to the interview on 'Byte into it'- on Melbourne's RRR here: