By Celeste Hawkins
1) Go see Ernie Biscuit
Ok, the first week is almost at an end but Adam Elliot's new feature Ernie Biscuit is on for the MIFF on Sunday August 16, just before Lally Katz's Stories I want to tell you in Person.
Almost 5 years in the making, it's sure to be in the same lovingly hand-made perfection we adored so much in Harvie Krumpet and Mary and Max.
Adam always talks so passionately about his craft and I don't think we want him going all Hollywoody on us do we? Read more here:
2) Cruise through Craft Cubed
Craft Cubed has stretched itself across 4 venues in the Flinders Lane precinct, so you can easily make a morning or afternoon of it. I wandered around with Mark Holsworth this morning and commented on how difficult a task it would be voting just for one for the People's Choice. The selection, quality and variety of works was a real talking point.
Materials were vast: human hair, ceramic, steel, perspex, paper, fabric, timber, brass and animal skin, to name a few.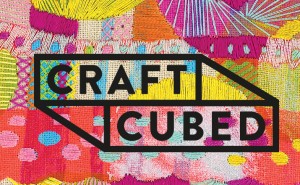 3) Pop into the Karen Woodbury Gallery
Karen Woodbury Gallery has recently added renowned sculptor Louise Paramour to their list of represented artists.
Louise's sculptures are made from found or discarded plastic objects and are playfully arranged.
Definitely worth seeing up close.
4) Check out the Melbourne Writers Festival!
5) Get yourself to the NGV for Transmission Legacies of Televsion Age exhibtion at the National Gallery of Victoria.
A large part of the third floor of the NGV has been devoted to the exploration of artists' responses to television -from
its inception in the 1950's right through to now. Highly engaging and educational viewing.