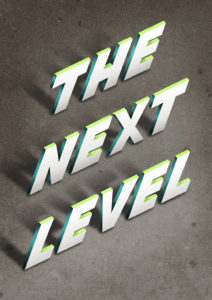 Next Level Exhibition at No Vacancy
September 8th-18th
The digital art exhibition at Melbourne's No Vacancy Gallery attracted more than 250 people who were all eager to check out the incredible artwork from across the globe. More 30 Australian artists were among the winners of the Next Level competition and had their artwork exhibited alongside national and internationally renowned artists, including Alex Lehours, Alex Solis, Ben Brown,Bec Winnel and Dirty Bandits.
Digital technology company Wacom and creative management agency Just Another Agency teamed up to bring the one-of-a-kind event to Melbourne, which also launched Wacom's first artist publication.
The Next Level winners not only had their work exhibited and published in The Next Level publication, but were given the opportunity to sell their artwork. Six pieces of the artwork had already been sold before opening night.
Valerie Sparks wins Photography Prize at MGA
The winner of the 2016 William and Winifred Bowness Photography Prize at MGA (Monash Gallery of Art),
the largest Photography Award of it's kind in Australia
,was Melbourne photographer
Valerie Sparks
won with her work
Prospero's Island – North East
featuring one of Australia's most iconic landscapes
The diverse landscapes of Tasmania provided a rich source of imagery from which to create an interpretation of Shakespeare's Prospero's Island, states Valeria Sparks, the 2016 winner of Australia's most sought-after photography prize, winning $25,000 and the coveted top spot.
Following a strong year of success, Sparks was 'gobsmacked' upon receiving word of the win from MGA Director and Bowness Photography Prize Judge, Kallie Blauhorn.
"Receiving an honourable mention last year was incredibly affirming and exciting," said Sparks. "To win this year is just beyond comprehension."
"Winning the Bowness Photography Prize means so much to me on a personal level as well as professionally," said Sparks.
Prospero's Island – North East explores the narrative arc of 'The Tempest' from vengeance to forgiveness. The wild cliffs of Tasmania's south coast are brought together with the sublime stillness of the north and east coasts to explore the theme of displacement, which is central to both The Tempest and the turbulent history of Tasmania.
"This was the first work that was going to be very specific to a location," said Sparks. "One of the things that motivated me was honouring one of Australia's most iconic landscapes."
Judged by a rotating panel of industry experts and MGA leaders each year, the 2016 Bowness Photography Prize was determined by Filmmaker Fred Schepisi, Professional Photographer John Gollings, and Blauhorn after a considerable amount of deliberation over each of the 60 submissions shortlisted as finalists.
"The diversity of works this year was truly inspiring, both in subject and technique," said Blauhorn.
"The Bowness Prize has always attracted an impressive variety of artists, and this year the sheer depth of talent and breadth of technique only speaks to the evolving landscape of Photography in Australia and the inspired innovation emerging from photographer's nationwide," said Blauhorn.
"Valerie's work is breathtaking. With this piece, she has once again proven that she is both a master technician and serious creative talent. I am so pleased that after being a finalist on four separate occasions, Valerie is being recognised this year," said Blauhorn.
"We are so pleased that we are able to bring focus and attention to Valerie's work and I look forward to continuing to follow her career. Congratulations to Valerie and all the finalists in this year's Bowness Photography Prize."
Established in 2006 by the MGA Foundation to foster excellence in Australian photography, the Bowness Photography Prize has become one of the highest awards for photography in Australia.
The shortlist of 60 works, including Valerie's winning piece, will be exhibited at MGA until October 16.
The Bowness Photography Prize exhibition is located at MGA (Monash Gallery of Art), 860 Ferntree Gully Road, Wheelers Hill, Victoria. For more information, visit www.mga.org.au/bowness-prize
 Joshua McClelland Print Room and Rathdowne Galleries are pleased to present
These and Other Shores
etchings inspired by India, Oman, New Zealand, and Australia
Opening Wednesday 21 September from 5 to 7
Exhibition continues until 22 October
310 Rathdowne Street Carlton North
03 9347 1854 / 03 9347 6118
art@rathdownegalleries.com.au
Gallery hours Tuesday to Friday 11 to 5 and Saturday 12 to 5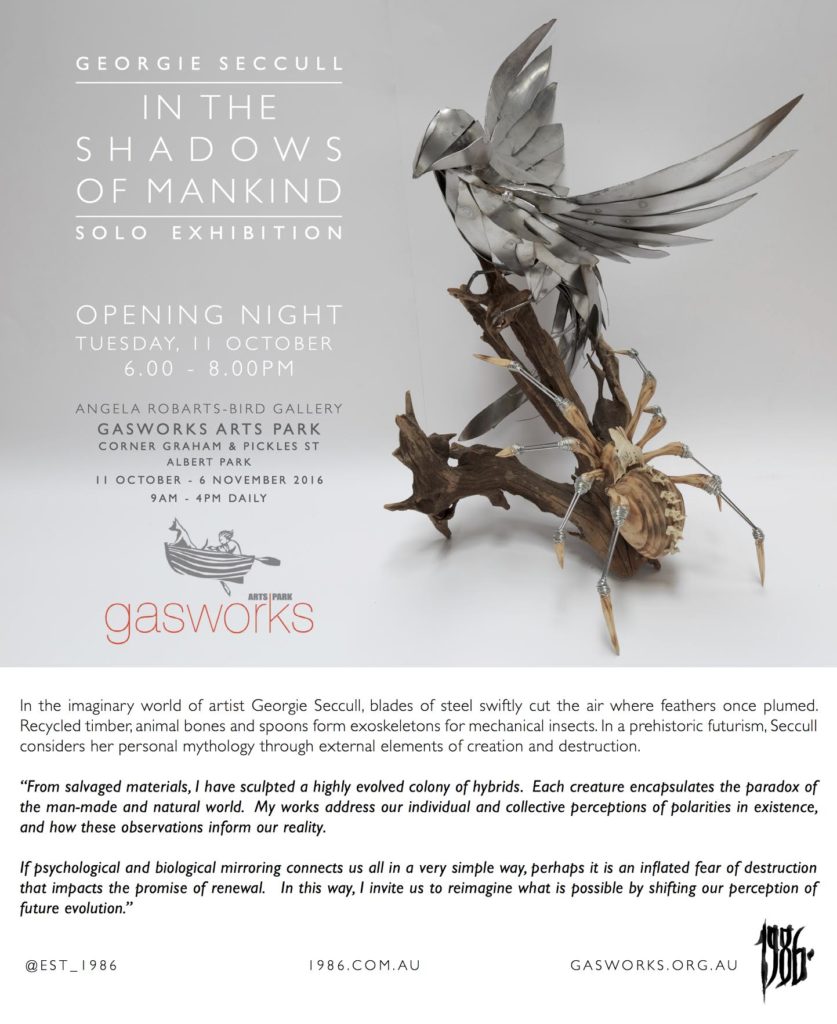 PAUL BORG'S EXHIBITION-"SWING HIGH,SWING LOW"
By Paul Borg-
As an art student in the 1980s, I often visited the National Gallery of Victoria to see one of my favourite paintings—Picherit's Farm by Max Meldrum. Many years later as I walked into my backyard, I noticed that the view that confronted me constantly reminded me of Meldrum's painting. Propelled by his image, in 2011 I began to paint a series of backyard paintings which I completed this year. I have painted the same view numerous times on different surfaces, using diverse techniques and sizes to create various mood swings.  The paintings also draw attention to a suburban landscape that is constantly changing—large backyards are rapidly disappearing to accommodate smaller, more convenient backyards. A big backyard attached to an average home is now nostalgic. While creating these paintings, I imagined my backyard as a stage. I physically and mentally moved objects around the space to play with their symbolic attachments. For example, the swing evokes memories of childhood, the fence suggests boundaries, and the windmill alludes to colonialism and controlling and shaping the land.
I have deliberately chosen to exhibit this series in my home. I would like each viewer to be brought closer to the context of the work and to experience the backyard. So come see the real thing, come and see Swing high, swing low.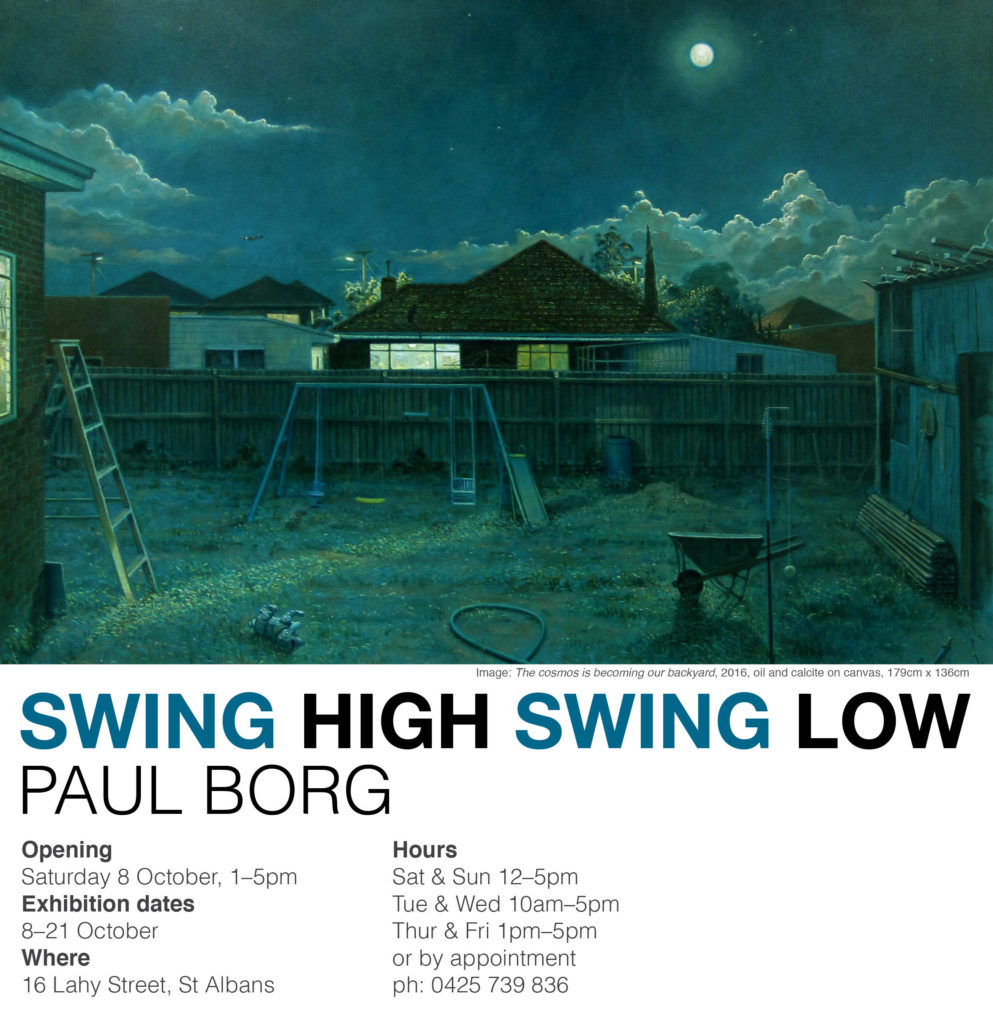 SEPTEMBER ART NEWS…
Tunnerminnerwait and Maulboyheenner remembered
A new permanent public marker that commemorates Tunnerminnerwait and Maulboyheenner, two Aboriginal Tasmanian men who were publicly hanged in Melbourne in 1842, has been unveiled.
Commissioned by the City of Melbourne, the Standing by Tunnerminnerwait and Maulboyheenner memorial is situated at the intersection of Victoria and Franklin Streets, close to where the two men were executed.
Artists Brook Andrew and Trent Walter developed the artwork which includes a number of brightly coloured newspaper stands, in the colours of the Aboriginal and Australian flags, that contain emotional stories depicting the men's plight for justice. The marker is surrounded by 'healing' and medicinal native trees.
Arts and Culture Portfolio Chair Councillor Rohan Leppert said the artwork was an important tribute to the two men and their place in Melbourne's history.
"The Standing by Tunnerminnerwait and Maulboyheenner marker is a place where our Aboriginal community and our community as a whole can come to remember these two men who fought for their people, their land and their freedom," Councillor Leppert said.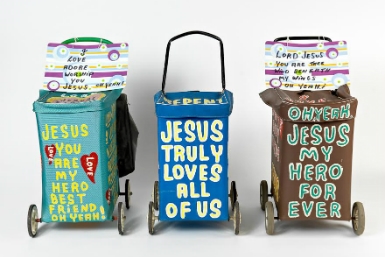 Street preaching history explored at City Gallery
 A treasure trove of creative works by one of Melbourne's most notorious street preachers which go way beyond a soapbox and bible is the focus of a new City Gallery exhibition.
The Jesus Trolley exhibition takes its title from the colourful shopping trolleys adorned with religious messaging that evangelist Desmond Hynes pushed around the city's streets for more than 30 years before his recent retirement.
Arts and Culture portfolio chair Councillor Rohan Leppert said the exhibition offered a fascinating look into the life and creative works of a well-known Melburnian who had unknowingly created outsider art to spread his message.
"Many generations will remember Desmond and his eye-catching trolleys bearing religious messages which were a fixture on Melbourne's streets for more than three decades," Councillor Leppert said.
"Street preachers have been a feature of Melbourne for more than 150 years. This City Gallery exhibition offers an insight into how Desmond uniquely combined art and advertising to promote his messages.
"It is also a reminder that our city is a place where people are free to air their views on any topic that they feel passionate about whether it's religion, politics or human rights."
Curator Joanna Bosse explored and worked with the City of Melbourne Art and Heritage Collection to curate the exhibition which includes hand-painted shopping trolleys, signs and banners from more than three decades of proselytising on Melbourne streets.
VIVID SYDNEY INJECTS $110 MILLION INTO NSW ECONOMY
Vivid Sydney 2016 injected a phenomenal $110 million of visitor spend into the State's economy according to Minister for Trade, Tourism and Major Events Stuart Ayres.
In 2016 the NSW Government through its tourism and major events agency, Destination NSW made the strategic decision to extend the festival from 18 to 23 nights.
"This year's festival included an extra five nights and three new precincts which helped drive this phenomenal result and extend the positive benefits Vivid Sydney brings to the State's visitor economy," Mr Ayres said.
"$110 million in visitor spend is a huge result and is up 75 per cent on last year's figure. Not only did we smash visitor expenditure, we became Australia's largest event with 2.31 million attendees experiencing the spectacular Vivid Sydney.
"Of these attendees, almost 184,000 were visitors who travelled to Sydney specifically for the festival, generating more than 621,000 visitor nights for the NSW visitor economy.
"Vivid Sydney continues to shine bright on the State's events calendar. I congratulate the dedicated team at Destination NSW and the many Government agencies involved in delivering another sensational event and look forward to a brilliant return of the festival in 2017."
Destination NSW Chief Executive Officer and Vivid Sydney Executive Producer Sandra Chipchase, said the results were driven by exceptional marketing, partnership campaigns and outstanding programming.
"Our biggest ever program of light, music and ideas saw Vivid Sydney expand into new precincts including the Royal Botanic Garden Sydney and Taronga Zoo and present over 190 Music and 180 Ideas events. These initiatives supported by our marketing and partnership campaigns were instrumental in increasing both visitor numbers and the length of stay."
Vivid Sydney 2017 will be held from Friday 26 May to Saturday 17 June. The Vivid Light Expression of Interest is now open. Click here for more information on the opportunities for artists, designers, creative industry practitioners, equipment suppliers, business and educational institutions to participate in Vivid Light 2017. Submissions close midnight AEST Friday 21 October 2016.
 Expressions of Interest for Vivid Ideas are open until Friday 23 September, and Vivid Music until Friday 14 October.
Visit www.vividsydney.com for more information.