MELBOURNE:
Opening invitation

We invite you to join us for the official opening of the ATG pop-up with the artists.
6-8pm Thursday 14 July
Entry via end of Percy Place, Prahran
All welcome and entry is free
Please RSVP for catering purposes 
FEATURING:
John BODIN, Jenny BOLIS, Mathew DE MOISER, Hendrik FORSTER, Sara FREEMAN,
Lyndal HARGRAVE, Kate HENDRY, Simon LLOYD, Robert MARNIKA, Natalie MATHER, Nicholas MELLEFONT, Gordon MONRO, Ewen ROSS, Michelangelo RUSSO, James TAPSCOTT,  Onerva UTRIAINEN + Jessi WONG
The gallery is now offering Art Money, interest free loans to buy art.
Art Money makes owning art immediate and affordable. Interest free loans are available for artworks priced from $750 to $20,000.  After paying a 10% deposit, you can take your artwork home and pay the remaining balance over 9 months, interest free. Apply online for instant approval, take your art home and pay for it later.
For more information about applying for an Art Money loan visit www.artmoney.com.au
Beard and Influence
Clayton Tremlett
Castlemaine Art Gallery 10 July – 15 August 2016
The folklore associated with bushrangers has captured the imaginations of Australians since the 1790s, and is the inspiration behind the Beard and Influence project.
Beard and Influence presents printmaker Clayton Tremlett's contemporary approach to the compelling stories of some of Australia's most notorious bushrangers explored through self-portraiture.
The exhibition began as a performative series which was developed over four years by the artist altering his appearance and posing in the style of original photographs of bushrangers, then manipulating the image using traditional and contemporary techniques to create unique linocuts and laser etchings.
 Beard and Influence explores portraiture and the performative nature of the artist in the various guises of twelve Australian bushrangers. The inclusion of the artist's life mask as a contrast to the replica death mask of Dan 'Mad Dog' Morgan (on loan from the University of Melbourne) in this exhibition brings the longevity of this practice of making impressions of visages into sharp focus.
Don't miss the remarkable Beard and Influence by local artist Clayton Tremlett, an exhibition which presents a contemporary approach to the compelling stories of some of Australia's most notorious bushrangers.
The exhibition Beard and Influence is accompanied by a catalogue, with an essay by Joanna Gilmour, Curator, National Portrait Gallery.
Beard and Influence is on display at Castlemaine Art Gallery from 10 July – 15 August 2016.

I Love New York, Mexico, Barcelona, Latvia and Venice
Exhibition by Ingrid Wilson
Opening Night: Friday 29th July 2016, 6-9pm
No Vacancy Gallery – Federation Square
Tenancy 32, The Atrium
Melbourne 3000
Exhibition Dates:  26th July – 7th August 2016
Ingrid Wilson is a Melbourne –based painter, drawer and sculptor. Her artwork is diverse and forever developing. The artist's style changes between the big, bold and colourful to the small, very detailed, dark, and intricate.
Ingrid's artwork is inspired by everything she loves, such as: people, stories, children, travel, animals, dreams, and much more.
Outline of show:
The exhibition 'I Love New York, Mexico, Barcelona, Latvia, Venice' was inspired by my travels overseas. Whenever I travel, I draw to document my memories and experiences. I always seem to draw the architecture, interiors of cafes and restaurants, and little odd bod things.  What I love about drawing when travelling is the spontaneity of it all. and the inspiration I get. I don't know what I will be drawing next. Whether I'm walking down the street, or eating somewhere, on public transport, or at a tourist attraction, something catches my eye and it inspires me. I love the freedom of travel sketching and drawing in different locations, not being hidden away in my studio at home.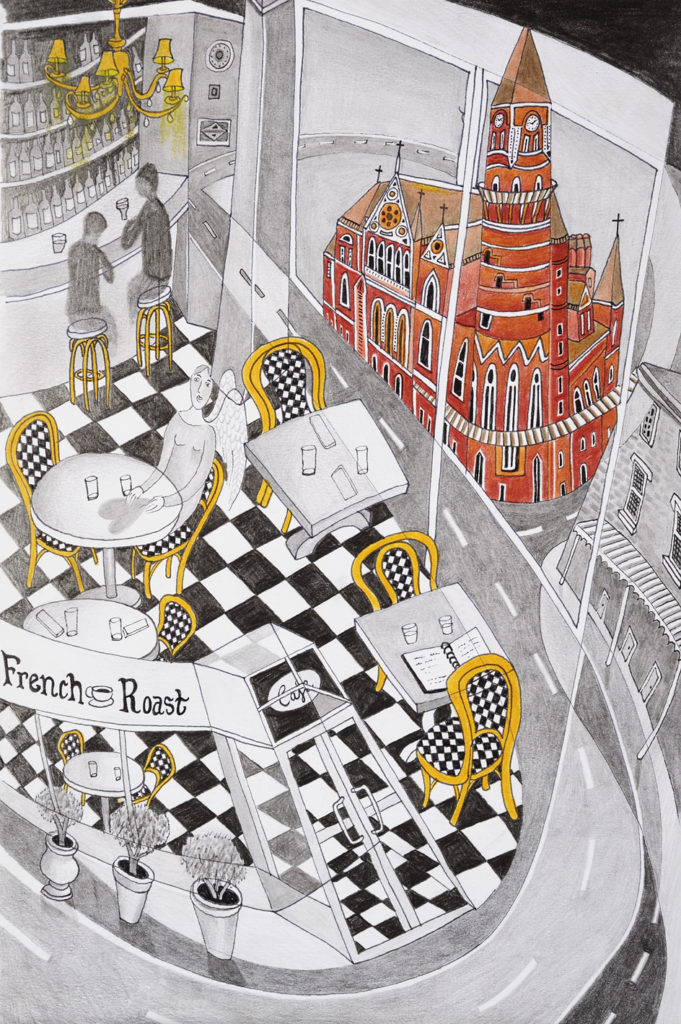 Paper Cut
Exhibition by Tahlia Giann
Opening Night: Wednesday 10th August 2016, 6-8pm
Exhibition Dates:  10th – 21st August 2016
Paper Cut comprises of a collection of paper sculpture art works derived from the traditional medium of quilling taken to a new Fine Art Context. Paper Cut explores the ways that pattern and colour can be used and how they also mimic life experiences. The concept comes from the way patterns are always perplexingly intertwined in our lives and behaviour even if ambiguous. As quoted by poet Robert Graves 'One gets to the heart of the matter by a series of experiences in the same pattern, but in different colours'. PaperCut aims to explore the beauty of life and evoke a visual experience from a personal place.
Tahlia Giann has practised the art of quilling for ten years now. Her interest in pattern over studying has extended to sculpture. Each art piece is carefully planned and obsessively laboured over 10-30 hours.
Tahlia Giann is currently in the process of finishing her degree in Graphic Design, however her passion still lies within being able to create tactile artworks that break boundaries and explore paper in unseen ways. Her creation process involves taking in all experiences day to day and finding connections which can later then be articulated into visual art pieces. The art works ultimately mimic the beauty and realm of human enterprise.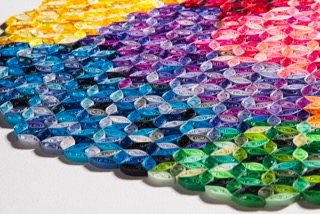 N O  V A C A N C Y  G A L L E R Y
PH: (03) 9663 3798
QV GALLERY: 34-40 Jane Bell Lane, QV Building | VIC 3000
PROJECT SPACE: Tenancy 32, The Atrium, Federation Sq. | VIC 3000
MGA (Monash Gallery of Art) has this week announced the finalists for this year's Bowness Photography Prize, following much deliberation from Judges Fred Schepisi (Filmmaker Six Degrees of Separation, Roxanne), John Gollings (Professional Photographer) and Kallie Blauhorn (MGA Director).
This year, the winner (to be announced

7 September

) will be selected from a shortlist of 60 works from both emerging and established photographers, across a diverse range of contemporary and traditional photographic genres including street, fashion, art, architectural and documentary styles.
SYDNEY
STABILO AWARDS SHOWCASE THE BEST IN AUSTRALIAN CONTEMPORARY ILLUSTRATION

STABILO AWARDS SHOWCASE THE BEST IN AUSTRALIAN CONTEMPORARY ILLUSTRATION
The inaugural STABILO Awards will take place 2pm-5pm Tuesday 19th July at Whitehouse Institute of Design's Surry Hills campus. Featuring an esteemed panel of judges including Claudia Chan Shaw, Janson Hews, Mark Skarott and Salvatore Zofrea, the awards will feature illustrations from over 200 entrants, with students from Whitehouse Institute of Design (Sydney and Melbourne), Raffles College of Design & Commerce (Sydney) and ISCD (Sydney) all participating. A number of the judge's favourite illustrations will be displayed at the awards, which will be held at Whitehouse's state-of-the-art exhibition space – complete with sweeping city views.
For over 150 years, writing instrument experts STABILO have fostered the ambitions of millions of discerning artists around the world. Renowned for an extensive array of pens, markers and pencils, STABILO products are at the forefront of contemporary design. Tirelessly innovative and relentlessly dedicated to their craft, the STABILO Awards are continued proof of the brand's commitment to the next generation of Australian artists.
Each entry will be completed using solely STABILO products, including Carbothello pencils, watercolour pencils and the brand's signature pens, the Point 68 and Point 88. The awards will also be centred around STABILO's theme, 'Free Your True Colours', which involves 'expressing your personality, your dreams, your ambition and your potential' via the medium of colour.
"STABILO provides students with the right tools to nurture their creativity, and 'Free Your True Colours' is precisely the sort of attitude we encourage in all our students," says Peter Dwyer, Senior Lecturer, Whitehouse Institute of Design.
The winning entrant will have their finished design featured on STABILO's website and social media channels, and will also win a trip for two to the world-famous Louvre museum in Paris, home toarguably the world's most famous illustration, Leonardo da Vinci's Mona Lisa. A selection of the judge's favourite entrants will also have their works auctioned for charity, with all proceeds going to the Awards' partnered charity, the Australia and New Zealand Gynaecological Oncology Group (ANZGOG), the lead group for gynaecological clinical trials in Australia and New Zealand.
Adam Coey, Brand Manager, STABILO, says, "STABILO is thoroughly committed to the next generation of artists and designers, and seeing how they utilise the brand's products with such esteem and in so many different ways perfectly encapsulates all that the brand stands for. We can't wait to see the finished designs on the 19th July".
'See through loo' experience at Bondi Beach this Weekend!
WHEN:            During school holidays from Friday 8 – Sunday 10 July, 2016
WHERE:          Bondi Pavillion, 4 Queen Elizabeth Drive, Bondi Beach NSW 2026
(Next to: Lush On Bondi Café)
WHAT:            Unique 'See through loo' experience at Bondi Beach. The public is invited to experience a loo that gives the impression that people can see you. While you can clearly see everyone around you no one can see you, but it does give you the eerie and very uncomfortable feeling that 'everyone' is looking at you! Whoever takes part and casts a vote to support the sanitation crisis in third world countries receives a free bottle of Domestos.
WHO:              Domestos and UNICEF have partnered to help Australians understand what it's like for the 1 in 3 women worldwide who don't have a toilet to use and are forced to go out in the open.
WHY:               Domestos and UNICEF want to ask the public – how does it feel to risk shame, loss of dignity and attack just to go to the toilet? The purpose is to raise awareness for the sanitation crisis and encourage Australians to experience the 'see through loo'.