By Celeste Hawkins
Have you ever wondered exactly who is trawling the streets of Melbourne, ducking and diving through Melbourne's street art scene and reporting back (regularly), to the public? Or, what brings us these little tastes of news and views in the world of Public, Commercial galleries and Artist -run spaces? Or why one man devotes so much of his time to advocate, promote and celebrate Melbourne's vibrant art scene? Well, you are about to meet, 47 year old Mark Holsworth, who describes himself as, "an over educated, under-employed, long haired bohemian type". However, he is definitely voluntarily employed in the blogosphere as Melbourne's Black Mark, Art Culture Critic.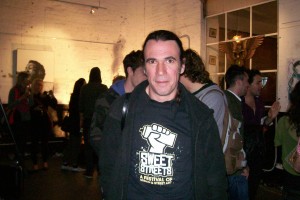 Please tell me about a typical busy day in the life of Mark, the Art Culture critic!
It is often not that busy; I lead a very domestic life. Try the Black Mark diet; you can eat what you like provided that you carry all your shopping home on your back. In between that, I try to get some reading and writing done, maybe some painting but I'm doing less of that these days. I'm not constantly going out to exhibition openings; I spend an afternoon or two a week looking at galleries or just exploring Melbourne's streets.
And what about the name 'Black Mark', it seems to be a play on words but does it have a deeper meaning?
It has a more shallow meaning. It was a joke by the biker neighbours on my name and my habit for wearing black clothes!
What got you interested in blogging in the first place?
I can't remember exactly, it was many years ago. I had another blog on Arts Hub before this one. My wife had a blog (now she has several and teaches classes on how to use WordPress), and she suggested that I start one to write about art exhibitions.
What sort of typical problems do you come up against when forming a criticism or opinion on an art related issue that is contentious?
The Bill Henson fracas was the first big contentious issue that I had to write about. It was difficult because I had to write about it quickly and post it before the end of the day; and I had to write something original in order for the post not to be swamped amongst all the other stories on the subject. I also had to form an opinion that I hoped would prove accurate over time and could easily be defended from both trolls and intelligent people. Fortunately, I knew something of the history of art censorship in Australia and that helped a lot in framing the post and predicting the outcome.
Please discuss your readership:
I've seen stats for this, lots of stats, but they don't always give a clear picture. There are several overlapping groups who read the blog; the people into street art, artists, art gallery visitors, teachers and school kids. Sometimes I see what I can do to annoy them by writing about topics that the street art people aren't going to be into, like the kitsch clocks of Melbourne, or just annoying the contemporary artists by writing another post about street art!
What are your favourite articles to write?
Those that I'm full of passion for what I'm going to write. The most difficult articles to write are group exhibitions without any curatorial direction.
Have you had any visitors on your blog from overseas?
There have been interesting comments followed by even more interesting emails. Earlier this year I met up with Snyder, a visiting US artist who reads and commented on my blog. Recently I received an email from an academic in Holland writing a book about Ned Kelly and wanting to get copyright permission for the Ned Kelly by HaHa.
I like to see how many people from Africa view my page a week –a little over a dozen views. I have pretty good readership in every other part of the world, except for China. All WordPress powered blogs were blocked in China, but as of April 2012 and last week I had my very first view from China!
What are some of your most interesting or memorable comments?
Shifty wrote about the way that public sculpture influences people's movement in the city. I wrote a whole new blog post about that and I'm still thinking about it. There have been a lot of very good comments from Urban Monk, CDH (although recently he helped cause a bit of flame war in my post about women paste-up artists) and Alison Young who writes the blog Images to Live By.
Please highlight your most memorable event or issue to cover:
Accidentally meeting CDH in a laneway while trying to complete his puzzle map was a memorable encounter.
How would you define the Melbourne community of art bloggers?Are there any similarities or disparities?
Many do a lot of interviews or post a lot of photographs. I write original copy, do almost no interviews and post fewer photographs.
Where do you see the future of art style blogs?
 I would like to see more , so that exhibiting artists could expect their show to be reviewed by at least two blogs. I would like more art blogs written by people from different backgrounds. And more covering specialist areas of the arts, like Melbourne Jeweller.
You mentioned in a recent RRR interview that Melbourne's art scene was "Healthy, robust and growing". Please discuss what particular aspect of the scene has experienced this growth.
Considering the global economic downturn it is surprising that more galleries haven't closed, instead the number of galleries has actually grown. The growth in specialist galleries is an indicator of the robust nature of Melbourne's art scene; there are galleries that specialize in video art, sculpture and street art.
You also mentioned that after four years of blogging you're motivated by the 'desire to see new things.'' What are some of those?
New art is an obvious answer. When I started this blog I thought that I might set myself the challenge of visiting every gallery in Melbourne, I haven't done that yet. I want to see more corporate art collections and art in other unusual locations; I wrote a post last year about Monash Medical Centre's art collection.
Please discuss the changing face of street art, which you are most concerned with.
I'm interested in how street art will develop, such as the new varieties like street sculpture, urban interventions and the maps and trails that go with them. I'm also looking at how it is documented, sold, collected and exhibited.