By Celeste Hawkins
To publish a book is basically any (serious) bloggers dream. To publish a hardcover with a well known publisher is the ultimate! Anyone who has come across Mark Holsworth's blog -'Black Mark' would agree that he is pretty much Melbourne's most prolific art blogger. His site is loaded with written commentary, critique and analysis. His specialties are street art and sculpture. This kind of writing is challenging and takes a certain sense of responsibility and Mark isn't put off by the challenge. It's been three years since I caught up with Mark to discuss his first book: 'Sculptures of Melbourne' –published by Melbourne Books. He was fortunate enough to have a launch at the NGV during the Melbourne book fair and to have it published as a hardcover! It's a very timely book as so much has happened in Sculpture land. The last few decades have been boom time for Melbourne Sculpture. For example-The Three Businessmen by Alison Weaver and Paul Quinn and the giant purse by Simon Perry in Bourke Street Mall-most Melbournites would have seen. Mark tells me that the three men have to be the most photographed sculptures in Melbourne.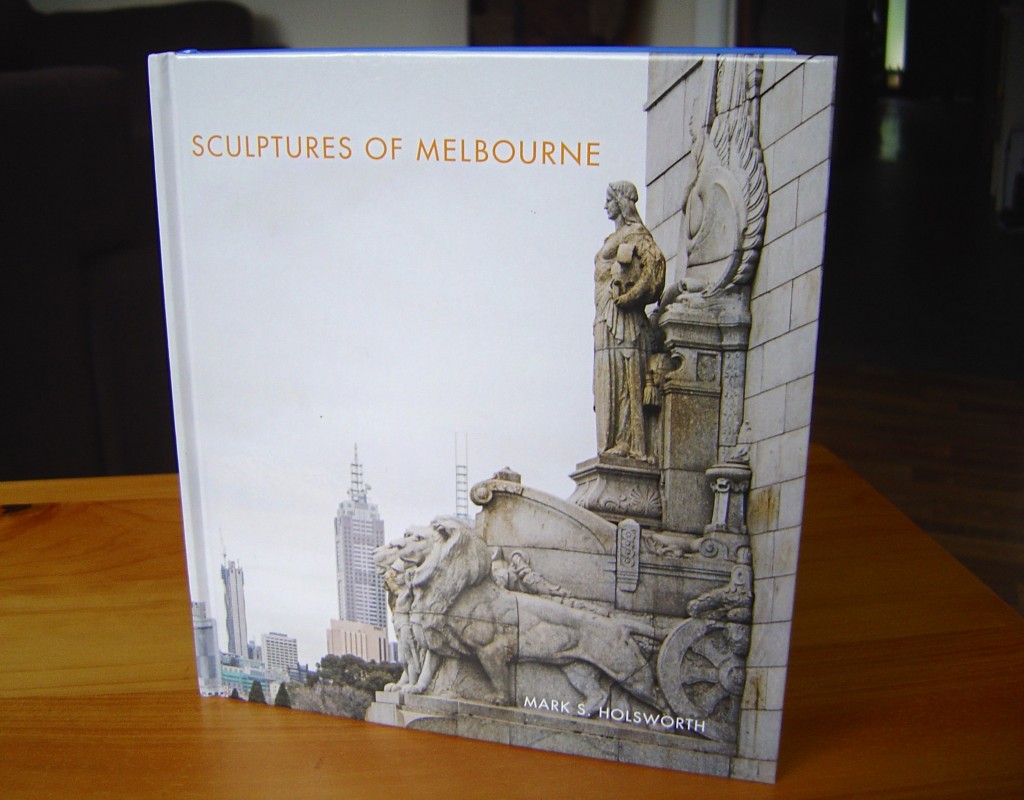 You have a 'thing' for public sculpture- why?
I love public sculpture, especially the interaction between the sculpture and the public. The public either wants or doesn't want the sculpture and it throws up a whole heap of interesting questions. Also, I find it easier to write about a sculpture exhibition that a painting exhibition purely because I'm a painter. And sculpture is removed from that!
Was there a need for more commentary on Melbourne Sculpture?
After writing a few blog posts-I discovered that there was a real need. And as far as the book-there were no current publications except for one I found from the early 80's. It was more of a walking tour-it was a historical look at sculpture and kind of old fashioned.
Starting with your blog-what sort of reactions have you had with your critiquing of Melbourne's sculptures?
I get a lot of comments as well as reads. The comments are very participatory-people want to engage. Some of the questions are: Have you seen this sculpture? Have you noticed the way that people move around this sculpture and climb on it? There is an academic at RMIT -Quentin Stevens who has recently published a book on public engagement with sculpture-which I would find interesting to do more on. I would like to focus in more detail on how people move around, interact with and use sculpture. I've been interested in this for quite a while-but its always nice when someone comes along with academic authority!
How involved was the process with getting your book published?
I sent them (Melbourne Books) a sample chapter and outline, which they liked and wanted more- so I sent them the last one. The only requirement they had was that it was to be a photo book. Then, it was just a matter of getting the final chapters together, which took a few months. And knowing that Melbourne Books had published books such as 'Laneways', it was pretty daunting as a first book! The cover photo is by another Melbourne blogger-Matto Lucas who did a great job, not giving it the corporate look (like signature bright blue skies) that many of these shots tend to have.
Some of the most notable ones in the book are by Sydney street artist Will Coles and Melbourne artist Junky- with their miniature works, blending in with Marks mutual love for Melbourne Street Art.
I was really excited about these works as I felt that they were able to tell the complete story, as they were public sculpture just as much as the other stuff. So it gets to this point where Melbourne sculpture has really changed-and there was just something totally different about it.
As a lover of the still life painting-but not the fruit and flower variety, Mark paints when he can. He does still life portraits of people, mostly known to him. He 'arranges their stuff' and photographs it, as his starting point for a painting.
How do you manage to write and make art?
The painting is taking a back step for now. At least with oil paintings I can leave things sitting on the easel for months and months. I'm just getting to finish a painting-that I started last year. I basically had to decide which one I was going to focus on the writing or the painting.
That a pretty tough call to make!
Yeah, when I decided it-I was at the point where I had really found my style in painting- thinking I could produce a lot of these in a row!
Mark tells me there are a lot more people painting than writing about art, which makes me think of writing about other peoples' art as a fairly selfless act, in comparison to painting in many ways at least.
It's also a lot more appealing to your own personal vanity to paint your own stuff. There are a lot more people painting than writing about art. Whereas with art critiquing, you're taking a back seat-there is a big difference.
So tell me what's your view on the Melbourne Art scene- from the beginning, when you started your blog till now?
It's surviving the financial meltdown reasonably well. And there is enough of a variety of specialist galleries now that provide a range of works-instead of just the traditional gallery. The specialists and the street art scene continue to flourish-many people thought it (street art) would burn out after a few years-but it keeps on developing.
What about public sculpture-has much changed?
There are the seedpods up at Royal Park, then there's the upside down tram in the air-and just last year, 'Courage' by William Eichlotz in Fitzroy. That was a surprise for me in the way. I didn't think there was going to continue to be some much permanent sculpture. I thought the advantage of having installations was a much better solution in a lot of ways. But of course there are still many people who want permanent sculptures or memorials. The neo classical style sculptures and memorials still continue-people still want these permanent sculptures within the urban environment, whether it be a freeway or revitalizing an inner city sculpture.
Mark tells me more about the public sculpture spreading out from the CBD:
The outer local councils and Eastlink and various freeways are funding some interesting stuff. The freeways out to Geelong have become very interesting for the art alone. It's spreading out from the centre of the CBD. Then of course, there is the performance art which is growing in popularity -True North festival is seeing a lot going on the streets by Michael Meneghetti. All this stuff is continuing.
Do you think some of these sculptures re locate, as they're unwanted by the public?
The Yarra River is becoming a bit of a graveyard for moving sculptures. You could just say it's a change in land usage as people are using it a lot more. And again some of the older statues have been moved around. For example Vault by Ron-Robinson Swan was exiled to ACCA from the city square. There was also 'Lie of the Land'-by an aboriginal artist Fiona Foley and its now been moved up to the Museums café. Both of those works were very confronting- both of them were students of Anthony Caro.
Mark tells me a bit more about the meanings or social connotations that these sculptures can bring, often to an unknowing public.
When it comes to public sculpture- like anything–there's tacky, there's corny, there's downright right wing (militarist/ controlling) stuff and then there's more left wing (civil rights/diversity) stuff.
What are some of the examples of sculpture in the left wing category?
'Courage' located in Fitzroy-by William Eitholtz-dedicated to an openly gay mayor. Then there are aboriginal public sculptures and memorials to women's suffrage. There is a work of Pastor Doug who was an aboriginal rights worker-these are balancing out the other ones.
What do you think is lacking in terms of sculpture in Melbourne?
We need more inexpensive and efficient temporary sculpture such as the MoreART festival. The city had their laneways commission for a number of years, which they are no longer doing but there was some really great stuff in those and the public was really responsive. The funny thing about the Laneways commission was that some of it was mistakenly taken as street art so they got to the point where the street artists where saying, 'Have you seen this cool piece?' 'Well… actually it was commissioned by the city of Melbourne.' The Laneways went from 2001-2011-it was an annual commission. The temporary installations are a way of revitalizing a disused area and getting people to travel in different directions or routes around their local area, giving the artists a lot more freedom to use different materials and the public can interact with them. Contemporary sculpture can be anything from performance art through to conceptual art and even sound art –I'd like Councils doing more of that. I think Moreland and Melbourne city council have really finessed it, which is great.
Where is your blog going to go?
I'm going to continue the way it is. But now of course there is a book to buy which you can pre-order. And of course it would be nice to write another book…