By Celeste Hawkins
In one of my favourite underground haunts in the heart of Melbourne exists a great little shop called: 'The Cats Meow'. Opening as a partnership in 2002, it has been providing customers with Australian made clothing and accessories ever since. Kylie Golsby-Smith who started the  Kylie Jane label in 1999, took over as sole owner and operator in July 2014. Locally designed and made clothing just seems to fit well for many of us these days, both literally and ethically. These are clothes that are actually worth the cloth they are made from and for so many reasons!
I had to quiz Kylie about the inception of her shop, her childhood influences and all the other bits and pieces that make up the fabric of her life! So how does her story unfold?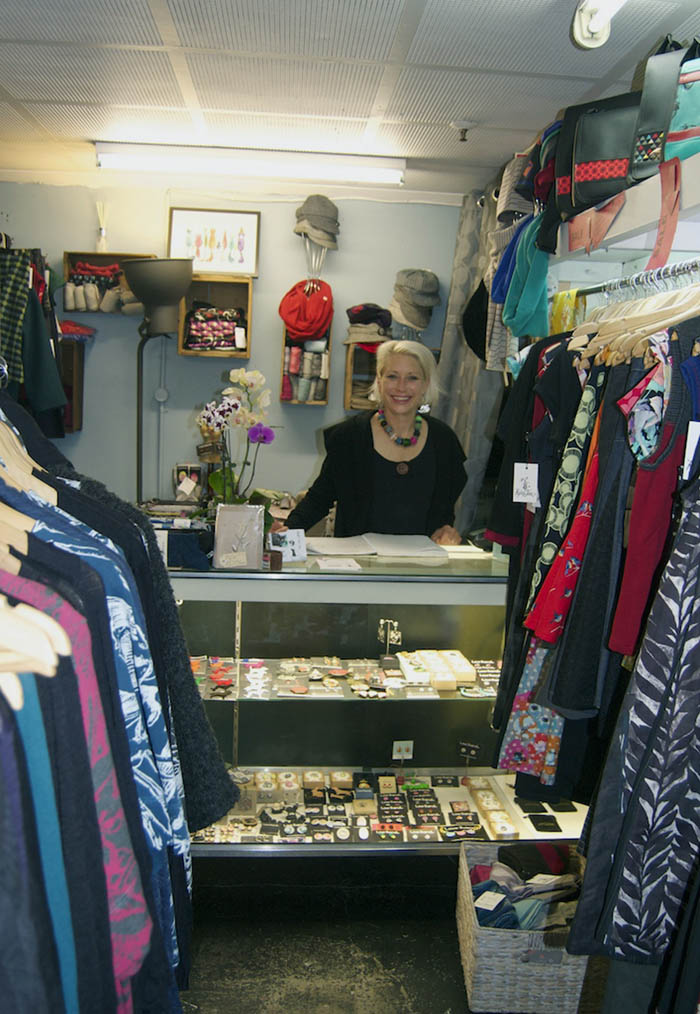 I grew up in country NSW and moved down to Melbourne to attend RMIT and complete a Bachelor of Applied Science in Consumer Science where I majored in Textile science and Food and Nutrition. I have sewn and loved arts and crafts for as long as I can remember and come from a family of very creative women – my mother and grandmothers were huge influences in instilling a love of sewing, embroidery and knitting in me. Working in the city in the Flinders Quarter precinct, which attracts an eclectic mix of fashionable people is always a source of inspiration as well. I started my label Kylie Jane in 1999.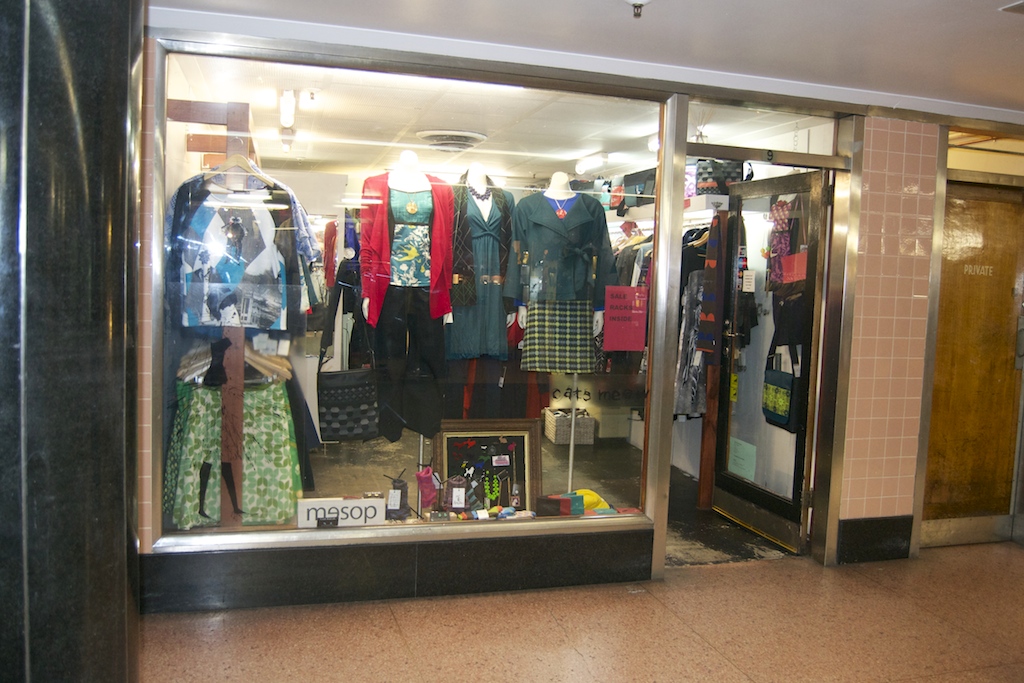 How did you come across the little space under the station?
A friend has one of the other shops down in the arcade and he let us know shop 9 was vacant – we lodged our application to rent it and were successful.
What's changed about the space and the clothes that you have made over the years?
When The Cats Meow started we had two labels (Kylie Jane and Berserk). We now stock over 20 clothing and accessory labels, all of which are designed and made in Australia. We support many small independent designers, both locally and interstate and are always on the lookout for new labels that fit in with The Cats Meows ethic of providing well made affordable pieces to the ladies of Melbourne.
The arcade was built for the 1956 Olympics and has seen many shops come and go over the years. It was going through another period of change when we opened The Cats Meow, with many new independent shops opening (and closing) in quick succession! All of the businesses operating in the space now have stuck it out for at least 10 years and make up a vibrant community of eclectic shopping options which include an art space, zine shop, coffee shop, jewellery, music and vintage clothing stores.
You make clothes for real women-with curves and bits (as stipulated on your website). What sorts of feedback do you- or have you received to make your clothes this way?
The Cats Meow has a reputation for providing clothes that fit and flatter women of all shapes and sizes. This came about because there was a definite gap in the market for quality Australian made clothing with "real" sizing that catered to all body types, no matter whether you are short, tall, curvy or slim. We have many happy customers who regularly return to us if they are looking for something they know will fit and be a great piece in their wardrobe for many years.
What fabrics do you mostly use to make your clothing?
Most of the designers stocked here tend to work with natural fibres such as wool in the cooler months and linens and cottons in the warmer months. With proper care, these fabrics wear well and look great for a number of years, therefore giving the customer good value for money.
Where are your clothes made?
Everything stocked at The Cats Meow is designed and made in Australia. Many of our designers are small independent operations that design and manufacture everything themselves.
Is there any difference between the ways a Melbourne woman dresses compared to other states in Australia? Do you think we have our own style?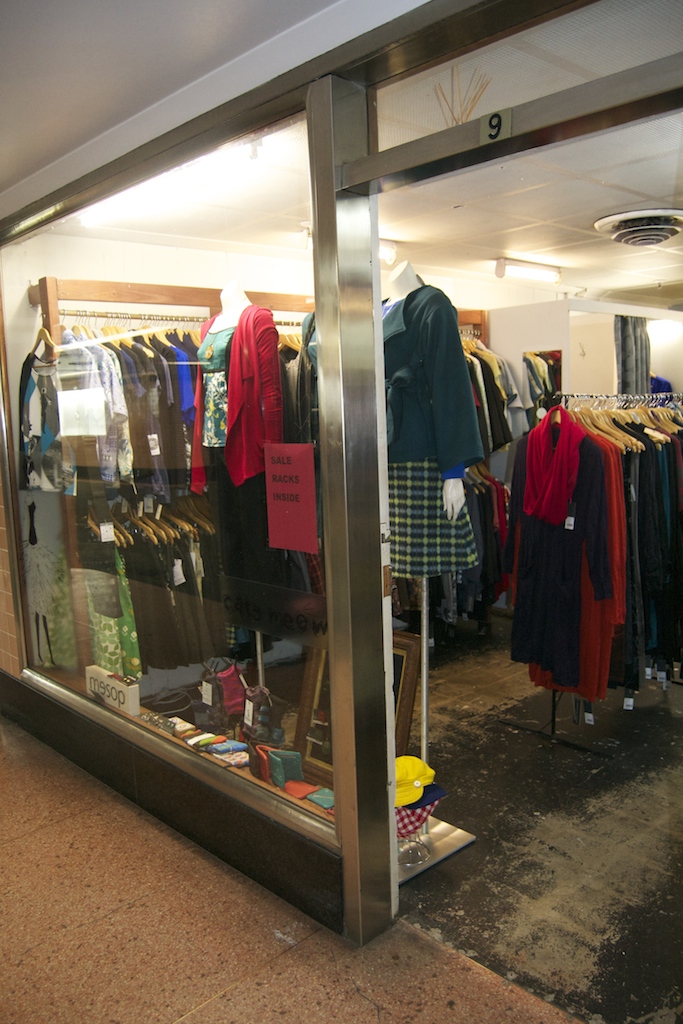 Melbourne women have mastered the art of layering clothing to deal with the 'four seasons in one day' that Melbourne often delivers! I think we are very good at mixing and matching transeasonal pieces, and despite our reputation for always wearing a lot of black, we are not afraid of setting this off with a fabulous bright accessory, piece of jewellery or pair of amazing shoes. The Melbourne woman is not afraid to stand out from the crowd a little and many of our customers mention this when they visit The Cats Meow and are looking for something new to wear to a special event or work.
The Cats Meow customer (whether from Melbourne or further afield) knows the sense of investing in high quality affordable pieces that will be wardrobe favourites for years to come.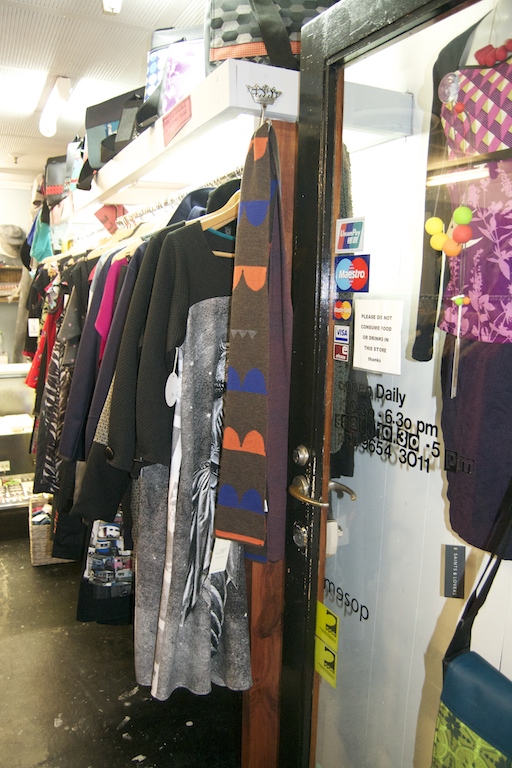 What's been the best bit about owning and running the shop?
The best parts of running The Cats Meow are supporting Australian designers and manufacturers; meeting customers and getting direct feedback about the pieces we stock. This always helps when buying or designing stock for each new season. Being based in such a small space means we can offer our customer a great one on one shopping experience in a relaxed atmosphere and dealing with small manufactures means we often have new pieces delivered every week. Working with fantastic staff is also one of the great aspects of running a small business. Their input and feedback on the day to day running of the shop is invaluable.
And the hardest?
Retail has been a little challenging over the last few years, so quiet times are often one of the more stressful aspects of running a small business.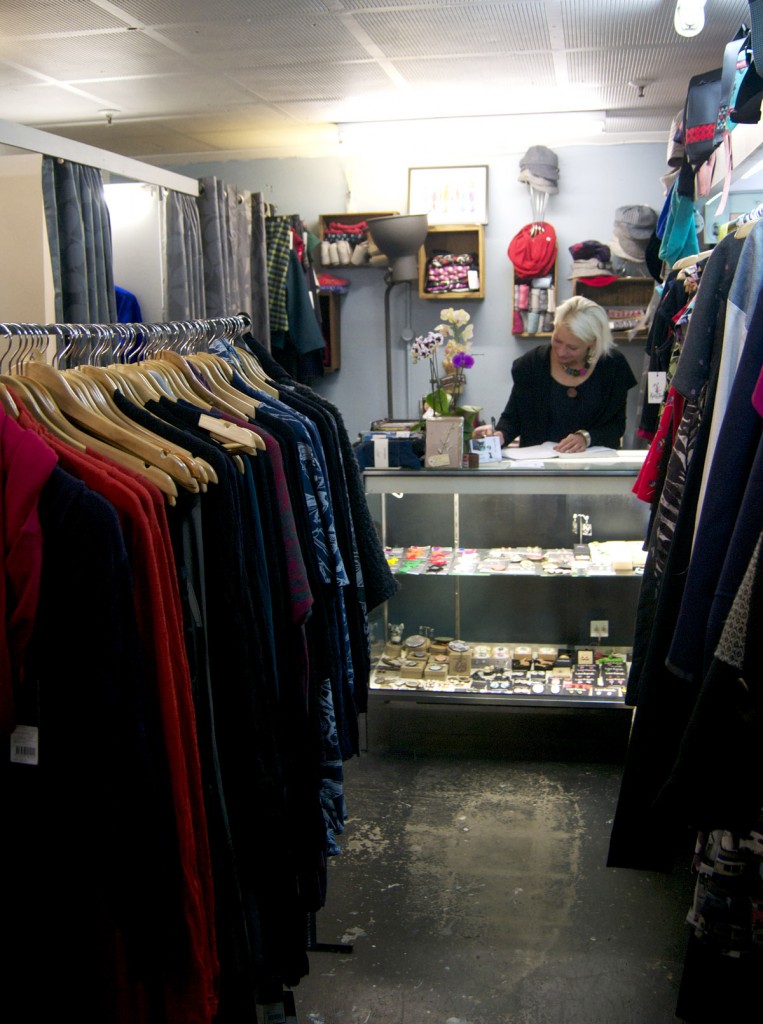 Is there anything else you want to make that you haven't yet? What are your personal goals for the future (you and the shop)?
I absolutely love my jobs (designing and manufacturing for Kylie Jane and running The Cats Meow) and hope that I can continue to provide customers with great clothing and accessory choices for many years to come. Sometimes it seems that there are not enough hours in the day to put all of my ideas into practice, but this is a happy challenge!
THE CATS MEOW is located:
SHOP 9, CAMPBELL ARCADE, DEGRAVES ST SUBWAY MELB (FLINDERS STATION SUBWAY)