See below for Artist Opportunities, Art News and What's On with a focus on Sydney and Melbourne.
Lots of photography this month, including Bill Henson at the Hellenic Museum, The Head On Photo Festival and a tribute to Music Legends.
Keep coming back, there is always more!
FESTIVALS…
OUR CITIES, OUR CULTURES, OURSELVES:
HEAD ON PHOTO FESTIVAL ANNOUNCES FEATURED EXHIBITIONS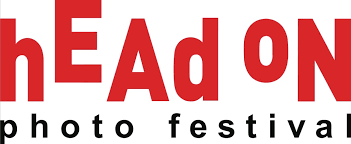 In an exploration of the self, societies and the spaces surrounding them, over 50 featured exhibitions will showcase a stunning array of photography when Head On Photo Festival returns from April 29 – May 22, 2016.
One of the world's largest and most prestigious photo festivals, Head On has grown significantly since launching in 2010 with 70 events, to over 150 in 2015. This year, over 50 featured exhibitions have been nominated as highlights of the Festival.
Festival Director, Moshe Rosenzvieg says "We have some incredible exhibitions from photographers from all over the world this year. Although we'll have over 150 events taking place, we've curated over 50 exhibitions to feature as highlight events for the Festival. These exhibitions represent some of the best work we've seen by professional and emerging photographers and we're so pleased to bring them to Sydney".
Some of the stand-out works include Toby Burrows series, Nothing to Lose, an exploration and celebration of movement and self as he captures plus sized performers mid dance. This exploration of deeper character is also carried in Anna Fawcus' award-winning MIXED EMOTION(M.E.). The stunning photo series exposes an inner self portrait by highlighting the more personal aspects of the self, particularly those inherited from one's upbringing.
One of the defining features of Head On Photo Festival is its emphasis on Australian talent, meaning some of the best professional and emerging photographers from our own shores will be on display. Australian photographers accompanying Toby Burrows in this year's festival include John Feely, Claire Reynolds, Amy Crawley and Natalie McComas.
Suburban life in Australia is observed by Crawley in her series Suburban Endurance, a record of Victoria's rural residents that contrasts and compares to the artists' own relationship with these spaces. Similarly, Claire Reynolds utilises a character to mirror personal experience in The Lonesome Cowboy, which represents her own story of leaving the cosy confines of a country upbringing, and facing the loneliness of life in crowded cities.
Jon Franks' Australians also examines the Australian identity in a gritty, honest exploration of modern-day life that can be found in the backstreets and shadows of our cities and rural centres, revealing stories of humanity and its place in our world.
On the opposing end of the geographic spectrum, Hiro Tanaka and Natan Dvir identify the life and vibrancy of New York City in each of their exhibitions. Tanaka's Around 42nd and 7th explores the universal attraction of Times Square and the ability for a city space to compress layers of rich culture into a collective sensual experience. In Coming Soon, Dvir explores the graphic relationship between the city and its inhabitants with a visual documentation of the billboards that both dominate the urban landscape and blend into the background of a bustling fast-paced culture.
Kodak City, captured by Catherine Leutenegger, also identifies the ephemerality of modern city contexts by exploring the remnants of the Kodak headquarters and the resulting downfall of its home city. Barren lands are again illustrated uniquely in John Feely's study, The Outsider, which showcases his experiences in desolate Mongolian landscapes. He focuses on the connections formed with its residents by gaining silent understanding of one's surroundings.
A realistic approach to cultural understanding is explored in Paolo Marchetti's powerful series, The Price of Vanity. He presents a view of intensive farming for high fashion that identifies the need for not only tougher laws in the industry, but more significantly, greater cultural awareness.
These spectacular photographic works and many more will be on display in galleries and other locations all over Sydney from the end of April through May for Head On Photo Festival 2016.
As well as exhibitions, the prestigious Head On Photo Awards will take place, along with an assortment of world-renowned speakers, and innovative workshops, all showcasing the work from over 900 Australian and international photographers.
For more information visit:
Website – www.headon.com.au
Twitter – @HeadOnPhotoFest
Facebook – www.facebook.com/HeadOnPhotoFest
Instagram – @HeadOnPhotoFestival
Here's one for the diary:
The longest ever Vivid Sydney will shine for 23 nights when it illuminates Sydney Harbour, new and much-loved precincts, and hosts vibrant music performances and big ideas talks, from Friday 27 May to Saturday 18 June.
Destination NSW Chief Executive Officer and Executive Producer Vivid Sydney, Sandra Chipchase said, "This year Vivid Sydney is back with an incredible program where art, creativity and innovation meet, and are celebrated by local and international visitors."
"Vivid Sydney delivers the world's leading light artists in Vivid Light, cutting-edge musicians in Vivid Music, and creative innovators in Vivid Ideas. In 2015 the festival attracted a record 1.7 million attendees, and this year visitors to Vivid Sydney will have longer to experience the wonder of Vivid Sydney, and enjoy our biggest year yet."
In a Vivid Sydney first, the sails of the world-heritage listed Sydney Opera House will celebrate the rich and diverse work of Australia's Indigenous artists through the projection,Songlines. This exceptional work of art is directed by Sydney Opera House Head of Indigenous Programming, Rhoda Roberts of the Bundjalung Nation of NSW, and brings together six Indigenous artists whose work illustrates the extraordinary connections between Indigenous astronomy and the natural world – the celestial and terrestrial Songlines that weave through time and distance, earth and sky.
Vivid Sydney's brilliant light also returns to Chatswood, Central Park, Darling Harbour and the Australian National Maritime Museum, Martin Place and new precinct The Galeries, which becomes the festival's first indoor precinct. Treasured attractions, the Royal Botanic Garden Sydney  and Taronga Zoo, will light up during Vivid Sydney in celebration of the monumental birthdays both celebrate in 2016.
MELBOURNE EXHIBITIONS…
Bill Henson at The HELLENIC MUSEUM
Hellenic Museum
Former Royal Mint Building
280 William Street,
Melbourne Vic 3000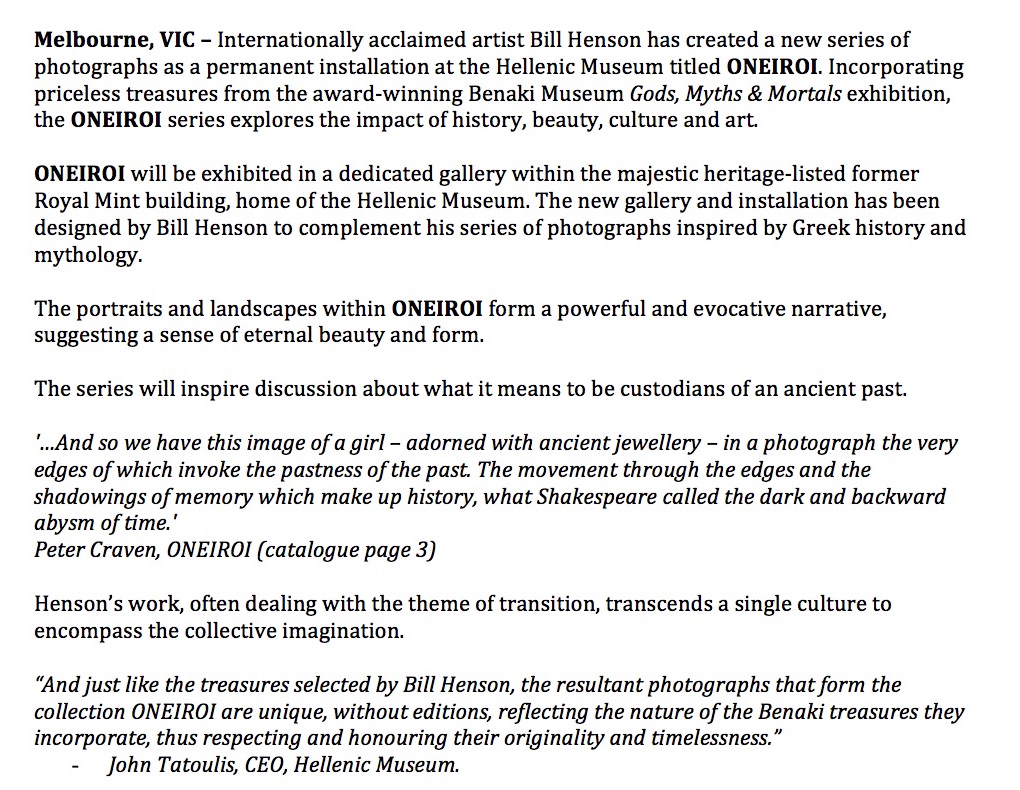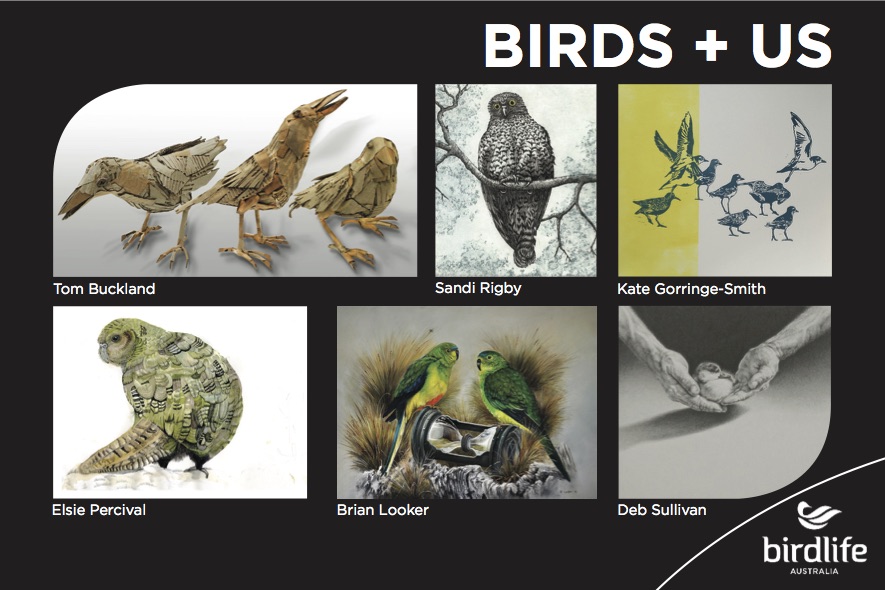 Claire Layman Gallery
4/640 Elizabeth Street Melbourne
OPENING NIGHT:
Friday April 15th, 5.30 – 9pm Welcome by Sean Dooley 6.30pm
Complimentary bubbles and light snacks. Art can be purchased (eftpos available) on the night and picked up at the end of the exhibition
(April 27th)
For more details and to RSVP contact: tbn@birdlife.org.au
Artist Opportunities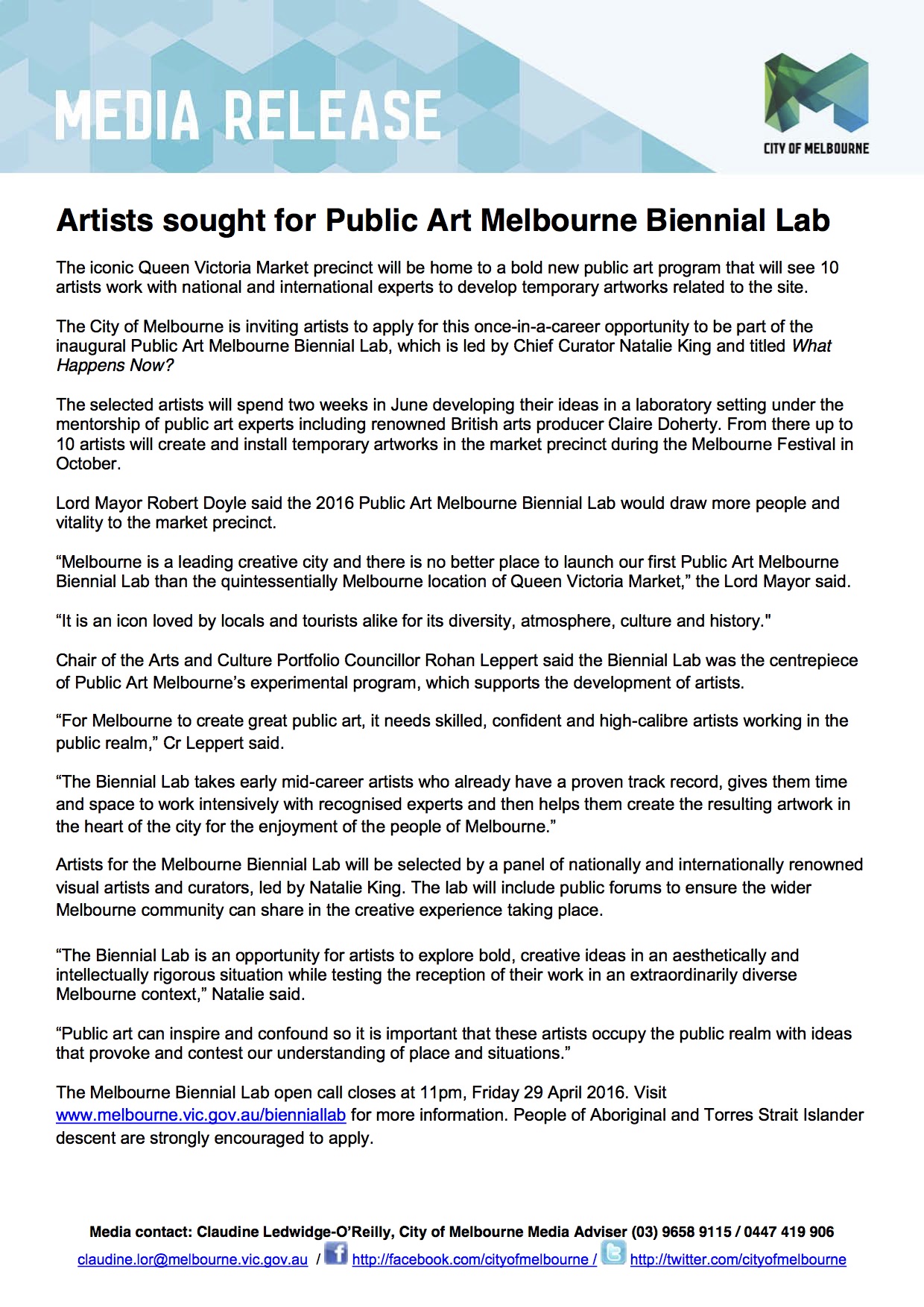 ART NEWS
RENOWNED PAPER ARTIST BENJA CREATES AUSTRALIA'S FIRST PAPER CHAPEL
The House, Australia's first art and design lead funeral home to conduct memory services, has commissioned renowned paper engineer Benja Harney to create a paper chapel. In an Australian first, this portable paper chapel will be used to host services and create a beautiful and unique space within existing locations.
Founded by Kylee Stevens, Morna Seres and Christian Willis, The House has been created to subvert the concept of traditional funerals and offer people choice when it comes to remembering people loved. Taking a combination of arts, culture, memory and design, The House aims to tell the personal story and narratives of each person's life, as well as encourage a new emotive understanding of memories. The paper chapel developed by Benja is one component of this new way of remembering.
"Over the past decade, I have worked with paper in many forms and with a diverse range of clients. This is the first time I have ever worked on a structure such as a chapel and within the funeral industry," commented Benja from Paperform. "The House have come to me with a truly unique concept that is a cross between architecture and poetry and it has been an honour to work on something so poignant."
Services conducted by The House will not be contained to traditional churches, in-cemetery chapels and other traditional locations. A series of venues in and around Sydney have been earmarked for services and each will offer something unique. The paper chapel, from concept to construction, has been a three-month project and can be moved from space to space.
"There has been a true collaboration with The House on this project," revealed Benja. "Initially there was an extensive brainstorm process, development of ideas and the shape. We all wanted to create something emotive, using the right scale and size, light and material. The structure also needed to be portable in order to move this to selected venues in and around Sydney."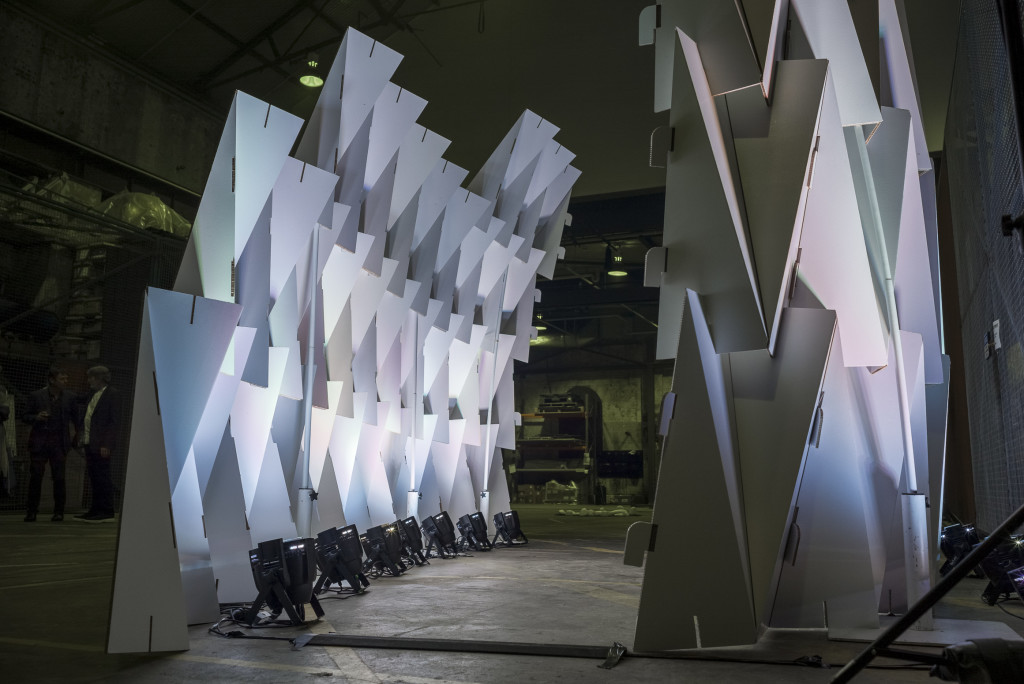 "When we approached Benja about commissioning this work, we wanted to develop a carefully crafted space and a structure for reflection," said Kylee Stevens, Co-Founder of The House. "The feelings of emotion, the connection with the space will be personal for each family, with light filters creating beauty and serenity for each personalised service."
A modular design, this new ceremonial space can stand multiple metres tall with the ability for additional interlinked sections to be added or removed from the chapel to create a desired size. In their search for the perfect construction material a free-standing structure, the paper chapel will use revolutionary environmental X-Board Print and will take over an hour to assemble and pack down in each location.
"We recognise the impact that funerals can have on the environment and worked with Benja to find a material with a strong core that also happened to be biodegradable. The Xanita X-Board print, and the technology used to create this is environmentally friendly and is reusable; two things that were vitally important to us for a structure like this," commented Ms Stevens.
The House will offer the paper chapel as an option for all services, which guests will have the opportunity to use pending on their choice of space and service style. Choice is a driving factor for The House, with their commitment to offering something different to standard funeral services.
"When it comes to funerals, there is a place for tradition as well as celebration. The House fits in the space between these two ideas. We are aiming to service memory in a meaningful and relevant way, be it happy, sad or a combination of both. We will be creating moving experiences in meaningful settings, using visual, audio and other sensory elements to show and harness a complete picture of life," concluded Morna Seres, Co-Founder of The House.
LORNE SCULPTURE BIENNALE ANNOUNCES LARA NICHOLLS AS 2018 CURATOR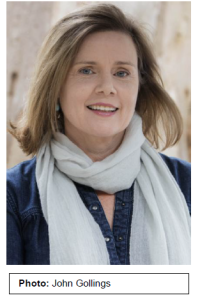 The Committee for the Lorne Sculpture Biennale is delighted to announce the appointment of Lara Nicholls as the new Curator for the 2018 Event.
Lara Nicholls comes to the Lorne Sculpture Biennale with an enviable background in the Australian arts community. She graduated from Melbourne University with a Bachelor of Arts (double Major in Art History), a Postgraduate Diploma of Art History and finally a Master of Arts, (First Class Hons.)
She has worked at Sotheby's as Australian Paintings Specialist and later at Deutscher and Hackett as Senior Art Specialist and Head of Corporate Collections and in 2008 Lara curated and travelled an exhibition of indigenous art to Zurich. She has held numerous consulting positions including as co-author of the catalogue for the Athenaeum Club's art collection.
Lara Nicholls was born and grew up in Lorne where her parents and extended family were the founders of the famous and much loved Arab café. Her family connections still live in Lorne and she and her three children spend most of their holidays there.
Announcing the new appointment, LSB Committee President Peter Lamell said, "Lara's combination of exceptional curatorial experience, sophisticated arts knowledge, commercial experience and her deep personal connection to Lorne, make her an outstanding appointment for this role, Lara has a vision to further develop Lorne as the epicentre of the Creative Coast, and will use her experience and connections to bring this vision to life."
The Lorne Sculpture Biennale is a festival celebrating the best of Australian and international sculpture set on the stunning Lorne foreshore. Now in its 9th year the community backed, professionally run event featured over 100 works and attracted 70,000 visitors in 2016.