By Celeste Hawkins
Meg Cowell's photographs draw the viewer into her story-a sensual world; deeply connected to nostalgia and encapsulating the metamorphosis from youth to adulthood. Drawing on so many other elements; Meg divulges some of her processes and thoughts behind her stunning images.
You can see her latest exhibition  at Flinders Lane Gallery from the 20th of September. For more details see here:
Website: www.megcowell.com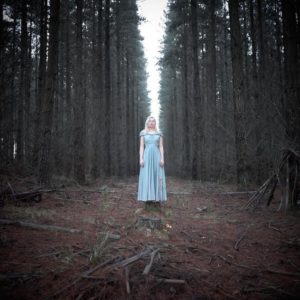 By Meg Cowell
Black is the absence of light but white is the absence of memory. ~ Stephen King
My relationship with photography surfaced within the sloshing chemical trays of the Hobart College darkrooms. In the gloom amongst the dripping taps, I relished, what felt to me like, the almost supernatural processes of chemical dips and rinses that created and sealed my camera's vision. I was enthralled by the control that was possible at the various stages of decision‐making that managed exposure, cropping and tone. I loved how these choices – what to reveal and what to conceal – could be used to veil reality and create meaning. Recently, I have worked exclusively with digital cameras, but my understanding of photography's illusory possibilities is certainly shaped through my love of the magic and alchemy of black and white processing.
My current photographic work depicts feminine garments that have been arranged and illuminated while suspended in water. For this purpose, I have assembled a 1000-litre swimming pool in my Brunswick studio, in which I am able to immerse whole theatrical costumes and wedding dresses. The resulting images are a series of undulating feminine garments in what appears to be a vacuum of infinite space. The water contributes a sense of movement and allows the dresses to appear flower‐like, floating in an abyss. When sourcing garments for my work I look for pieces that communicate the kind of mood or emotion that I want to express. For example, I like wedding dresses because they speak of hope, expectation, and symbolic transformation. I am drawn to Victorian‐era mourning garments, for their symbolic function as symbols of spiritual darkness.
Recently, I've been looking at elements common to those things considered beautiful in nature; proportion, symmetry, clarity, harmony and vivid color. Butterflies are a potent example of these aesthetic principals, as well as being powerfully symbolic of spiritual freedom. However, the butterflies of my work are not found dancing carefree among the flowers, but are rather conspicuously static, locked in place and motionless like treasured Victorian‐era specimen insects, entombed, sealed off, pinned through the body to a silk cushion, frozen behind glass.
Within these images, beyond the velvet blackness, one might imagine the silent presence of things unseen – something magical, transformative or supernatural – an infinite universe, a spinning solar system. By contrast my recent use of opaque, milky whiteness creates a deliberate erasure as well as an aura or ghostly shield, a kind of metaphorical amnesia, at once concealing and revealing.
Within the milk I submerge young, female bodies in contrast with cloth, flowers and other liquids. The colour palette I've used for these is very specific – circles of white, punctuated by pops of pastel, silvery purples, dusty peaches, powder pinks and nudes. The garments I've chosen are strongly infused with nostalgia and melancholy, such as floating dresses with ruffled necklines and lacy shifts in antique silks.
Much of my inspiration for this series came from my sessions with my model. Evelyn is an evocative subject because she is undergoing the transition between childhood and young adulthood. Her easy possession of both girl/woman states allowed her to shift seamlessly between giggling, Converse‐sneakered girl to, within seconds of posing for the camera, an image/object with doll‐like innocence and knowing sensuality.
On this level I want the viewer to encounter the images as beautiful, sensuous symbols of something universal and tender. But I also want them to arouse suspicion. I want them to create a 'punctum' to use Roland Barthes' term – the thing within the image that 'pricks' us. Within my images it is the sense of incredible coldness that creates doubt – the milky waters seem almost deathly cold. My idea here was to set up something about mortality in the viewer's head – the goose‐pimpled flower of youth sinking into the fog of eternity.