What better way to find out what's going on in an artwork you're seeing than hearing an artist discuss their work! Sure you can get some of that here in this space, but there is nothing quite like seeing an artist actually discussing and pointing at their work. Why did they make that mark in the far left corner for example, or use those particular colours? There is also that intimacy of the crowd and like minded people coming together to admire and learn more about the work in the context that it is in.
Sometimes if you're lucky you can meet artists in the studio environment during an open day-or weekend. But for most, the gallery is the context in which their work is shown and where you can see and gain knowledge from gallery staff. Of course, the next step is the artists talk which is gaining even more momentum these days.
An open conversation with artist
JOSH ROBBINS
Moving away from the trend of staging opening events for exhibitions, we are embarking on scheduling a satellite program to increase interaction between artist and visitors. Artist talks, Q & As and participatory projects will invite the general public to engage with artists on an intimate level, entering into discussions about their personal arts practice and sparking dynamic conversation about the broader arts sector.
You're invited to attend an artist floor talk with contemporary painter Josh Robbins as he unveils his latest exhibition 'Roost.'
Where: Flinders Lane Gallery
When: Friday 8 May 12.30-1pm
Celebratory Refreshments will be provided.
Please RSVP by 5pm Tuesday 5th May.
Josh will engage in an open conversation and question and answer session with former
Triple R presenter, Ben Birchall.
Ben Birchall is a writer, broadcaster and creative all-rounder who has presented 3RRR FM's Breakfasters for three years and has worked in advertising, social media and publishing. His writing has taken in subjects as broad as music, science and hot sauce and has appeared in The Age, Frankie and Smith Journal. He is currently Creative Director at Right Angle Studio, publishers of The Thousands city guides and the brains behind creative projects like Melbourne's Rooftop Cinema.
Melbourne artist Josh Robbins offers us an alternative to the often loaded and over-conceptualised works that are now dominating gallery walls. Inviting us to share in his internal dialogue that expresses nothing more than beauty, he articulates a desire to inspire and invigorate not through complicated symbolism but through an appetite to capture fluidity in form that simply disrupts and stops us in our tracks.
The paintings invite the viewer into an immersive, surreal and fantastical world where time stops, birds flock, tree branches meander and respite is offered from the busy world that surrounds. Resting one's eye on a branch, or a feather, one can truly escape and admire the colourful, serene display that has been granted.
You can read the last interview I did with Josh Robbins here:
ORLY FAYA
Painting people into the World…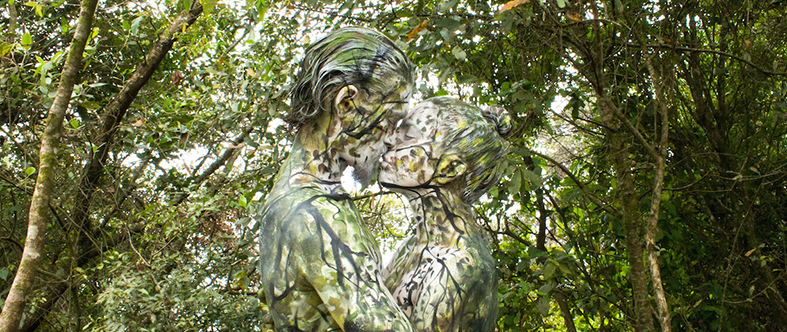 Her name is Orly Faya, and she paints people back into the world. Orly has a mission; to help us remember our connection to ourselves, to each other, and to the earth. Her work is an exquisite fusion of the human canvas with breathtaking
natural settings.
A world traveller for over a decade, Orly considers herself from the world, and her goal is to facilitate that same sense in others. After recent escapades in South, Central and North America, Orly has returned to Australian shores to present her debut exhibition, The Gaia Collection , a compilation of 22 mimetic pieces that highlight our inherent connection with the land. Each artwork represents a story, an expedition, and a powerful interaction between the one being painted, Orly, and the earth. Orly explains, "In re-merging humanity with nature, I aim to incite powerful emotional and psychological responses, to encourage the development of the individual's sense of awareness and communal consciousness."
These artworks also form part of a bigger initiative called The Gaia Project , an entity for establishing creative collaborations that aim to impact social and environmental changes, and ultimately create a more sustainable way of living in the world.
Her message is simple – we came from the earth, live from the earth, and will return to the earth.
In Orly's words, "Through re-membering ourselves as part of the earth, we become aligned with nature. We offer humanity the possibility of living harmoniously on earth once again." The exhibition will take place nestled in the surrounds of Victoria's Dandenong Ranges, at the Burrinja Cultural Centre , for four weeks between May 8th – June 7th. The official opening takes
place on Saturday 9 May. The Gaia Collection will also host 'Creation's Calling – Collaborating for Sustainability', on May 22nd; an event to encourage creative expression as a tool for communication in today's world.
In March, Orly launched a crowdfunding campaign to help her propagate The Gaia Project through her debut exhibition. There is only two weeks left and she is calling out for the support of the world, the environmentally conscious communities and those who support the arts to reach deep and help her launch The Gaia Project.
THE GAIA COLLECTION Debut Exhibition by mimetic artist Orly Faya
May 8 – June 7, Burrinja Gallery, Upwey, Victoria (Opening May 9)
CREATION'S CALLING Collaborative Arts Events
May 22, Burrinja Gallery, Upwey, Victoria
THE GAIA PROJECT A sustainable arts movement to re-merge humanity with the earth