By Celeste Hawkins
It seems that many young artists, and in particular, of the male variety, have dabbled with graffiti in their teenage years. The simplistic act of being armed with a spray can and an idea; and the canvas (being the brick wall or similar surface) being free and readily available makes it an appealing pastime for many. Young Dan tried many things growing up, and graffiti was a large part of his art-making experience, before he discovered fine art. Now at the age of 36,this self-taught artist works as an oil painter and sculptor. Dan was fortunate enough three years ago to contact some mates who had started a sculpture studio; and this is largely his bread and butter. But, as he explains, he actually did literally butter bread and more, before he could be fully involved and paid in the profession!
I worked as a chef for about fifteen years. This was not so much a conscious career decision, as finding a way to feed myself when I was young and on my own. As my art career took off, it was a flexible enough industry to be able to ditch my job when I had an exhibition coming up, and pick up work easily when all the money was gone. I worked part time for a while and then gave it up completely painting full time for a few years until the big bad GFC (Global Financial Crisis) came along!
Despite sales being down for a time, he became restless and decided that he could no longer stand working in the kitchen:
I went through a few jobs in a short space of time but kept moving on because nothing felt right. I found that I just couldn't take it seriously anymore. Some posh Twats breakfast just didn't matter anymore, I new I should be making art. I have been working for Tim and Chris at Lump sculpture studio for about three years now and I love every minute of it.
Working with Steel:
Working with steel as a medium is about as far away from oil painting as you can get. It is infinitely more tactile and tangible than a painting. Its reasonably forgiving as a material, you can chop it in half and weld it back together and if you do it well, no one would really know it had been chopped up in the first place. However, if you put too much heat into it too quickly it will warp and distort and be ruined.
Dan discusses the design process….
The process involved in making a steel sculpture always begins with a drawing. Sometimes this is a carefully mapped out blueprint, sometimes it is an idea scrawled on a page. Next you prepare a "cut list'. This itemizes the pieces of steel you need and their dimensions. Once these are prepared, the pieces are rolled, folded, welded, beaten and forged depending on what is required and then assembled. For larger works we use forklifts and cranes to put the pieces together so they can be welded in place. We have some really fun machines including guillotines that cut steel like its paper, brake presses that fold steel, rollers that bend steel and a whole heap of really gutsy welding machines. Its heaps of fun!!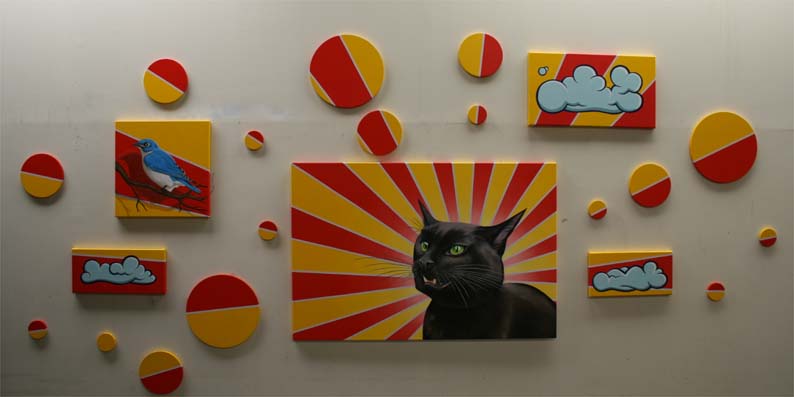 Recently Lump Sculpture won a tender to install a dome at Fountain Gate Shopping Centre, as apart of a children's playground. The dome, designed by director Chris Vassallos is a brilliant example of one of their unique structures admired and utilized by the community.
 We work mainly through private commissions but as well as making lump sculptures we do a lot of work for other artists who have an idea, but don't have the know how or the equipment to be able to make it themselves. We don't rely on funding as such, however, large-scale sculpture work generally goes out to tender and artists have the opportunity to put their ideas forward. The dome is one example of the many weird and wonderful things we get to build.
 In the past, Dan has emulated artists such as Jeffery Smart, in effort to inform his own style and is now very much intrigued by the Japanese Culture; ranging from traditional Japanese screen printing to more comical interpretations by Yashimoto Nara. He is also drawn to the American Low brow movement, which came about in the late 70's.
My main subject matter has been toys for a long time now. I essentially am a still life painter who pushes the boundaries of the genre. In the past, I have used toys, ceramics and Bric-a-Brac to create narratives in my paintings, but I am starting to move away from that now. My current body of work is a 'Memento mori'. My central character is a ghost. He is sculpted from steel and I am doing several paintings of him among other things. Ghosts, skulls and spooky things feature heavily. This work is a response to the climate we are living in. There is a pervading doom; we are told the global economy could collapse at any moment. In the boom bust cycle of capitalism, this is the bust. Dark times my friend, Dark times! "In these dark times will there also be singing? Yes, there will also be singing about the dark times." (Brecht) Although this body of work is thematically quite dark, as with most of my work there is an element of humor to it. To me, a Memento mori is as much a reminder to make the most out of life and live well, as it is a reminder of our mortality.
Aside from working with steel, Dan prefers Oil paints to acrylics:
I just find it the easiest to use Oils for the kind of aesthetic I am after. Acrylic dries too fast for my taste. I like to work the paint a lot on the canvas, and watercolour just doesn't have the punch I'm after.  That being said, I am constantly experimenting and will use anything that works. My "Losing it!' show featured tinfoil heavily. I produce more departures than cohesive work sometimes, I am sure its frustrating for the people who sell my work!
Dan showed with Metro for almost a decade and has received the people's choice award in the metro5 art prize on two occasions, gaining a lot of attention. He has also exhibited with Kehoe galleries at the Armory show in New York (International art and design fair) three times and has shown in Milan with BlackArt Project most recently in April this year.
 I show around Australia periodically but have nothad a  solo show in Melbourne since 2008.I have a really big show coming up in Perth in November which is my main project on the go for now. It will be a combination of Oil painting, metal work, and a myriad of other bits and pieces.