By Celeste Hawkins
Telia Nevile has always been a documentarian of sorts. An almost obsessive need to capture every moment has aided her vast collection of hundreds and hundreds of photographs of her friends. Her long love of theatre combined with this need to photograph has resulted in a quirky, sometimes cheeky series of photographs that deliberately distort and create new narratives. Her influences include the legendary filmmaker John Hughes, photographer- Nan Goldin, musician and actor David Bowie and even street artist, Banksy.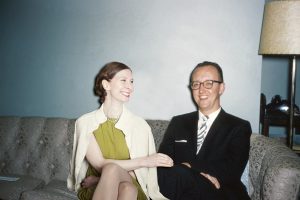 Telia explains:
 "I always loved photography – I bought my first camera from a chemist in the Woden Shopping Plaza in Canberra when I was in Grade 3 – but it was more about trying to keep time from slipping away than anything else, that desperate desire to hold onto places and moments and people I thought were beautiful. My memory is pretty bad, and photography has kind of usurped most of my first-person memories creating a photographic catalogue in their place. My first love growing up-and it shares equal airtime with photography now, is theatre."
What have you studied?
"I got my Graduate Diploma in Animateuring (the creation of new theatre) at VCA in 1999, did ¾ of an Associate Diploma in photography at PSC (they still had colour darkrooms at that time which was fabulous as they're almost impossible to find now), and received a BFA with First Class Honours last year at RMIT. "
 Why the fascination with manipulating old photographs or movie stills-and integrating yourself in them? What else inspires you?
"I'm in love with nostalgia, which I guess is part of what draws me to photography. Old photos and letters, movies I watched obsessively as a kid, objects people used to hold and use and wear. They offer tantalizing glimpses into lives that are long gone (or that never existed) and they fascinate me. Outside of their story value, old photos also carry that unmistakeable patina of age and absence. Their colours and grain are particularly beautiful, and I'm a big fan of awkward, amateur-photography cropping. The digital age means that I can visually create the fantasies in my head – my desire to go traveling in the 1960s, to be Molly Ringwald, to live a poetic and adventurous life. These composite photos bring my imagination one step closer to being concrete."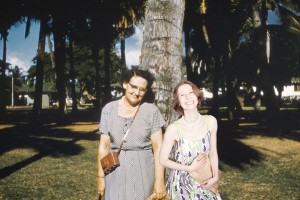 Do you consider these self-portraits?
"In a way, yes. They reflect my addiction to escapism and how blurry the line between imagination and reality is for me. Watching someone play make-believe always tends to reveal a fair bit about that person and how they tick, and when you look at these images you're seeing me playing out different versions of what my life could have been (and what I sometimes wish it was)."
 Do you sometimes wish you were born in another era-such as the 50's or 60's?
 "Frequently, although I think if I actually was born in those eras and got the reality instead of the Hollywood-edited and romanticised fantasy I might be a little less keen. I always wanted to be a young adult in the 1920s – Art Deco, revolutions in visual arts, the thrill of hearing jazz music for the first time, the strides that were being made in photography; or in the 1970s – the musical milestones of the 1970s were just incredible and I always desperately wished I could see David Bowie do Ziggy Stardust, and Led Zeppelin debut 'The Immigrant Song'. The 1960s would have been great too…and the 18th Century…"
 What sort of reactions have you had from your audiences? Do their reactions propel you into making this kind of work?
"People tend to giggle when they see my work, which I'm pretty happy about – they see humour and wistfulness and that makes me really happy. Their reactions mean I'm making a connection and I guess that's everything you could hope for. I think in photography, like in theatre, the more honest and specific you are about your hopes and your fears, the more universal your statement becomes."
 Please share your some of your processes in regards to the idea through to the final product. You must be a wiz at Photoshop!!
"I shoot myself against a white background, then erase the background, and then spend most of my time making colour and contrast adjustments to match myself to the image I'm pasting into. After that's done, you paint in shadows and do overall adjustments to the final composite. I'm pretty far from a wiz at Photoshop, but I think my time in darkrooms really helps with the colour matching. "
 What camera do you use?
 "I use a Canon 5D Mark II with a couple of beautiful lenses that I bought second hand."
 Do you dabble in any other art forms?
"I write, produce and perform theatre. For the past five years that has mostly taken the form of character comedy, which is really rewarding. Even though my theatre and photography practices don't tend to mix together, I definitely use skills from each practice in the other."
 And future plans?
"As far as this project goes, I'd like to make a whole lot more pastes – enough to fill a photo album – and then start to paste myself into photos belonging to people I know. I think taking it that far would be confronting and really interesting in regards to how people use family photos to inform their identity and how altering them would affect their memories. I also have some big plans for a couple of new installations next year that also explore the ideas of memory, the formation of identity, and the line between fantasy and reality. On a performance front, I'm hoping to get to a couple of Fringe festivals in the Midwest of America next year. I'm really excited – so many projects and experiments to get stuck into and so little time! "
Telia's exhibition :
The Grass is Always Greener is on until November 30th
At: North Melbourne's Rubicon ARI
Level 1/309 Queensberry Street-North Melbourne