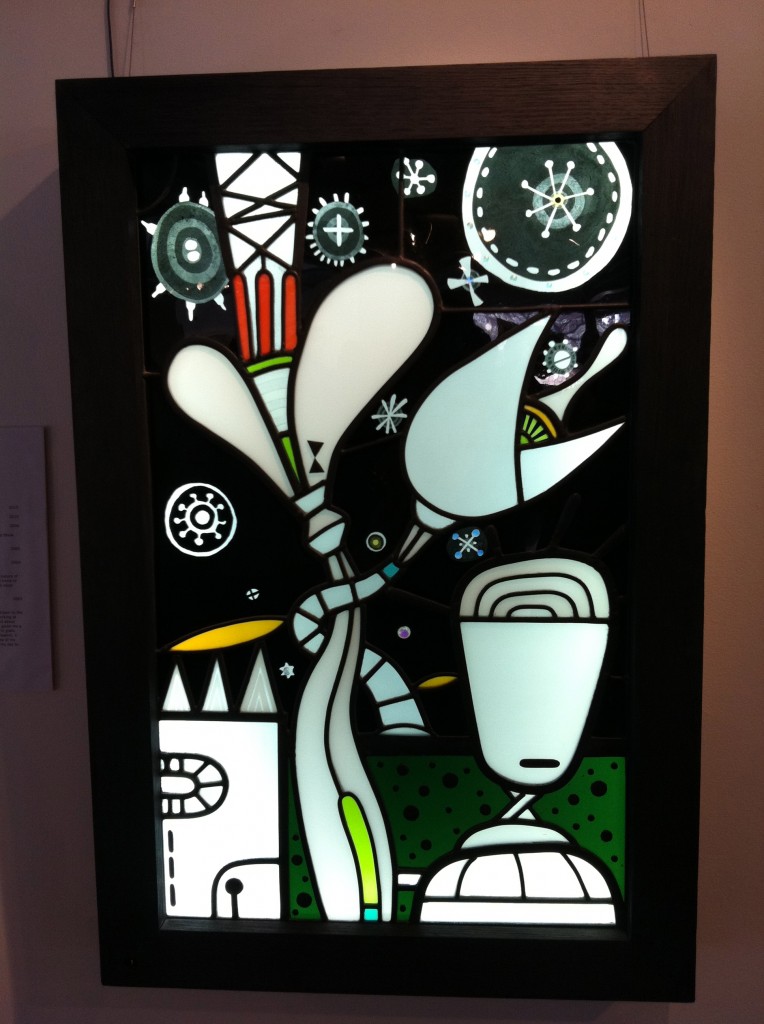 For a long time, Andrew's work has centered around creating a 'world of tomorrow' where a strange hybrid of plant, robot and human characters merge and interact. He explains that he wants these little worlds to appear as if "they sprung up overnight completely unexpectedly and with no explanation whatsoever". Obviously, this Melbourne based artist likes surprises and what offers his viewer further intrigue is his choice of medium to portray these worlds. After completing a Bachelor of Fine Art in Painting at Monash in the mid 90's, Andrew never felt quite satisfied with the medium he majored in…and he explains:
'Although I loved painting I never really thought it was the medium that suited me most. Stained glass windows always fascinated me; and with my very graphic style and use of bold colours, I thought it to be the perfect choice. So then I went and did a couple of short courses in Lead lighting and realised I loved it. I then went around to a few Lead lighting shops until 'G 4 Glass' in St Kilda took me on. I stuck around there for about 7 years learning all general glazing skills before going over to London and working over there in a small glass studio for a year. After returning, I was lucky enough to land a job at Toucan Forged glass in Caulfield where I've been for the last 4 years. Toucan specializes in Architectural glass and it's been there that I've learnt a lot more techniques like fusing, slumping and painting on glass".
When thinking up a new piece, do you always take the design completely from an illustration, or do pleasant discoveries happen when working with the medium itself?
For the majority of my pieces I work from a drawing, but I'm always open to adapting the piece as it progresses. But when doing some fused pieces I'll start out with a basic idea in my head,  then I'll cut glass play around and problem solve until I come up with a composition that I'm happy with. There are also times when I've sourced some amazing pieces of antique glass that I've designed and built a piece around them.
 How would you explain how you make one of your pieces to a person who has no knowledge of the craft?
When making a leadlight I'll usually start with a drawing that I'll project up onto the wall to the dimension I want. Then I'll choose the glass I want to use and cut out my design. It's at this point I paint or etch any piece of glass that requires it. Then I'll build the piece using a 'H' shaped lead that each piece of glass sits between. Once this is completed, I solder all the intersecting lead joins. I then putty in between the lead and the glass on both side to strengthen up the piece. One this is done I polish up the leads and clean the glass and then I'm done.
 Tell me about "The Glass Group"….
The Glass Group was set up to encourage emerging glass artists and designers. It also sets out to promote Architectural glass and to ensure traditional skills of leadlight and stained glass ensure. There are no plans for an upcoming Glass Group exhibition this year yet although the group continues to explore new opportunities.
Future Plans…
I plan to keep exploring new ways in which to work with glass. I'm also keen to try and start getting my work into some more group shows, and start entering some prizes.