By Celeste Hawkins
Warning. This post may contain the names and images of Aboriginal and Torres Strait Islander people now deceased. 
One of the most joyful parts of writing these posts, is the learning that happens with it.
I am excited that more and more media releases are being sent to me about Australian Aboriginal artists working across a wide range of visual arts practice.
There are of course the Tjanpi desert weavers that have been gaining attention both here and overseas and an increasing representation of indigenous Australians on screens and behind the scenes of film and television production.
And Contemporary Australian Aboriginal painting is currently in the news with the recently announced winner of the John Fries award -Ben Ward. The UNSW in Sydney is currently hosting the John Fries Award exhibition as well as The Streets of Papunya. 
Read all about it below.
And… two very talented young women are taking up residency at the Kate Owen Gallery as you will also discover.
It's all happening in Sydney this month!
Emerging Aboriginal Artist wins John Fries Award 2015:
West Australian Aboriginal artist Ben Ward has won the 6th annual John Fries Award 2015 for emerging artists for his painting Our Country, taking home $10,000 in cash.
Ward is the first Indigenous artist and first West Australian artist in the history of the award to win the prize.
Despite picking up a paintbrush just four years ago, 65-year-old Ward, a paraplegic, has developed a distinctive painting style: using brightly coloured tessellating triangles to depict his local Miriwoong country.
At 2.4 metres wide, Our Country is the largest in a series of 18 paintings that represent the landscape as it was before the Lake Argyle Dam, Western Australia's largest artificial lake, was constructed near Kununurra in the east Kimberley in the early 1970s.
Ward says,"…all that's underwater now, and that's what I paint. Everything that's underwater, I remember every bit of it.
"I began painting to share my cultural knowledge with others. Art gives me an opportunity to express myself and tell the traditional Miriwoong stories. If you can't get any messages out to the younger generations in the world about what this area is about, it's good to put it in a painting.
John Fries Award Curator Oliver Watts says Ward's work is not only strikingly beautiful, it's also really important.
"His style is about finding ways to connect to younger generations as a way of preserving the identity and heritage of his home," he says.
"Ben's work is a way of reconciling and remembering the quite violent appropriation of Miriwoong land. Through his paintings, he sets out to create a sense of community and the shared custodianship of the land and the language to represent it."
People Like Us: 5 September to 7 November
Streets of Papunya: 5 September to 7 November
John Fries Award: 5 September to 10 October
UNSW Galleries, Corner Oxford Street and Greens Road, Paddington
A major new exhibition Streets of Papunya is the most ambitious showcase of artists from this famed Western Desert arts centre to be presented in Sydney this decade.The exhibition showcases the remarkable art of the women painters of Papunya today, rising stars of the town's new Papunya Tjupi art centre, established in 2007. It shows their work in its contemporary sociological and historical contexts,alongside short films that explore the reality of life in Papunya today, and the famous paintings of the current generation's ancestors.
This includes some of the first women painters in the desert, who joined the original Papunya art movement in the early 1980s, and the daughters of many of the ground-breaking Papunya Tula artists of the 1970s. Curator Vivien Johnson says the exhibition unearths the history of Papunya
 as a site of art production since its establishment in the late 1950s,with key works borrowed for the exhibition from public institutions: Albert Namatjira's final paintings, executed in Papunya days before his death in 1959; and paintings from Papunya's glory days of the 1970s and '80s,its dark time as the 'carpetbagging capital of the desert', through to its inspirational resurgence today as its artists reinvent Papunya painting for the twenty-first century.
'Papunya paintings have always been visual representations of the artists' Tjukurrpa legacy, invoking the power that the painters believe inheres in the landscape from past events, so that what happened in a place in the past affects what happens there in the present and the future,' says curator Vivien Johnson. 'The people of Papunya were not just insisting on their community's connection to the old masters of the desert art movement when they named their streets after them; they were invoking the power of their immediate ancestors, who founded the desert art movement in this place.'
Kate Owen Gallery, 680 Darling St Rozelle NSW 2039
open 7 days 10am – 6pm
Meet Tarisse & Sarrita at the Gallery in September
12 September – 27 September
for session times, please visit www.kateowengallery.com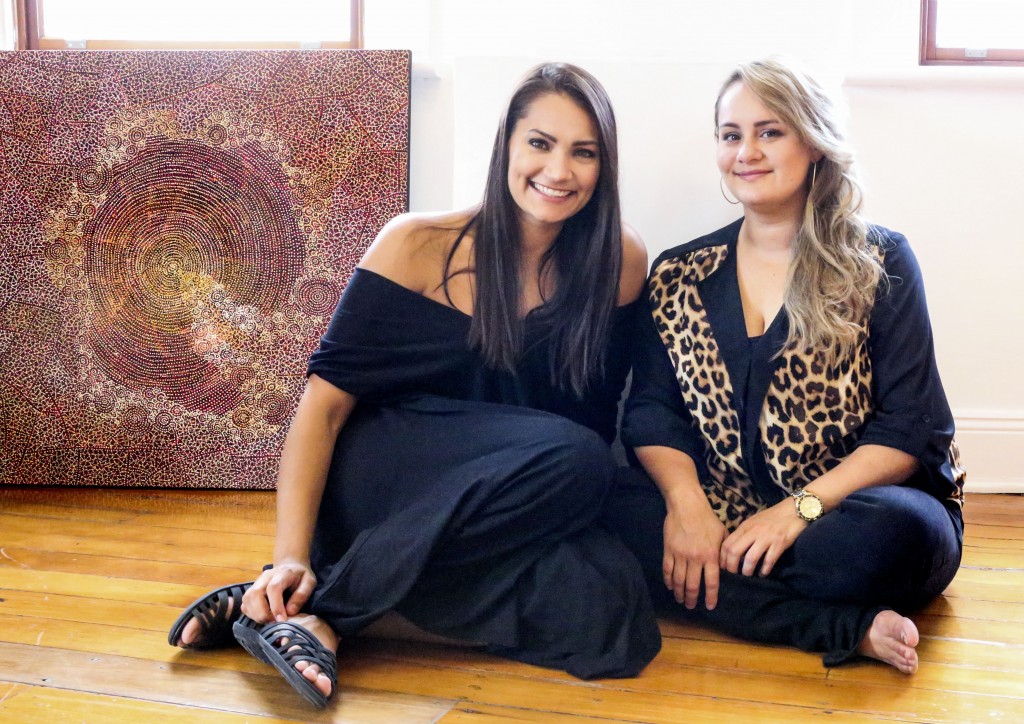 Dreamings from the desert arrive in Sydney for a unique artist in residence program at Kate Owen Gallery.
For three weeks in September, visitors to Kate Owen Gallery will have the unique opportunity to learn more about Tarisse & Sarrita's art, culture and inspiration as they set up their studio in the gallery & answer all of your questions. Tarisse & Sarrita will be painting surrounded by their latest body of work, and exquisite collaboration pieces.
The artist in residence program coincides with the launch of Kate Owen Gallery's latest exhibition The King Sisters
12 September – 27 September
Sarrita and Tarisse have taken the Aboriginal art world by storm with their incredible detail and ability for creative design. While still in their twenties, Tarisse and Sarrita King's works have been displayed in galleries throughout Australia and around the world.
"We are thrilled Tarisse & Sarrita has accepted our invitation to be part of our artist in residence program – they truly embody the exciting next generation of artists who will no doubt spearhead the Aboriginal art movement in years to come."
The concept of an artist in residence program is something Kate Owen Gallery has been working on for a long time now.
"With our sister gallery in Alice Springs & many of our artists coming from Central & Western Desert communities, our gallery in Sydney is almost the 'remote' place. We wanted our visitors and clients to have the opportunity to experience the creative energy and talent that is simply buzzing everywhere in Alice & in the nearby communities"
About Sarrita King:
Sarrita King was born in Adelaide, South Australia on the 5th March 1988. She is the younger sister to fellow artist, Tarisse King and daughter to the late highly regarded artist, William King Jungala (1966 – 2007).
Sarrita inherits her Australian Aboriginality from her father who was part of the Gurindji tribe from the Northern Territory. The Gurindji tribe came to public attention during the 1960s and 1970s when members employed by the Wave Hill cattle station led a landmark case which became the first successful land rights claim in Australia. It is this same strong sense of self and pride that Sarrita embodies and it fuels her drive to paint her totemic landscape.
Sarrita spent most of her youth growing up in Darwin in the Northern Territory. Not far from where her ancestors inhabited, it is here that her connection to her Aboriginality and subsequently the land was able to grow. Her exposure to the imperious weather and extreme landscape has provided the theme for her works of art, since she began painting at age 16. Rolling sand hills, cracking lightning and thunderstorms, torrential rain, fire, desert and tangled bush are all scathing environmental factors that shaped her forefather's lives and also her own. Depicting these elements in her paintings, Sarrita provides a visual articulation of the earth's language.
Stylistically, Sarrita utilises traditional Aboriginal techniques such as 'dotting' but also incorporates unorthodox techniques inherited from her late father, as well as self-developed practices. Her art is a fusion of the past, present and future and represents the next generation of artists who have been influenced by both their indigenous history, and current Western upbringing. Sarrita creates frenetic energy on the canvas with her Lightning series and searing heat with her Fire series. Her aesthetic has a universal appeal and provides an entry point for people to experience the power and uniqueness of the Australian landscape and its harsh climate. On a world scale, her depictions couldn't be more seasonable and well-timed.
Sarrita has been included in over 30 exhibitions, is represented in galleries in every Australian state, included in many high profile Australian and international art collections and been auctioned many times successfully through Paris' Art Curial Auction house.
After 3 years living and painting in Canberra, Sarrita has returned back to Darwin, where she spent most of her childhood. At only 27, Sarrita King has many personal achievements but it is her desire to visually communicate her inspiration and the land, which keeps her ancestral narrative alive and provides a new way of looking back while looking forward.
About Tarisse King:
Tarisse King was born in Adelaide, South Australia on the 4th September 1986. She is the older sister to fellow artist, Sarrita King and daughter to the late highly regarded artist, William King Jungala (1966 – 2007).
Tarisse inherits her Australian Aboriginality from her father who was part of the Gurindji tribe from the Northern Territory. The Gurindji tribe came to public attention during the 1960s and 1970s when members employed by the Wave Hill cattle station led a landmark case which became the first successful land rights claim in Australia. Like her forefathers,
Tarisse is an assertive individual who is determined to communicate the inseparable connection she and her ancestors have with the Australian land.
Tarisse spent the majority of her youth in Darwin, a unique city in northern Australia that is subject to extreme weather conditions; from torrential rain and cyclones in the Wet Season to oppressive and immobilising heat in the Dry Season. This climatic impact is seen in her artwork but it was also the road trips she travelled between Darwin, Katherine and Adelaide, where her father resided, that she reflects on most in her paintings. The journey of 3027 kilometers, right through the heart of Australia, reveals extreme expanses of varying landscapes and provided Tarisse with the isolation and time to develop a unique perception of the land which can be seen in her paintings such as Pink Salts and My Country – Tracks and Rivers.
Moving to Adelaide at the age of 16, it was her involvement with her father's art that lead Tarisse to experiment with her own designs and techniques, resulting in a definable style of her own. Drawing on the Central and Western Desert Aboriginal dotting style of painting the land topographically, Tarisse captures a complex and varied soul of the land.
In homage to her father, her adaptation of Earth Images defines Australia as if looking from outer space back to land; the viewer is given a heightened feeling of drifting above the earth. Then, in her series, My Country Tarisse composes 40,000 year old Aboriginal iconography of song lines, dots and circles to create a bold and contemporary aesthetic and provides yet another more detailed perspective on the landscape. Finally, Pink Salts, lowers the viewer back down the earth and immerses one in the surreal and luminous pink sunsets over the great salt lakes in the centre of Australia.
In all of Tarisse's artworks, she contemporises the ancient and allows the present day viewer an accessible moment to consider the past.
Tarisse now lives in New Zealand and paints in a her home studio while looking after her daughters, Amalii and Hinatore. At the age of 28, she is a full time artist. She has been included in over 20 exhibitions, is represented in galleries in every Australian state, included in many high profile Australian and international art collections, been auctioned successfully through Paris' Art. With so many accolades to her name at such a young age, Tarisse's potential to build on an already outstanding career is more than promising.
About Kate Owen Gallery:
Kate Owen Gallery is a multiple award winning gallery in Sydney's Inner West and specialises in contemporary Indigenous art for modern interiors. Just 10 minutes by bus or taxi from the CBD, the Gallery is Sydney's go-to art space for everyone from new buyers to established collectors. With artworks ranging from small affordable works to large investment pieces, our three light-filled floors showcase major exhibitions of indigenous masters, established artists and exciting new talent. The unique Collectors' Gallery is dedicated to museum-quality works from Australia's leading indigenous artists, many of whom spearheaded the Aboriginal art movement.
Kate Owen Gallery has its own dedicated indigenous art studio in Alice Springs, allowing us to source central and western desert art directly from the artists as well as from Aboriginal Art Centres. We also feature works from a variety of other regions including the Kimberley and Top End.
Kate Owen Gallery is committed to upholding the rights of Indigenous artists and is a member of the Australian Indigenous Art Trade Association, an organization noted for giving indigenous artists a 'fair go' since 1999.