By Celeste Hawkins
Did you know that Velazquez, the Spanish Court Painter, used to set up models and paint from mirror reflections? And that Lucian Freud never used a camera and strictly only ever painted from life? I promised a while back that I would come back to discussing the portrait and investigate more into the portrait making process. It is always useful to look at the past and to see what practices are still being used today.
Making a portrait is considerably more about simply making a realist copy or perfect image. Some artists are able to create an image that captures the true essence of their subjects. Some are so striking; they almost look as if they're in the room with you, watching your every move. Paul Borg is fascinated by the portrait and has been imparting this knowledge to his students at Victoria University for nearly 29 years. His portraits capture the true character of his subjects. He mostly paints from life in oils, using photographs as a point of reference. I plan to revisit this subject again with Paul, but for now, have gleaned some information on his process and finding out which great Portrait Artists have inspired his works.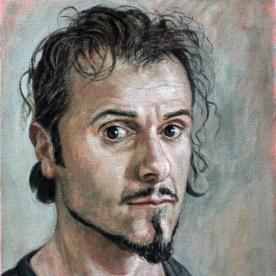 You have said in your lectures to students that the 'photograph lies', please explain this further:
"A photograph is set up, as people pose for it. However, if someone is sitting for a while, they tend to get back into being themselves. A photograph doesn't catch their personality as it may be a pose that is not what they're about. Some photographers have the skill to capture that, but many do not. Photos are good to give structure-I may use it for their overall structure and then the subjects will come in for the sitting to do everything else, including the face in detail".
How long does the Average portrait take you?
"It usually takes two weeks. It takes a few weeks first initially, to come up with the idea and the concept. I ask questions such as: How am I going to set it, to crop it or to compose it? Once I've done that, I can do the face in usually one or two sittings".
What about Commissions?
"Someone told me once no one does a commission unless it's a five figure sum-otherwise it's not worth the effort. If it is paying well and if it's for an important person or establishment, then that would be considered worthwhile. Otherwise it's quite stressful and a lot of pressure. For example, doing the portrait here of the former vice chancellor, there was a lot to take in."
The most difficult portrait you have ever been commissioned to do?
"The ones I did of myself. I did a series of five self portraits. And when finding one that I liked, no one else did. They all picked a different one. I must have had an idea what I looked like- but other people knew me better. People remember features and remember you by those. For example, someone might remember you as that person with pronounced eyebrows and it is more obvious to them as they know certain things you don't notice. Also, when I paint my daughter, for some reason, she always looks older as I know her too well".
How do people cut back to quicken the process of making a portrait?
"Some use photographs throughout the whole thing. Some project an image and trace it. It doesn't really matter because in the end, it's about having the essence of that person captured in the final work.It's about tapping into the individual's character or personality. Sometimes you even find that you are peeling back the public persona of a person to find someone else. An example of this is the Mayor of Maribyrnong years ago. People used to comment that she was always smiling- that was her public persona. When I painted her, she was more serious, as in time I got to know her. Friends who knew her said that I had captured the 'real Mai'. That's the one that most of them knew".
You regularly reference some of the Great Masters. Tell me about the ones that have influenced your work:
"Velasquez is a definite favourite; he was able to tap into the psychology of his faces. There is so much depth in his work and very suggestive with just a few brush marks. Whilst at Art School, I looked regularly at the work of Vermeer, who was brilliant at portraying light on his faces and with such subtlety. Lucian Freud, Goya and Rembrandt are also influences. I am more interested in their technique and the work that they produced throughout and at the end of their lives, rather than being caught up in their personal lives. That interests me to a point, but I am more concerned with what influences them and their lifestyle".
We will talk to Paul more about his own work, in a few weeks.