By Celeste Hawkins
This year marks the celebration of 20 years of Top Arts at the NGV. 'Start Up' contains the work of 49 students, whittled down from about 3,000 applicants from VCE Studio Arts and Art students around Victoria. More sophisticated entries seem to be appearing every year, as technology becomes more accessible and students strive to create extraordinary contemporary pieces. Traditional mediums such as drawing and collage still appear alongside a range of these contemporary works. Computer aided design software and laser cut shapes were employed to inform one series of sculptures. In another, vertical blinds are used as a surface for an image that draws a reaction from many. An increasingly common theme is the idea of gender, which is explored in works this year. Some young artists paid homage to their grandparents, producing outstanding works that provide a visual narrative of their lives.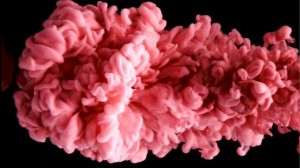 Christiana Garvie- 'Liquid Form', colour DVD,sound
The exhibition is now treated very much on par with the rest of the exhibits and increasingly patrons of all ages (as well as busloads of students) enjoy the exhibition. Prominent Melbourne artist Ash Keating and Orb Weavers lead singer Marita Dyson are past winners and have gone on to forge successful careers. There is no doubt that such an opportunity for a student to have their work in the three month long exhibition would help propel them to greater heights. What a fantastic thing for Melbourne and great for highlighting the value and importance of Art Education in our schools and wider community!
                                     Georgia Mein- 'Agenda', colour inkjet prints 
StArt Up 2014 runs from: 11 april 2014-20 July 2014