———————————————————————————————————————
BLAKOUT presents a new wave of Indigenous video art at SCA
A new generation of Indigenous video artists is breaking away from painting, which has dominated Indigenous contemporary art for the last 30 years. The artists are now using the screen in a powerful new way to connect with contemporary Indigenous issues confronting urban communities in Australia today.
BLAKOUT is a new exhibition opening today at the University of Sydney's SCA Galleries, featuring video art by five highly-acclaimed Indigenous artists: Vernon Ah Kee, Richard Bell, Megan Cope, Julie Gough, and R E A. On show are thirteen videos made over the last decade, which explore the diverse and complex experiences of engaging with white Australian history and culture as an Aboriginal.
Nicholas Tsoutas, BLAKOUT curator and Zelda Stedman Lecturer in Visual Arts at Sydney College of the Arts, said: "Their use of video is confronting, politically charged and socially engaged.
"Video has become an active, political channel for artists to not only challenge the post-colonial social narratives and histories of Australia, but confront the endemic racial and discriminatory attitudes that still exist in institutions and social structures.
"In their own unique way, these artists are activists who are rewriting their cultural histories, but do so unfettered and free from the constraints of society. The BLAKOUT artists speak out loudly, without fear, and knowing that what they say and show in their art is about the need for social change and transformation."
The subjects and stories of the videos range from historical and modern day events of white settlement, white popular culture and the tragic stories of Indigenous individuals – to intimate tales and triumphs as well as new perspectives of Aboriginal people, who are just not seen as equals, but as leaders in society.
"By using video, which has the power of mass circulation and wider audience reach, the artists are able to develop a greater framework for dialogue between those that possess power and those who have been excluded from it," said SCA's Nicholas Tsoutas.
"BLAKOUT is about reclaiming identity, empowerment and self-determination for Aboriginal communities, both urban and traditional. It will emphasise different ideas and attitudes on the role and function of film as a way of critically and politically interrogating social power structures of Australian society," he said.
Event Details
What: BLAKOUT
When: 15 May-6 June 2015
Where: Sydney College of the Arts, The University of Sydney, Kirkbride Way, Callan Park, Lilyfield
Hours: Mon-Fri 11am-5pm; Sat 11am-4pm. Closed Sun.
Cost: Free
Website: http://sydney.edu.au/sca/
Media enquiries: Mandy Campbell, 0481 012 742 or mandy.campbell@sydney.edu.au
Above image
Vernon Ah Kee's film Cant Chant (2007), shown at the 2009 Venice Biennale, is inspired by the events of the 2005 Cronulla riots, where racial tensions between Middle Eastern Australians and white Australian beach-goers flared. The chant by white Australian rioters "we grew here, you flew here" – a means of claiming greater entitlement to the beach and surrounding precinct – is translated by Ah Kee as a means of exercising racism. Central to his video Cant Chant is a lone Aboriginal surfer who suddenly appears on his shield-surfboard, moving gracefully and skilfully through the water, as he takes command of the waves. He embodies the resilience of Aboriginal sovereignty, disrupting the iconic image of the beach that represents all that is Australian within white popular culture. Ah Kee's work critiques Australian popular culture, particularly the dichotomy between Aboriginal and non-Aboriginal societies and cultures.
BLAKOUT artists and films
Megan Cope – The Blaktism (2014); Julie Gough – Driving Black Home (2009), Attrition Bay (2010); Shadowland (2011), Traveller (2013); Richard Bell – film triology: Scratch an Aussie (2008), Broken English (2009) and The Dinner Party (2013); Vernon Ah Kee – White Fella Normal Black Fella Me (2004), Cant chant (2007), Tall Man (2010); and R E A – Maang (2007), Poles Apart (2009).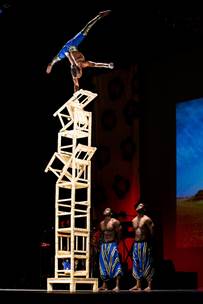 Cirque Africa brings the energy of African circus to the Australian big top for the first time this June
This June, Cirque Africa brings the world's best circus acts from Africa to the Australian stage for the very first time. Cirque Africa is a world-renowned acrobatic circus performance that is unparalleled in its energy and excitement. Having toured the globe, it is coming to Australia for the first time in 2015 and is sure to impress those who appreciate theatre, music and African culture. Produced and directed by 'Papa Africa' aka Winston Ruddle, the show is a combination of acrobatics, theatre, song and dance. Cirque Africa is a celebration of African culture, both new and old and has been described as the 'greatest show from Africa'.
The 90 minute show begins in VICTORIA on the 24th of June in Melbourne, AT BURNLEY OVAL IN RICHMOND. It will remain in Burnley for a month before moving to Marriot water Shopping Centre in Lyndhurst on the 24th of July. From there, it will move to Burnside Shopping Centre for a month from the 24th of August before moving to the Geelong Showground in December. In early 2016, the show will move from VIC to WA before continuing its two year trek across Australia.
Cirque Africa has travelled to the USA, Germany, Costa Rica, Italy, France, Romania, Russia, the Netherlands, Belgium and Spain, performing sold out shows, before coming to Australian shores.
"The show is a true delight for the senses and is sure to get the audience members' hearts racing!" says Ruddle. We've worked extremely hard to present a show that will introduce Australian audiences to African culture, both traditional and modern, and leave them utterly mesmerised. We are striving for an energetic response from the audience – we want you to take your breath away and get you up out of your seat."
Ruddle and his team have taken on the impossible and are bringing to Australia 70 tonnes of circus and stage equipment, professional sound lighting, elevated seating for 1,100 people and a twelve metre high big top all the way from Africa. This is the first time the show will be performed in a big top and Ruddle is excited to see his spectacle taken to the next level.
The highly-skilled cast is made up of 38 of Africa's finest aerial artists, jugglers, stilt dancers, contortionists, clowns and more. While the core of the cast hail from Tanzania, the show draws influence from the musical cultures of Kenya, Ethiopia, Ghana, Gambia and Zimbabwe. The cast will be dressed in over 200 one-of-a-kind African costumes and will be joined by an eight piece live band.
Some of the notable performers include but are not limited to; The Amazing Hakuna Matata Acrobats who are the largest African acrobatic group in the world, Emmanuel Laryea, Zaina Shabani, The Charming Wubshet Amare, Baraka Juma, Selemani Musa, Ibrahim Tulwo, The Sound of the Drums from Ivory Coast, Jean-Marc Kouassi Agbogba, Yetnayet Melese & Asmare Nega, Lidiya Dawed & Tegegn Shewalem, Ebrima Mbye, Lazarus Mwangi, Teame Gebregziabher Ersie, Leul & Nahom and Fadhili Ramadhani & Omary Ramadhani all acts back by a 8 piece live orchestra from Zanzibar and Zimbabwe Playing live music composed just for the Australian tour
Ruddle has extensive experience in stage performances, having founded and directed the renowned Mother Africa shows well as Cirkafrika 1 and 2 in all the French speaking countries which have been a global success. When scouring for talent for Mama Africa in Tanzania, he founded Mama Africa's acrobat school. The artists from Ruddle's school have performed in venues on five continents, including on New York's Broadway. Ruddle is the first black African in the world to own, direct and produce a circus show in a big top. Lindani Berman is Co-Director and Scenic Director and is on a mission to perfect a circus that combines the millennial repertoire of the Beijing Circus, the technical mastery of the Moscow circus and the joie de vivre of the Africa continent.
The show is primarily a visual performance and therefore no language or cultural barriers will pose a problem for English-speaking audience members.
Ticketek will be selling all advance tickets. For more information on the show and how to book tickets please visit www.cirqueafrica.com.au. Ticket prices vary depending on seating area.
GLENFIDDICH ARTISTS IN RESIDENCE COMPETITION

Iconic whisky producer, William Grant & Sons, has just announced the launch of their inaugural Glenfiddich Artists in Residence competition, which will grant one lucky Australian artist the opportunity to live and work for three months at the Glenfiddich distillery in Dufftown, Scotland.
Glenfiddich will be running the Artists in Residence contest in partnership with Sydney Contemporary 2015, Australasia's International Art Fair, taking place at Carriageworks from 10 until 13 September. At the Fair, guests will be able to view the final five artist's work at the Glenfiddich pop-up bar.
The contest is an open call to all Australian artists who are welcome to use any array of mediums with the competition running from June 1st to July 31th, 2015. Finalists will be announced on August 10th and the winner will be announced on September 18th 2015. An esteemed set of individuals will be choosing these finalists, including Rachel Griffiths, Former Lord Mayor Lucy Turnbull AO, Sue Cato & Nick Tobias.
To enter Artists in Residence, visit http://www.glenfiddich.com/au/latest/2015-australia-artists-in-residence/.
SONGS OF FREEDOM –
CELEBRATING DEMOCRACY

Following on from the successful project to re-create the Eureka Flag for the 160th Anniversary of Eureka, Ballaarat Quilters Inc., and Museum of Australian Democracy at Eureka (M.A.D.E) are proud to announce the launch of a national quilters' challenge for 2015. Prizes are on offer to the entrants including a Director's Choice Award selected by Jane Smith Director of M.A.D.E.
Ballaarat Quilters Inc. is celebrating its twentieth anniversary this year by running a quilters' challenge that will culminate in an exhibition of the quilts at M.A.D.E in Ballarat from 19/11/2015 to 31/1/2016.
The theme of the 2015 challenge is – 'SONGS OF FREEDOM – CELEBRATING DEMOCRACY'.This theme is based on one of M.A.D.E's permanent exhibits 'The Power of Numbers' which demonstrates the power voices using five different songs of protest. These songs are Nyurra Wurriyn, Freedom Train, Ode to Joy, Lean on Me and Then and Now (a new song commissioned last year by M.A.D.E to commemorate the 160th Anniversary of the Eureka Stockade).
M.A.D.E Director, Jane Smith, said: "The Ballaarat Quilters Inc. were a key group in delivering the re-creation of the Eureka Flag as part of the 160th Anniversary of Eureka. It was a great collaboration and we are looking forward to this year's project about songs of protest."
President of the Ballaarat Quilters Inc., Sally Wellard, said: ''We are excited to use our 20th anniversary as an opportunity to share our passion for textiles and demonstrate a diversity of ways to explore ideas about democracy.''
Ballaarat Quilters Inc. have invited visual artist and Eureka Flag Ambassador Fiona Crawford to work with them in realising this project. http://fionajcrawford.wix.com/fiona-crawford-art
Entrants can use traditional or contemporary approaches to design and a variety of textile techniques which reflect and interpret this conceptual theme.
This quilters challenge competition is now open for further details, entry form and copies of thelyrics of five songs, visit the Ballaarat Quilters website (see below).Closing date for submitting entry forms 28th August 2015.
http://ballaaratquilters.com/2015/04/04/quilters-challenge-with-m-a-d-e/
M.A.D.E is one of Australia's newest museums and commemorates the role of the Eureka Stockade in shaping our nation. It is located on the site of the 1854 Eureka Stockade uprising in Ballarat. M.A.D.E explores both the evolution of democracy and how it has shaped cultures and countries around the world and also looks to its future. Using art installations and immersive, interactive content, M.A.D.E inspires people to contemplate what issues are important to them today.
Please visit www.made.org for more information