By Celeste Hawkins
When casually asking Ben Sheppard about his decision to transfer his drawings into a 3D sculptural form, I certainly didn't expect the response, 'they're drawings'. Throughout the conversation that morning in his Brunswick home and studio, the 36 year old Melbourne based artist struck me as someone who really wanted to challenge and be apart of change. Ben's work is very much about experimentation with line. His drawings contrast fine rendering with haphazard marks while his sculptural "drawings" extend line into three dimensions. All the while, subtly challenging social norms, values and hierarchies in a whimsical manner.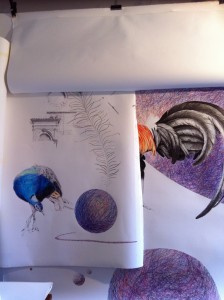 Tell me more about your 'drawings':
Most people would view my 3D works as sculptures, but I very much think of them as drawings. The only difference for me is they are drawings into space and not on a flat plane. They are like a sketch in three dimensions and the environment becomes the page. I see drawing as communicating an idea, whether it be a quick sketch to define a space or represent a figure, a finely rendered image to push that idea deeper or a 3D sketch in a space with objects that posit the work half way between the idea and the context it inhabits.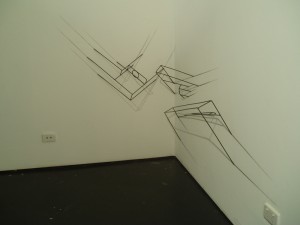 Ben has always had a fascination with the line. For years he has played around with outlining gestural marks, tracing, emptying and re-filling forms. Extending the line into three dimensions, he recognises the shadows cast as part of the overall composition. His striking biro drawings; the 'Le Coq' series came about whilst travelling around Europe with his wife and two children in a campervan. He spent time in France, Italy and the Balkan states, immersing himself in tradition, whilst considering contemporary ideas and materials.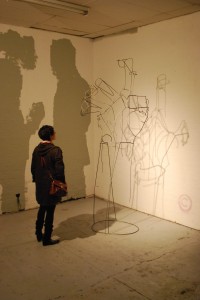 Why the fascination with the Rooster as a subject for your drawings?
 It began with an urge to dig around in the French identity and their national symbol. It amazes me how proud European peoples can be of their nation, particularly the French. It's not really used so much these days, apart from Le Coq Sportif. I was amazed to discover that Napoleon adopted the Eagle at one point, considering the rooster not to be macho enough to represent the might of France. As I started drawing various birds, their posturing affected a kind of anthropomorphic standing which seemed to infer a wider social comment, so I kept playing. 
Would you say that these are about male bravado?
Yes, very much so.  Some of them are like young men with their chests puffed, wearing headphones and tribal piercings. I'm generally interested in perception of the world and how we see ourselves in it. How or what is it in us, men in particular, that urges us to behave the way we do? Is it how we look or what phone we use? What we do or think about? Who we conquer or what religion it's done in the name of?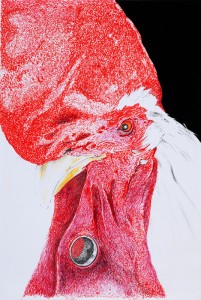 Tell me about your residency at RESARTIS in France:
It was good to be away from the Melbourne Art Scene for a bit and having the space to work without head noise and with a fresh audience. It was in a medieval village called Caylus where there were interesting points of friction between locals and Ex pat English as well as old ways and new technology. I started looking at doing some form of contemporary still life- it seemed like the right thing to do in such a place. Then these 'Coqs' started staring out at me and I couldn't stop drawing them. I met a great local artist, Colin Castell, and we became good friends.  He let me use his studio workshop and helped me source some industrial cable from a local junkyard so I managed to fashion a sculptural installation at the eleventh hour too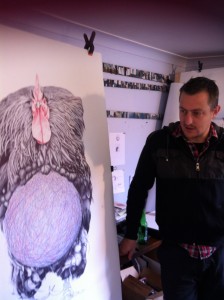 Does your job teaching drawing inform your practice?
Absolutely. I think you have to be really aware of other people's perception of things when you teach. There are always a number of different angles to life, let alone art, in a room full of students.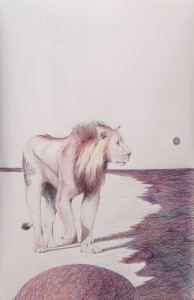 What inspires you to look at National icons or social messages in your images?
 I suppose I'm just amazed at the world. I mean, it can be horrendous if you look in one corner and yet full of promise and wonder in another. We live on this little spec floating around in an unimaginably massive space in just the right cosmic conditions such that we can drink lattes over here and lob mortars over there. I have an urge to have some sort of effect with what I do, but I would feel like I was trespassing if I took up any particular cause. Having said that, I don't just want to make beautiful empty imagery. Essentially, I want to be playful while making comments that, if you look deep enough, question how we see ourselves.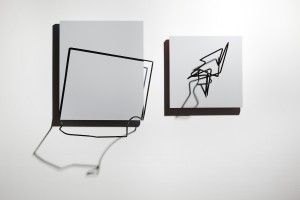 Who are some other Australian artists that you admire?
Raffat Ishak, Mira Gojak, Laith Mc Gregor and Emily Ferreti. Ros Coulter and Jeremy Bakker did some amazing stuff in Japan recently that I loved. It would be a much longer list if I really thought about it. I think the art scene in Australia is really punching well above its weight at the moment.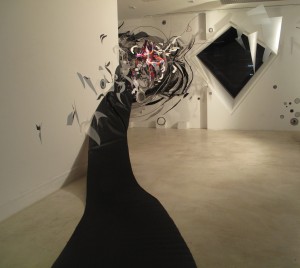 Tell me about Brunswick, why have you chosen to reside here?
I like its multi cultural vibrancy and how close it is to the city. It has more of a village feel than the suburbs where I grew up. People acknowledge you in the street instead of staring at their feet.
Benjamin is exhibiting his "Le Coq" drawings from the 16th of August-16th of September at the Counihan Gallery in Brunswick