Here are a few suggestions for the next week or so. Perhaps there is something here that you may like to investigate…
Sometimes its easy to get trapped into viewing the same things, or doing what we know and feel comfortable with. This could even be visiting the same cafe every single day. Well, we all have our favourites, but how do you know there isn't another, making something heavenly down the road, if you never venture there?  There are lots of different types of people making different types of art. Some of it may not be to your liking. But anyone who bothers to read this post, I dare say would have a clue- that it really is just as much about the process and the idea (if not arguably more)- as it is the final outcome.
I will be back soon with more interviews to devour.
Ok I know-I know- But I can't help the food metaphors with Easter on the horizon!
Happy Easter, I hope you have a delicious break!
Celeste
FilmNeverDie Polaroid Exhibition
Melbourne, VIC, 27th March, 2015 – FilmNeverDie is hosting their first ever Polaroid Exhibition at Photonet Galleries, 4th – 22nd of April 2015.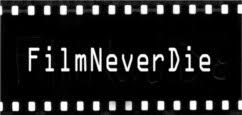 FilmNeverDie is hosting their first ever Polaroid exhibition in conjunction with the Global ExPolaroid Polaroid Exhibition Festival. Entitled 'Polaroid Resurrection', this is an Australian first and will be held from the 4th to the 22nd of April, at Photonet Gallery in Fairfield. We will be representing Melbourne, Australia as one of 40 cities around the world participating in this festival, with ExPolaroid coordinating workshops, conferences and exhibitions globally.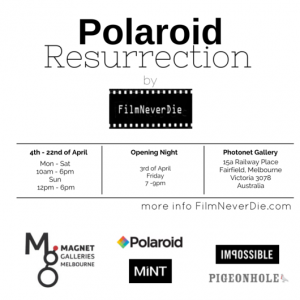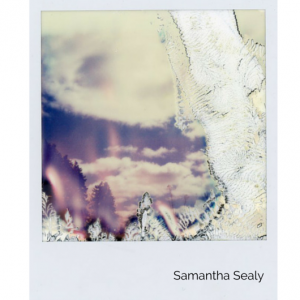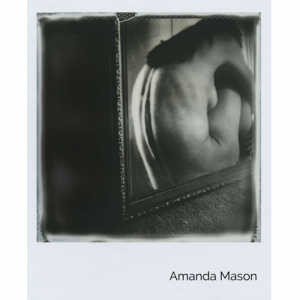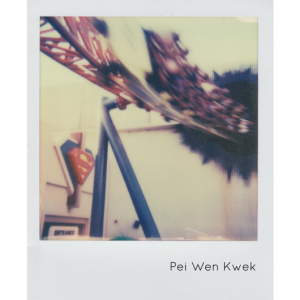 The purpose of this exhibition is to give back to the Polaroid community, and allow local artists to showcase their work. Although submissions are now closed, there will be some amazing work from some fantastic photographers from all around Australia. This event is open to the public.
The FilmNeverDie Polaroid Resurrection Exhibition will be held at:
Photonet Gallery
15A Railway Place
Fairfield
Melbourne, VIC 3078
LAST DAYS OF JOHN YOUNG'S EXHIBITION
ARC ONE Gallery will be closed for the entire Easter weekend and reopen Tuesday 7 April, with the final week of John Young's show, 1866: The Worlds of Lowe Kong Meng and Jong Ah Siug.
The exhibtion will close Saturday 11 April at 5pm.
For all enquiries, please contact ARC ONE Gallery at mail@arc1gallery.com
Sensory art exhibit provides personal insights into living life with a hearing loss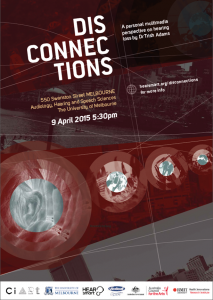 A free one-off, multimedia exhibit that shares the experience of having a hearing loss with the public will be held on Thursday, 9 April at the HEARing Cooperative Research Centre, (HEARing CRC) in Carlton.
In an Australian first, the Disconnections exhibit features two multimedia pieces created specifically to put people inside the mind of a person with hearing loss so they can experience first-hand the sensory deprivation and social isolation that comes with hearing loss.
Created by established media artist and academic Dr Trish Adams, Disconnections draws upon her personal experiences of hearing loss to create interactive artworks that demonstrate how hearing loss impacts on most aspects of living, particularly communication – something most people take for granted.
Dr Adams developed the project that led to Disconnections following a period of scientific research with Prof. Antonio Paolini at his 'Sensory Lab' at the Health Innovations Research Institute, RMIT University.
After this experience, Dr Adams moved into the artwork developmental phase in collaboration with RMIT University Vice-Chancellor's Research Fellow, Dr Jonathan Duckworth, and his CiART team at the School of Media and Communication.
"This collaborative relationship with CiART was instrumental in providing the research expertise and knowledge essential in communicating and translating the complexities of art/science concepts through contemporary media art," Dr Adams said.
For Disconnections, Dr Adams has developed two artworks that continue the narrative of sensorial community engagement. The first work called Inaudible City is a large-scale projection of video sequences that portrays Melbourne's familiar urban landscape.
The second, called Fractured_Message, is a portrait-style video of a young man who the viewer cannot properly understand due to a soundtrack of inaudible and distorted speech.
Both works explore the frustration and unease of a hearing impaired pedestrian struggling to make sense of auditory aspects encountered in today's urban environment.
Hosted by the HEARing CRC, Disconnections will be launched on Thursday, 9 April at The University of Melbourne's Audiology, Hearing and Speech Sciences Building, 550 Swanston St, Carlton. For more information about the event, please visit: www.hearsmart.org/disconnections
The exhibits officially opens at 5.30pm with a talk by audiologist and lecturer Dr Caitlin Grenness (The University of Melbourne) who will speak about new approaches in hearing healthcare that empower individuals in determining how they want their hearing loss managed.
This project has been assisted by the Australian Government through the Australia Council for the Arts, its art funding and advisory body. The HEARing CRC is financially supported by the Cooperative Research Centres Programme – an Australian Government Initiative.
For catering purposes, please RSVP glawrence@hearingcrc.org.au before 8 April 2015.
AUGUSTE CLOWN GALLERY PRESENTS
'SPECTRUM' A NEW SERIES OF WORK BY MAB GRAVES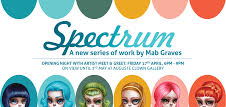 Joining us in Australia for the very first time, American pop-surrealist Mab Graves brings with her an imagined world of candy coloured girls, intergalactic cats and supernatural specimens for her newest exhibition of work, "Spectrum".
On show at Auguste Clown Gallery from 17th April – 3rd May , Spectrum heralds in a new collection of paintings, illustrations, miniatures and sculptures inspired by the prism of Mab's passions. Mab has taken a beautifully blank slate and unleashed all the pieces living inside her head to explore new themes, shapes and spectrums of colour.
Mab Graves is a contemporary artist and illustrator living and painting in a converted 1800's tavern in a small corner of Indianapolis. A self-taught artist, Mab has shown in galleries both in the United States and internationally, and had her art published within books and magazines worldwide. Her work has been sold in more than 56 countries.
Mab's art is deeply inspired by fairy tales and old classic literature. She adores narrative and attributes her creative process to a childhood spent reading stories with three sisters and a very vivid imagination that has allowed her to continue to dream…
"For this new collection I decided to challenge myself. With no planned direction, I had absolute freedom. I started thinking about what I wanted to bring into being. I decided I would unleash all the pieces that had been living inside my head – wanting to come out – but that I'd never been able to grant myself the time to create. I wanted to give myself the liberty to play with inspirations I'd been holding onto for years." – Mab Graves
Spectrum: A New Series of Work by Mab Graves
Opening Night With Artist Meet & Greet: Friday 17th April, 6pm
Presented by Auguste Clown Gallery
52 Johnston Street, Fitzroy, Melbourne Australia
Exhibition On view from 17th April – 3rd May (free entry)
About Auguste Clown Gallery
Auguste Clown is a Melbourne underground art gallery dedicated to showing some of the most interesting and notable pop surrealist artists from around the world. To view the full list of represented artists and their biographies, visit www.augusteclown.com

What's on at Heide:
Welcome to Heide's weekly media update. Featuring details on current and future exhibitions, programs, events, garden and kids' activities.
EXHIBITIONS NOW SHOWING
Rosemary Laing: weathering (Sat 21 Feb – Sun 31 May)
Albert Tucker: The Truth in Masquerade (Sat 21 Feb – Sun 16 Aug)
OPENING THIS WEEKEND
21st Century Heide: The Collection Since 2000 (Sat 28 Mar – Sun 14 Jun)
Events
Bookings essential: 9850 1500
Art Programs
ART TALK Curator's Pick
21st Century Heide: The Collection since 2000
Saturday 28 March 2:00 PM
Senior curator Linda Michael discusses a selection of works from the Heide Collection.
Free with admission
ART WORKSHOP: Land Art
Rosemary Laing: weathering
Saturday 11 April 10:00 AM – 1:00 PM
Artist Elaine Clocherty leads a tour of Heide's Indigenous Remnant Conservation Zone, located within an Ecological Vegetation Class area that has been classified as 'endangered'. Participants can witness the effects of climate change and the recent restoration of biodiversity in this fragile environment before collaborating on a site-specific artwork. Presented in association with ART+CLIMATE=CHANGE 2015.
ADULT 55.00 | CONC/MEMB 50.00
MORNING TEA: Preservation, Presentation & Growth of the Collection
21st Century Heide: The Collection since 2000
Thursday 16 April 10:00 AM – 11:30 AM
Teresa Zolnierkiewicz, Head of Philanthropy, Global Wealth at ANZ Banking Group, joins Heide Director and CEO Kirsty Grant for a discussion on the three-year funding partnership between Heide and the Truby and Florence Williams Charitable Trust, managed by the ANZ Philanthropy team.
A delicious morning tea from Café Vue is included.
ADULT 22.00 | CONC/MEMB 18.00
ART TALK: Philosophy and Art
21st Century Heide: The Collection since 2000
Sunday 26 April 2:00 PM
Dr Nadine Cameron from The School of Life speaks about philosophy and art, examining how different perspectives can enrich viewers' appreciation of contemporary art.
Free with admission
MORNING TEA: Weathering and Climarte
Rosemary Laing: weathering
Thursday 30 April 10:00 AM – 11:30 AM
How can art and science contribute to our understanding of climate change? Participate in a discussion led by David Karoly, Professor of Atmospheric Science, University of Melbourne and Guy Abrahams, CEO, Climarte, and enjoy a delicious morning tea from Café Vue. Presented in association with ART+CLIMATE=CHANGE 2015.
ADULT 22.00 | CONC/MEMB 18.00
Children's Activities
HEIDE ART BUBS
Suitable for pre-school children, ages 0 to 5.
GET YOUR HANDS DIRTY
Thursday 26 March, 10–11.30am
Friday 17 April, 10–11.30am
Part of Nature Play Week
Thursday 23 April, 10–11.30am
21ST CENTURY HEIDE
Friday 15 May, 10–11.30am
Thursday 28 May, 10–11.30am
Cost Adult $22, Member/Concession $18 (Children free)
(includes admission & morning tea. BYO smock)
SUNDAY ART CLUB
Suitable for primary school children, ages 5 to 12.
HEIDE-WRAP
Sunday 26 April, 10am–1pm
SHADOW PUPPETS
Sunday 31 May, 10am–1pm
Cost Child $30, Heide Member/Concession $25
SCHOOL HOLIDAYS FOR FAMILIES
FAMILY DAY: EASTER FUN
Easter Day, Sunday 5 April, 11am–3pm
Join us for a day of fun with an Easter egg hunt in the sculpture park. Follow cryptic clues around the garden to discover where the eggs are hiding, and make your own egg shell splatter painting!
FREE
HEIDE DETECTIVE
Saturday 28 March – Sunday 12 April
Take on the Heide Detective challenge by solving cryptic clues and following a map that will lead you around the exhibitions, gardens and buildings. Each detective to complete a trail wins a prize from the lucky dip!
Collect trails inside Heide III (the main entrance to the museum).
GRANDPARENTS' DAY: STORIES THAT LAST
Wednesday 8 April, 10am–12pm
Cost Adult $22, Member/Concession $18 (Children free)
SCHOOL HOLIDAYS FOR KIDS
Suitable for primary school children, ages 5 to 12.
LET THEM EAT CUPCAKE
Wednesday 1 April, 10am–12pm
A Café Vue pastry chef guides young epicureans on how to measure, mix, bake and decorate perfect little cupcakes. Let the frosting begin!
Cost Child $30, Heide Member/Concession $25 (BYO apron)
HIP HOP ACTION PAINTING
Thursday 2 April, 10am–12pm
Children will learn a simple, fun and creative hip-hop routine and use this dance to paint on paper with their hands and feet, guided by a choreographer from The Yellow Dance Spot.
Cost Child $30, Heide Member/Concession $25 (No dance experience required. Wear old clothes. BYO smock, snack, drink and a change of clothes. Washable paint used.)
MASKED WARRIORS
Thursday 9 April, 10am–12pm
Artist Kym Maxwell will help children develop and design an over-sized three-dimensional pop-up mask. Get ready to be scared!
Cost Child $30, Member/Concession $25 (BYO smock)
MARVELOUS KITES
Friday 10 April, 10am–12pm
Take to the skies and enjoy the wonders of flight with this marvellous kite-building workshop with Kites 4 Kids. Children decorate and construct their own full size diamond kites. All kites are guaranteed to fly!
Cost Child $30, Member/Concession $25 (BYO sunhat)
HEIDE TEENS
Suitable for high school children, ages 11 to 16.
BODY ART AND PHOTOGRAPHY
Tuesday 7 April, 10am–1pm
Cost Teen $30, Member/Concession $25 (BYO snack & drink)
MOTHERS' DAY: WHAT THE WORLD NEEDS TO HEAR
Sunday 10 May, 11am–2pm
If you could tell the world one thing, what would it be? Working with artist Alex Desebrock, children will respond to the big questions about life, using BIG ideas to create an ephemeral artwork in the form of a 'note to an adult' to be found in the Heide gardens.
FREE
In the Gardens and Sculpture Park
GARDEN TALK: HEIDE KITCHEN GARDENS
Thursday 2 April, 11am
Wednesday 6 May, 11am
Sunday Reed established the historic Heide I kitchen garden in 1936, placing an emphasis on the cultivation of fresh produce, a tradition that continues today. Join a volunteer guide for a tour of the Heide I and Heide II kitchen gardens, examining their history and development.
FREE
GARDEN TOUR
Sunday 29 March, 2pm
Wednesday 29 April, 11am
Thursday 28 May, 11am
Tour the historic Heide gardens with a volunteer guide.
FREE
SCULPTURE TOUR
Wednesday 1 April, 11am
Easter Sunday, 5 April, 2pm
Thursday 16 April, 11am
Wednesday 27 May, 11am
Tour the sculpture park with a volunteer guide.
FREE
GARDEN TALK: SIGNIFICANT TREES OF HEIDE
Enjoy a leisurely walk through the picturesque gardens at Heide from the original farmhouse down to the banks of the Yarra River. A plant list will be supplied.
ELMS
Wednesday 8 April, 11am
Gardener, James Dodd
GARDEN TALK: SIGNATURE PLANTS
Thursday 9 April, 11am
Head gardener Dugald Noyes tours the grounds noting plants that are unique to the fabric of the Heide landscape.
FREE
SCULPTURE TALK: MARK OF THE HAND
Sunday 12 April, 2pm
Saturday 23 May, 2pm
Learn about the different processes and techniques used by artists in the making of several sculptures in the park, with volunteer guide Nasrin Rasoulzadeh.
FREE
GARDEN TALK: WHAT NOT TO PLANT
Wednesday 22 April, 11am
Gardener James Dodd talks about how to select the right plants for your garden, considering sun, water, temperature, and soil type. A fact sheet will be provided.
FREE
GARDEN TALK: AUTUMNAL SHADES OF HEIDE
Wednesday 13 May, 11am
Accompany head gardener Dugald Noyes for a walk through the beautiful gardens, looking at the autumnal colours of the exotic trees planted by the Reeds upon their arrival 80 years ago.
FREE
Heide Architecture and History
ARCHITECTURE TALK: Heide II – A Gallery to be Lived In
Easter Monday, 6 April, 2pm
Thursday 23 April, 11am
Thursday 14 May, 11am
In 1963, the Reeds commissioned David McGlashan of McGlashan & Everist Architects to build a home that had a sense of mystery and romance, and one that would house their growing art collection—a 'gallery to be lived in'. Join a volunteer guide and learn about the design and construction of the iconic modernist building now known as Heide II.
FREE with admission
HISTORY TALK: HEIDE PAST AND PRESENT
Thursday 26 March, 11am & 2pm
Easter Saturday, 4 April, 2pm
Wednesday 15 April, 11am
Thursday 30 April, 11am
Wednesday 20 May, 11am
Learn about the fascinating history of Heide, from the early days when John and Sunday Reed first purchased the property to the development of the heritage buildings and gardens, and its evolution into a museum of modern and contemporary art.
FREE with admission
HISTORY TALK: THEY ALSO WROTE
Sunday 19 April, 2pm
Take a literary tour of Heide with volunteer guide Judith Hughes and discover how John and Sunday Reed opened their home to aspiring writers, and supported the creative endeavours of many young artists.
Cost FREE
HISTORY TALK: JOY AND SUN
Mothers' Day, Sunday 10 May, 2pm
Albert Tucker introduced Joy Hester to Sunday Reed in 1939 at the Herald exhibition of French and British Painting, shown at the Melbourne Town Hall. Jill Nicol, volunteer guide, discusses the life-long friendship between the two women.
FREE with admission
HISTORY TALK: NOLAN AND THE TRUE BEGINNINGS OF THE KELLY PAINTINGS
Saturday 2 May, 11am
Volunteer guide Elle Hanson looks at the development of Sidney Nolan's famous Ned Kelly series from its inception in the Heide I dining room and its storage in the 'doll's house' to its place on the gallery walls.
FREE
MORNING TEA: ABORIGINAL SERVICE AND WWI
Thursday 14 May, 10–11.30am
An estimated one thousand Aboriginal Australians volunteered to enlist in World War I, despite not being recognised as Australian citizens at that time. In recent years the contribution of Aboriginal servicemen and women has begun to be acknowledged. Join Andrew McIntosh, Reconciliation Manningham and member of Military History & Heritage Victoria, for a discussion on Aboriginal involvement in World War I. After the discussion, enjoy a delicious morning tea from Café Vue.
In conjunction with National Trust Heritage Festival and Manningham Heritage Week
Cost Adult $22 member/concession: $18 (includes admission & morning tea)
Image
1. Kathy Temin, Indoor Monument: Hard Dis-play 1995-2009, synthetic polymer paint on composition board, 37 x 600 x 600 cm installation dimensions, Heide Museum of Modern Art, Melbourne, Gift of Kathy Temin 2010, © the artist
Copyright © *2015 Heide Museum of Modern Art