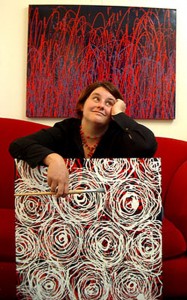 Steph Hall, a Melbourne based visual artist, with a big heart and smile to match, shares her passion for life drawing, helping out other girls (on a grand scale), and offers some words of wisdom along the way…
Please discuss how you left your dull bank job and followed your heart…
I had been working in the financial sector for about 10 years, and I had got to a point where I was waking up each morning dreading the day ahead, and hating the thought of having to go to the office.  At the time I had a job I was not enjoying, and a manager with whom I had a big personality clash.  Then one day I decided I had had enough, and I quit. Just like that.  I then thought … hmmm, I suppose I had better tell hubby about this?  I rang him and asked that to meet me for a coffee.
"What's up?" he had asked, knowing that meeting for a coffee was an unusual thing for us to do.
"Um … I just quit my job." I winced as I waited for his response.
"Oh thank goodness for that!" he exclaimed.  The best response ever!
Having given 4 weeks notice, I then focused on what I really wanted to do with my life.  I was going to go into IT. Then it was marketing. Then I was going to become a Business Analyst.  Then hubby asked, "If you could do anything in the world, with nothing to stop you, what would it be?"
I sheepishly looked at him and said, "I would sit in a room and paint all day." "Then let's make that happen" he responded.  I love that man.
I left work and studied art for 3 years, and I have never looked back.  This is what I was meant to do.
Tell me about your latest project and why you are so passionate about it:
We have 42 female artists participating in the "Girls Helping Girls" fund raising art exhibition for Plan's "Because I am a Girl" campaign.  They are submitting work that responds to the statement "Girls Helping Girls", or keeps within the ideals and values of Plan's "Because I am a Girl" campaign. When someone purchases a painting at the exhibition, they can feel good knowing that 50% of the sale price will go to the "Because I am a Girl" campaign, and the remainder goes back to the artist. The level of enthusiasm for the project is so contagious, and a project like this really does bring out the best in people.  We are creating a gift basket of goodies to be raffled off throughout the exhibition, to raise some extra funds for the campaign, with goods and services that have been donated by various businesses.  I am delighted, and constantly amazed at the generosity of local Melbourne businesses to lend a helping hand. My passion for this project was born of feeling disheartened over the years by so many sad stories of child marriage, human trafficking, female genital mutilation, female infants being murdered, and many other horrific events being inflicted on people whose lack of any prospects in life were determined by their lack of a penis.  But how could I, a fit and healthy Western Woman with so much freedom in her life that she can take it for granted, do about the way women were treated in other places in the world?
Then, I found the becauseiamagirl campaign.  Plan has built a program that tackles the very issues that were breaking my heart.  They were actually doing something about the unfair treatment of girls and young women, all over the world.  They were offering me the opportunity to support them to carry out education programs for girls, to fight gender inequality, and to promote the rights of girls and young women everywhere.  I immediately signed up to donate a monthly amount to do my bit to help in any way I could.  But, could I do more? As a Visual Artist, what I know how to do is paint, and put on an exhibition – and so that is what I decided to focus on. I feel it is such a tragedy that half of the world's population would still suffer the indignity of sexism, and in a time where we consider ourselves to be "enlightened", how can this happen still?
I would like to hear about your last exhibition! 
I was involved in a group exhibition last March that was run by Art Boy Gallery in Prahran.  The theme was "Fables & Fairytales".  I painted the Evil Queen out of Snow White.  It was a lot of fun, and I really enjoyed simply being a participating artist, and not having to run the event. It's a lot easier! It was a terrific opportunity to meet other artists in such a light-hearted and fun environment, and I guess it goes to show that not every art exhibition has to be serious and "stuffy".
How would you describe 'Rival Revolution Studios 'and how did how did you connect with Tony at the space?
Rival Revolution Studios is such a terrific, creative space.  The space is full of Street Artists, which is a nice juxtaposition from something as traditional as life drawing. It was serendipity that bought Rival and SASH Life Drawing together.  Neither Tony, who runs Rival, nor I remember exactly how it happened.  It was simply a matter of us both looking for the same thing at the same time.  I needed a space; he wanted a life drawing class.  Voila!  The moment we met each other we knew it would be a good fit.
 Your life drawing classes are pretty special. Please describe a typical night.
I believe my main purpose in the class is to create an environment where people feel relaxed and safe enough to experiment, and discover what their own individual drawing technique is.  Nobody can build a repertoire of mark making without feeling free to experiment, make mistakes, find out what the medium does, and what they can do with the medium. We get people attending the class who range from absolute beginners to seasoned professionals, so I like to keep the class relaxed enough so that if people need help, they aren't afraid to ask for it, or if they want to be left alone, they are. The first hour I focus on getting people drawing quick, relaxed, gestural drawings, and not being particularly concerned about details, or anything looking "pretty".  The idea here is to shake off the events of the day, settle into the class, and turn the focus onto the model and drawing. We have a quick break, and then the second hour I tend to take a back seat as people focus on longer poses, anything up to 15-20 minutess.  I am always available to help anyone who feels they are struggling, or are "stuck".
Is it possible for an artist to live off their art? What strategies have you had to put in place to survive?
If anyone is thinking they will become an artist to make lots of money, then they are delusional.  There are so many creative people out there, and only a small percentage of them become well known and affluent, you really need to be sure that this is what you want to do with your life. The life of an artist is a bumpy one.  There are financial highs and lows.  For example, you can be totally broke as you struggle to get the work together for an exhibition.  You have the exhibition, and may be flush for money for a wee bit, but eventually you are back to being broke, and trying to get work together for another exhibition. It is an emotional rollercoaster as well.  I sometimes find myself questioning whether I'm "good enough", and wonder if I'm wasting my time.  Other times, I feel like I am an absolute genius! I have focused on utilizing my creative talents in other ways to help me financially.  SASH Life Drawing keeps me rooted in the arts, and is also beneficial to my practice. Exhibition coordination is also something I have a lot of experience in, and can be used to also help me fund my art "habit". There is not road map to success for an artist and it's all trial and error, because what works for one artist, will not necessarily work for another.  Simply put, if you can't possibly imagine doing anything else, then you will always find a way to make it happen.
You seem to favour the portrait, why?
I do a lot of portraiture and figurative work mainly because of SASH Life Drawing.  That is what I am doing on a regular basis, and it permeates into my subject choice for painting. I see the human form as a wonderful expressive vehicle, and I suppose I find people quite fascinating – what a bunch of weirdoes we are!?
Who are your influences, past and current?
My painting tutor at The Learning Connexion Art College, in Wellington, has had a huge impact on my life and practice.  I met Robert Franken at a time when I was full of anxiety and felt insecure about the notion of even calling myself an artist.  There is no doubt in Robert's mind that being an artist is simply who and what he is.  He often challenged me by asking questions, both of my practice and of my life as an artist. He helped me to identify who I was, and what I wanted to achieve for myself.  Robert helped me achieve sustainable creativity in my life, on my terms.  He rocks!
What are the downsides or potential pitfalls of 'living the dream' are there any?
I have learnt that "living the dream" doesn't really exist.  I seem to think that one thing is "the dream", try it, and then discover it isn't what I want at all.  So, then you focus on something else.  Being an artist is a constant journey of change and growth, and there is always a new adventure just around the corner, if you want it enough.  Just keep going.
 Advice for budding artists?
Just keep going.  If you want it, make it happen!
The exhibition opens on Thursday 21 June at Jasper Hotel, 489 Elizabeth St, Melbourne, 6-9pm.
You can follow the campaign on Facebook at www.facebook.com/GirlsHelpingGirls