By Celeste Hawkins
Jill Rivers, the Creative Producer of the Daylesford Macedon Ranges Open Studios is determined to demystify the Arts and make it more accessible to all. A former Media Director for the Australian Ballet and chair of Ausdance Victoria, Jill has vast experience and has built up a network of associates that feel just as strongly. Jill has also sat on several boards and written numerous articles for major newpapers and magazines and is a local to the area, having moved there in 2008. I had the opportunity recently to chat to her about her role and dedication to the Arts.
How did the idea of the festival come about?
In 2012, Peter Clemenger the Arts philanthropist had been impressed with the Open Studios program in Cambridge, UK. Being an ideas man (the instigator of the Melbourne Food & Wine Festival) he thought to bring it to the area. He spoke to the Macedon Ranges Tourism board and because of our previous working relationship with the Australian Dance Awards, I was commissioned as an arts consultant to develop a feasibility study on it. It was from that point that I agreed to take it on.
What has been you role as founding Producer?
There has been a lot involved in the setting up process. First I had to establish a committee which all have either a connection to the arts or to the area itself. Fortunately, I have been able to bring all the people of my network into it and develop a basic framework. We have developed guidelines, set up a partnership with the NGV and formed a curatorial panel. We have also managed to obtain funding from Macedon Ranges Tourism.
The curatorial panel currently consists of Frances Lindsay, former Deputy Director NGV; 45downstairs gallery director, Mary Lou Jelbart; and Flinders Lane Gallery Director, Karen Woodbury.
What do you think it is about the area of the Macedon Ranges that draws in so many artists to set up their homes there?
 A while ago Francis Lindsay made a speech saying that an enclave of artists from the 1970's, who had their spaces in Collins Street Melbourne, were all now living in the Daylesford region. I would love to get the statistics on that! I think one reason in part is economics. The cost of living and sustaining an art career in the city just isn't feasible for many artists. For instance, Tim Jones is from Wales. He is a very high profile artist who has a place under Hanging Rock and is continually inspired by his environment. However, he also works part time teaching art at the VCA, so the city is also within train distance. But I think overall, artists who reside here have a spiritual and creative connection to their surrounding environment.
What can people expect when they visit the open studio spaces?
I believe it's a very personal invitation to be able to go in, as most of these artists don't reveal their work place. It's an opportunity to see how they operate, why they do what they do and where they take their inspiration from.
Jill reinforces that it has been her overarching aim or mission to demystify the arts. She has been the creator of a series of conversations about Art in pubs that was first set up at the Melbourne Arts Centre  back in 2002. 'Conversations in pubs' involves an intimate discussion with a leading creator or motivator of arts and culture in a pub environment. This weekend, you can hear Tim Jones  talking about his creative process over a glass of wine or beer at the Historic George Hotel in Piper Street Kyneton; and there will soon be a series of talks in Bendigo.
Past talks have included Former Prima Ballerina Marilyn Jones; Former Deputy Director of the NGV, Frances Lindsay; the Director of The Australian Tapestry Workshop, Antonia Syme  and Leading Sculptor, Printmaker, Teacher & Local Resident, Tim Jones is coming up on the 19th of October.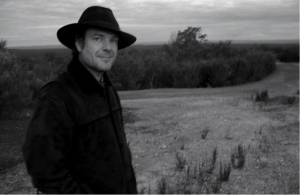 Details:  Conversation with Tim Jones at The Royal George, Kyneton
this Sunday 19 October, 11 am for 11.15 am – 12.30pm
Where: 24 Piper Street, Kyneton
$30 including a glass of wine or coffee
$65 " plus 2-course lunch at The Royal George
Enquiries: 03 5417 5228 0418 389 189
Bookings: www.ticketebo.com.au/conversationsinpubs
WEBSITE FOR OPEN STUDIOS:  www.dmropenstudios.com.au
THREE WEEKENDS THIS NOVEMBER
1-2, 8-9, 15-16 November 2014 | Studios Open 10am-5pm