By Celeste Hawkins
Multi skilled artist Mia Salsjo is currently putting works together in her Collingwood studio based on an exciting cultural art adventure to the unknown, Indonesia. During this time she dowsed away spirits, came to grips with her ideas on consumer culture and immersed herself as much as possible in her surrounds. The six-week project entitled: 'Seniman Perjalanan Landskap', occurred during October and November 2013, and was the result of a grant funded by the Australian Indonesia Institute. Mia and fellow artist Sophia Hewson took part, as well as Art Critic Ashley Crawford and International Arts Project Manager, Steve Eland.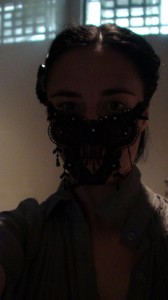 Mask on face – Lombok
What were some of the challenges of being in Indonesia in terms of your art making processes?
I had to find new ways to deal with concepts when taken out of my comfort zone into another country. My thinking processes had to be geared around a different culture and environment. It was also very restrictive in terms of materials and I didn't have the studio environment that I am accustomed to. And an obvious language barrier!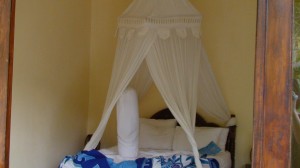 Pillow for fly screen and beach resort room-Lombok
What materials did you end up using?
I hadn't bought any objects or materials to work with, apart from the basics. So firstly, l went out into the tropical landscape of Ubud and started with drawing anything; rocks, leaves, cracks, shapes between plants and trees. I did this as an exercise to try and overcome a blockage, as I was feeling a bit stifled to make art within the realms of another culture and landscape. Through this process l began to relax and realise conceptual ideas that l wanted to develop culturally and artistically. So, in terms of materials l discovered great importance and significance in a long round pillow l was given to sleep with in the first private arts villa we were accommodated at. It was a place owned by a very well known QC from Australia and run by a team of "servants". So this is where l began the first part of my projects puzzle in cultural hierarchy and religious beliefs and so forth. The pillow became my monument and mystic connection, almost like a religious icon. It kind of seemed ridiculous but it made more and more sense once l placed it in context of the sociocultural and monument adorned Balinese landscape. In contrast, I'm coming from a culture that is pretty much faithless. In the West, we have faith in a 'nice cup of coffee'; or if you can afford it, you can have a designer health retreat, where talking to horses is part of the spiritual connecting! The pillow itself is fabricated, cheap and mass produced. That was my offering. I also used it to reinforce an idea of a lack in spirituality.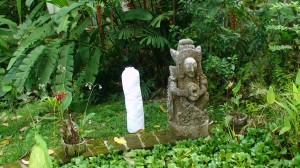 Garden pillow monument with stone deity-Lombok
So, it seems you really felt and embraced this fundamental difference in our cultures?
It is such a contrast to being at home. Over there they make offerings to the gods. Hindu statues, burning incense and people splashing holy water are a constant presence in daily life. I was also constantly questioning my status there. It felt wrong having servants. I tried to clean up but then realised that it was their livelihood and it was 'okay'.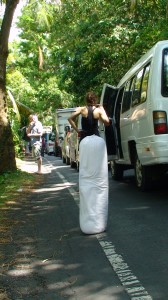 Pillow monument for roadside-Lombok
Mia says she was anxious about creating there, as it was her first professional international art project and away from her normal art environment. Responding to her surrounds, it proposed a big challenge to confront the challenges of putting her work into the context of another culture.
In Lombok, I purchased a large glass vessel in a big shopping mall. I also played around with some self-exploratory ideas, even placing a g-string over my face as a mask! The glass vessel, was documented as performance in the mediums of video and photography.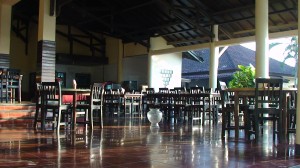 Morning Vessel-Lombok
Mia went and collected seawater and other debris from the 'illegal grounds' where the land was being cleared and people were being driven from their homes. They were making way for five- star resorts. She took the opportunity to utilise this moment to document the experience.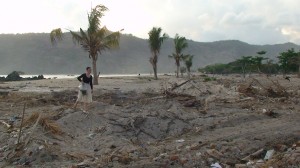 Illegal gounds ritual-Lombok 
Would you say the vessel became a ceremonial tool?
It was essentially a collection unit to hold and ultimately trap make believe forces from which it slowly released energy. It became my belief system. It became a ritual .It had significance in the way it could protect or shield. The idea of it being seen through was that it was something that could be contained, yet still transparent. The ash was from people's homes that had been destroyed by fire. The vessel contained their ashes and this was my offering. These make believe forces contained within the vessel were there to symbolise that these people had no power or choice. It also served to highlight the order of society and those who get left behind.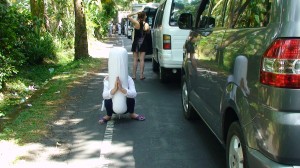 Pillow deity for traffic bank up-Lombok
Mia had the opportunity to observe and participate in the 'Galungan' Festival.The Galungan Festival celebrates the time when the ancestral spirits visit the Earth. The last day of the celebration is 'Kuningan', when they return. The date is calculated according to a 210- day Balinese calendar.When the spirits return of past relatives it is said that the; "current inhabitants have a responsibility to be hospitable through prayers and offerings."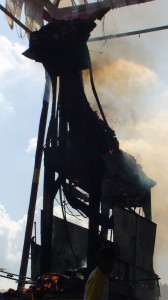 Burning cremation dragon -Ubud
Being amongst this highly spiritual time in Ubud was a beautiful experience alive with decorations and decadent offerings but also a little haunting. I was involved in a very traditional ceremony especially made for Galungan at the residency property l was staying at in Ubud. I was doused in holy water. We had a priest chanting and the ladies were sprinkling rice, holy water and colourful flowers on all of us and over the land. Every prayer was conducted in a full circle so that all the spirits had directed energy at all corners of the property. It was a very moving and intricate ritual to be part of that continued for three hours. I felt a kind of light and fuzzy state come over me. At the same time a very unique and huge event was occurring; the Cremation of the Queen of Ubud. The entire town of Ubud was involved. All the family men carried a gigantic purple velvet and golden necklace adorned Dragon down the main street of Ubud. When they arrived at the cremation grounds, the Queen's dead body was funnelled down an enormous slide leading directly into the belly of the dragon. It was already a surreal experience and then they started to light the dragon into a raging fury of flames! Meanwhile the cyclic energetic 'Gamalan' music was rolling in a rhythmic urgency and progressing in speed to the burning of the dragon and the Queen. It was a hugely rich cultural period of time to be amongst this very significant spiritual event.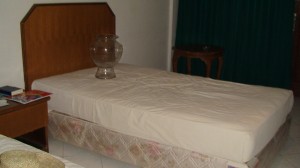 Bed Head -Lombok
This isn't the first time that you have put yourself into a challenging situation for yourself on a spiritual level. Do you feel this to be an important part of your practice?
In 2010 I trekked for 27 days to Mt Everest Base Camp and back on my own. I had a guide and a porter, but they walked 100 meters ahead. I had no computer, no mobile phone, nothing. I daydreamed a lot and spoke to myself. I chanted. And there was always something amazing to look at. One day, there were eagles. And another, I saw one of those flimsy; hanging bridges with a guy on a tiny horse, bolt across the bridge. Huge boulders that looked cartoon like loomed over me. It was all so surreal.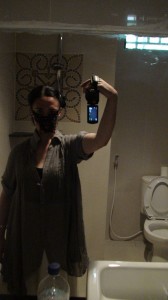 Personal Analysis-Lombok
Mia says that she likes the feeling of being isolated and immersed in another culture to examine the extreme parts of her being and that it helps 'to filter and decipher between the good and the bad'.
And she's off again! Mia is off to Indonesia to create a body of work for her next solo exhibition in December at Mars Gallery in Windsor, Melbourne.
Mia Salsjo is represented by Mars Gallery.