By Celeste Hawkins
What does it mean to be prolific? I think this means different things to different people, but by definition it conjures up these synonyms; "productive, creative, inventive, fertile". The reason I've associated Melbourne based artist and Printmaker Damon Kowarsky with these, is due to his magnitude of creative output and shows, residencies and other projects. He is widely travelled too. Having recently spent time as an artist in residence at the Alfred and Trafford Klots International Program for Artists in Lehon Brittany; Damon has literally opened up sections of his visual diary for us to peruse. Enjoy.
Website- www.damon.tk
Instagram- @damonkowarsky
Damon will be exhibiting prints inspired by travels in India and Oman at Joshua McClelland Print Room, 310 Rathdowne Street Carlton North, from 21 September to 19 October 2016.
By Damon Kowarsky
For the last three weeks I have taken part in an artist in residence in Léhon, a small town in Brittany in the west of France. The residency program is coordinated by the Maryland Institute College of Art and made possible through the support of the Alfred and Trafford Klots Foundation. Each year six to eight artists from around the world are invited to spend two months working in a spectacular historic town.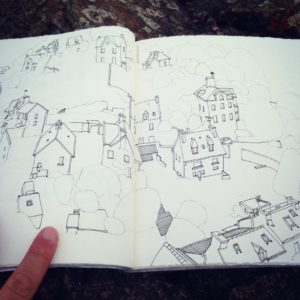 Léhon is quite a place. In the centre of town are the ruins of a Roman fort, and the studios are within the grounds of a 12th Century abbey with open cloisters and gardens. At this time of year, with daylight stretching from six in the morning until ten at night, the surrounding countryside is unbelievable lush. Just across the river the hills rise from the valley in a sheer wall of vegetation.
Travel has long been an essential part of my practice. While Australia is home I get most of my ideas overseas. Part of this is about availability. Architecture and the built environment are some of my main subjects. Buildings are not portable. If you want to draw the streets of Paris you have to go there. Of course being in Paris is no bad thing, and the chance to spend time exploring and drawing its parks, streets, cemeteries, public squares, lanes, and museums is a great pleasure.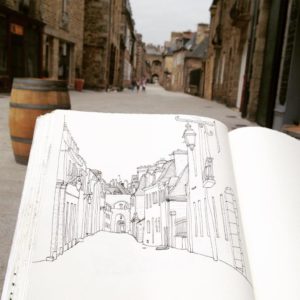 The other thing with travel is it constantly exposes you to new ideas. You walk around with your eyes wide open, looking, absorbing, thinking about the relation between things. Even the waiting can be useful. A few years ago I was in Bangkok. Each afternoon the relentless heat and humidity of the city became overwhelming and I would seek shelter in a small park near the Grand Palace. The garden beds were full of orchids in bloom. Slowly, I began to draw the flowers. These drawings got me thinking about the ways the nature interleaves with the man made world, and opened up a whole new area of investigation in my work. The drawings I am making in Léhon, where architecture nestles among trees and plants, have grown directly out of these experiences in a Bangkok garden.
I am a printmaker and make etchings from copper plates. Etching is an old technique. It was developed over 500 years ago in Northern Europe and grew, strangely enough, out of the armoury trade and the realisation the intricate patterns craftsmen carved into shields and weapons could be printed onto paper. Albrecht Dürer was one of the first artists to make etchings. He remains one of the mediums finest practioners and a personal inspiration.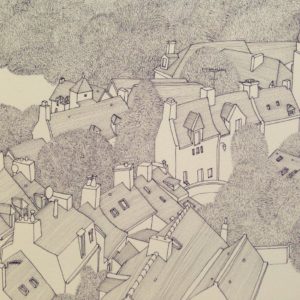 I like etching because it is a good mix of technical craft, creativity, and practicality. Works on paper are very portable. My most recent show in Paris weighed less than six kilograms and travelled with me on the plane. This is somewhat harder to do with bronze sculpture!
There is a lot of technique involved in making an etching but it has always been my aim to make this invisible. As with learning a musical instrument there is much to learn, and lots of practice and mistakes. Ultimately I believe the image comes first, and the technique is a way to support it, and hopefully bring joy to the audience. Nobody cares how fast the violinist's fingers are moving unless the tune is beautiful and the feeling is there. The same is true in the works of the artists I like most, people like David Hockney, Goya, Picasso and Escher.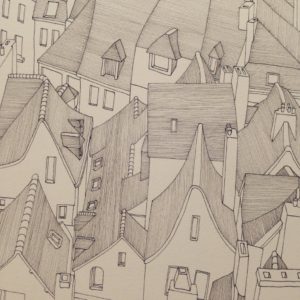 At the moment I am drawing every day, soaking up the environment around me. Some of these drawings will be exhibited with the eight other Léhon artists in mid July. Many more will travel back to Australia to inspire my next series of prints. In this way all the things I have seen will find a place somewhere, bringing small pieces of the world home to share with family, the public, and friends.