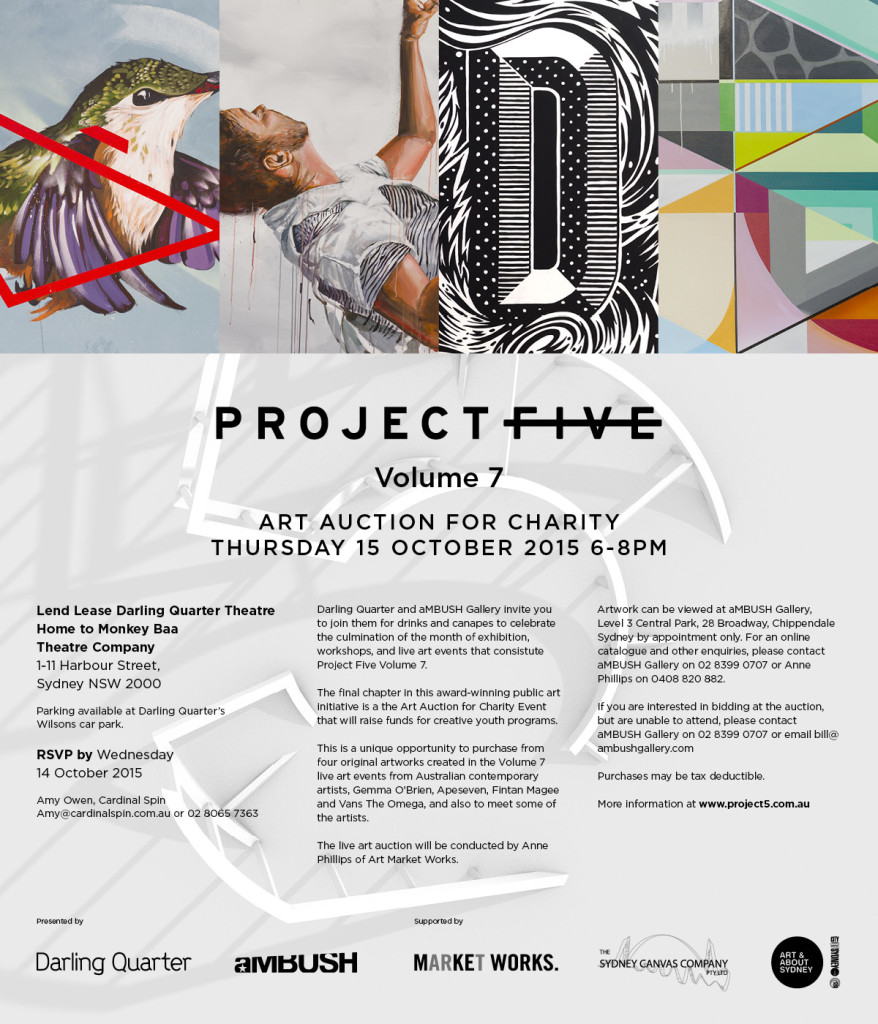 A WORLD OF MAGIC AND MYSTERY
THE 2015 ROCKS VILLAGE BIZARRE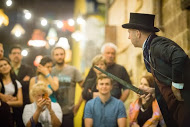 The Rocks Village Bizarre pulls back the curtain on 2015's tantalising program set to transform the historic precinct into a vaudevillian world of mystery, magic, music, and markets each Friday evening from 13 November to 18 December.
Presented by Sydney Harbour Foreshore Authority (SHFA), The Rocks Village Bizarre invites you to 're-experience' The Rocks Precinct for a truly mind bending six weeks of immersive performances, culinary delights, two-storey high floating installations, and chance encounters with captivating characters around every corner.
Transforming The Rocks Square into a world of entertainment is Vaudevillia presented by Slide. Held at an outdoor lounge bar, this modern reinvention of the variety show has a plethora of talented performances including a three-piece band, crazy circus performances and physical comedy. The Rocks Brewing Company will also be supplying craft beers, ciders and cocktails at the outdoor Lounge Bar so people stay refreshed throughout the night.
A range of site specific installations around The Rocks is bound to surprise and inspire visitors. Airborne sees four puppeteers in spotless pressurised suits bringing a giant inflatable creature to life. Watch as a two storey tall giant floats above the street, dances in the harbor breeze and meanders gracefully through the laneways.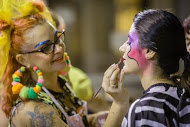 The Rocks Village Bizarre will host a playground of art, installations and creative collaborations. Beware of the Sepia Jezebels lurking in the shadows of the cobblestone streets with their wiley ways and tricky devices. Representing the next generation of designers, UTS design students will showcase their most cutting edge projects, from installations to interactive objects in UTS Plastination.
Fashion forward visitors could become a subject in The Bizarre if their unique look catches the eye of talented painters and artists from Australia's oldest art school,Julian Ashton Art School.
Two seemingly old fashioned lamp posts will enlighten visitors with their playful opinions on everything from fashion, relationships and children in The Talking Lamposts. Professor Mac the Snake Oil Merchant will also be using his gift of the gab to convince his 'patients' that he has all the solutions to their medical woes.
The Village Bizarre Night Markets will tempt shoppers with a huge selection of treasures including quirky and original Christmas gifts.
Taste buds will be buzzing as foodies meander through aromatic alleys of sizzling stalls, and the many intimate dining spots of The Rocks will ensure that there are plenty of toothsome morsels to choose from.
Window-shopping takes a theatrical turn when selected shopfronts become stages for a dynamic range of local and international performers including dance artists Cloé Fournier, Henrietta Baird, and Melanie Palomares and theatre artists Miss Ladyko and Jackson Davies in Through The Windows.
Find out what's behind the picture frame at Bohemia – is it a boudoir, a music box, or a harem room? A trip to Cabaret Sasquatch will see visitors in a dream-like landscape where a troupe of provocateurs will be bringing art forms of a bygone era to life and playing junkyard instruments.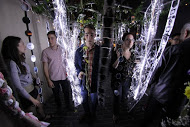 For those wanting to shake their weekday stresses off, No Lights No Lycra is a dance party held in complete darkness with no light, no lycra, no teacher, no steps to learn, just free movement.
Glamourous makeovers are on offer at Glitta Supernova's Parlour Bizarre, and costumes can be found at Kamikaze Couture. Visitors wanting a total transformation can take on a whole new personality at Take A Shot.
Creative minds can meet at The Rocks Pop Up and take a trip back to the future. Meet vanished hero Sir Charles Kingsford Smith in We Are the Ghosts of the Futureby 7-On, or learn the ancient art of Shoulder Dancing with experts passing down the best moves in a playful workshop.
Every laneway of The Rocks will unveil a new performance, a new adventure and a new experience. A myriad of mysteries in the Vaudevillian world at The Rocks Village Bizarre await every Friday night from 13 November to 18 December.
WHAT: The Rocks Village Bizarre
WHERE: The Rocks
WHEN: Friday nights from 13 November until 18 December. 6:30pm – 10pm
PRICE: Free
INFO: therocks.com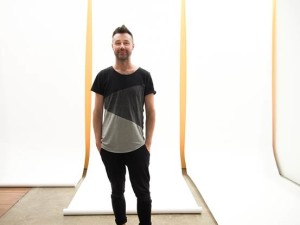 Artist, composer and broadcaster Julian Day is awarded the 2015 Fauvette Loureiro Memorial Artists Travel Scholarship from Sydney College of the Arts.  The $28,000 art prize was announced at the University of Sydney's contemporary art school during the opening of the Fauvette Loureiro Finalists Exhibition at SCA Galleries last night.
Julian Day was among five artists shortlisted for one of Australia's biggest contemporary art prizes of the year. A radio presenter on ABC Classic FM, Day recently completed a Master of Fine Art degree at SCA in 2013. In a short period of time, Day has gone on to participate in several solo and group exhibitions in Australia including at the Queensland Art Gallery of Modern Art, as well as projects internationally at the Prague Quadrennial, Bang On A Can Marathon in New York, and the National Portrait Gallery in London.
The judging panel given the challenging task of selecting this year's winner included Art Gallery of NSW curator Nicholas Chambers and four SCA lecturers: Dr John Di Stefano, Dr Karin Findeis, Justin Trendall and Andrew Lavery. The panel unanimously agreed that Julian Day's sound-based artwork represented a particularly compelling body of artwork.
Judge and Selection Committee Chair, Associate Professor John Di Stefano said: "Julian has a unique way of making sound visible. He has successful brought together three sound works in the SCA gallery space, synthesizing them into an elegant installation that makes us experience sound in a different way. Consequently, his work makes us also think about sound differently, as something more tangible."
Julian Day commented: "I am absolutely thrilled. Originally my heart sank when I saw the four other artists I was up against in this exhibition as their work is incredible. Whilst I have enjoyed some success in Australia, I will seize the opportunity to use this award to spend some time in three key contemporary art cities – New York, London and Berlin – to expand my practice."
The artist cites the influence of music in his artwork, which explores how sound can reveal social, territorial and atmospheric relationships. His works typically use homogeneous sound to capture and instigate turbulence within different spaces and environments such as railway sheds, market places, laneways, parks and galleries.
In the SCA exhibition Day's three works White Noise (2015), Antechamber (2015) and Studies in Unison (2014-2015) are simple yet evocative, encompassing installation, video, sound and performance.
Associate Professor John Di Stefano concluded: "We felt that this is a particularly opportune moment in Julian's career trajectory. In keeping with spirit of this award, we felt Julian would benefit significantly given the opportunity to develop his work and ideas further overseas at this time.
"The quality of the artworks by all five shortlisted artists and alumni of SCA is of an extremely high caliber. The artworks are creatively ambitious in both concept and in execution, and exemplify the diversity of critical approaches to contemporary art practice that SCA fosters," he said.
The contemporary work of Julian Day and four other shortlisted artists Bonita Bub, Lucas Davidson, Nick Dorey and Clare Milledge are on display in the 2015 Fauvette Loureiro Finalists exhibition at SCA Galleries until 31 October.
Event Details:
What: 2015 Fauvette Loureiro Finalists Exhibition
When: 8-31 October 2015
Where: SCA Galleries, Sydney College of the Arts, Kirkbride Way, Callan Park, Lilyfield.
Hours: 11am-5pm (Mon-Fri), 11am-4pm (Sat). Closed Sunday.
Website: http://sydney.edu.au/sca/alumni/fauvette-loureiro.shtml
Media enquiries: Mandy Campbell, 0481 012 742 or mandy.campbell@sydney.edu.au
About the scholarship
Set up in 2003, the scholarship celebrates the bequest of the late Renee Erdos, a graduate of The University of Sydney, who founded the History Teachers' Association of NSW. The scholarship was established in memory of her mother Fauvette Loureiro, the eldest daughter of Portuguese painter Arthur Loureiro (1853-1932) who came to Australia in 1885 and established an association with the Heidelberg School in Melbourne.
The annual award supports an SCA graduate to continue the development of their practice through international travel. Drawing from a wealth of talent from recent SCA graduates, the Fauvette Loureiro prize and exhibition has cemented a reputation for showcasing outstanding contemporary art.