By Celeste Hawkins
In the career of a painter, or any artist for that matter, there can be various interruptions that disrupt the flow of creation. Such a time is when one attends art school. Some artists' even report loosing their own personal direction as their scope becomes narrowed. Various exercises must be completed and mediums tested. Often times, themes are explored that one may not feel drawn too; but are too busy or pushed for time that the self gets lost in the process. Fortunately, this is not a time for Melbourne Artist Gina Kalabishis to be in a stage of flux. Recently she has just become the recipient of the 2014 Rick Amor Drawing Prize and prior, the Inaugural Aikenhead Centre for Medical Discovery Art Prize 2013. Currently, she is a finalist in the Adelaide Perry drawing prize. It is all flowing positively in her direction. Gina and I discuss many things sitting in her backyard studio. Her high roofed studio is stacked vertically with all sorts of bones and books-many on artists, flower arranging and cats! We laugh about the cat artworks as being a personal favourite, but not necessarily revered in the art world.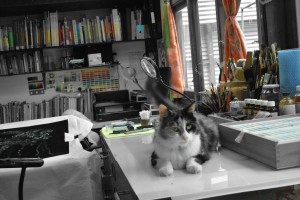 Gina's cat posing in her studio
So what's a typical working day for Gina?
 On a painting day, it varies dramatically depending on which point in time in the cycle of the creative process. Initially, all the paintings or drawings development have to be researched and pictorial elements need to be compositionally developed to a strict regime of acceptance in my eyes. This involves a series of preliminary sketches and notes and Photoshop manipulated images-integrated with digital painting. Once the preliminary expressive underdrawings on the linen have been resolved, then I am satisfied and can undertake the main painting execution. Most days, I'll get up anywhere between 4:30 and 5:30 am. I almost always boil the kettle and boil it and re- boil it throughout the day. Eventually I have a very well diluted cup of green tea! I spend quite a bit of time preparing my palette with specific mixing formulas. It is a bit hard though first thing as its dark, so I have installed a few sets of extra lights to help see the variables in the tints of colours that will be applied for the day. Apart from what I may hear softly on the radio, it's preferably a silent working time. I work through until I have to take my boys to school. Then it's back to the studio, which involves lots of working through meticulous controlled application of painting layers, blending and glazing.
How much of your work is from life and how much from other sources?
 Throughout the day I'll gather native flora from my own garden and I often take trips down to Merri Creek behind my backyard.  I then take photos of my arrangements to keep a record. I also rely on my Ikebana and flower arranging books, Art books and Internet images sourced from various universities and organizations around the world that document Anatomy and Ikebana. But nothing compares to drawing from life, there is of course the alive presence of the foliage and flowers (mostly native) their vivid and direct freshness of colour, the gestural forms and shortness of there life to be able to touch and smell. Photographs just don't seem to give me all the necessary information for me they have died leaving me with the exoskeleton!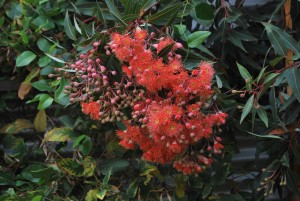 Flowers from Gina's Garden 
Do you struggle with balancing family life and your work?
 I'm in the studio three to five days a week depending on the flow of work. I don't paint at night, yet I'm always thinking about the work. I have a very supportive partner and two sons that have grown up knowing I am in the studio if they need me.  After a slower period of art production to support my family, in 2010 I made a commitment to place more time and focus on the art practice, my family have been wonderful and assist with the balancing act.   My struggles are mainly concerned with getting the balance right with my technique. Sometimes it has to do with obsessing over getting the right mix of green!
We talk about the artist feeling as though they are never good enough. How does Gina battle through these moments?
 Sometimes I hit a hurdle with the work and its right back in the studio the next day and day after to nut it out. At that stage, its just focusing on each step from moment to moment. I think as artists, there is this deep underlying feeling and struggle that we are never good enough, that the work is never resolved. This feeling forces you to keep working! On the upside though, years and years of painting has instilled a certain level of confidence with the strokes in that I'm not as timid. You eventually get to a point where there is a revelation. Also, drawing is my foundation and structure to all the artworks- the underdrawing is the bones of the painting. It allows me to create a line and its just there- alive, responsive and engaged to be explored and pushed with multitude of directions and pressures. It has the freedom to change and evolve lightly without the emotional heaviness that can come with the painting process as the second stage.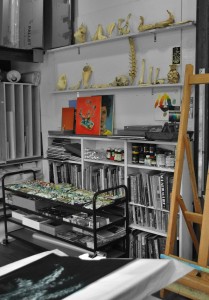 Gina's studio
Why are you drawn to the bones?
 Twenty years ago, my mother passed away from breast cancer at the Caritas Christi Hospice in Kew  (part of the St Vincent's Hospital palliative care unit) where I will be commencing an artist residency in May. The cancer eventually spread to her bones and they were slowly eaten away by cancer. They had her suspended in a hammock, as her bones were too delicate and the pain too excruciating for her to be flat on the bed. This had a deep and profound effect on my work. I have seen many dying relatives and dead bodies of my family members over the years. In Greek orthodox funerals the coffin is mostly an open coffin. Through these examples, I have seen there is a reality to death. The more you paint about it, the more you are preparing and understanding your own self for it.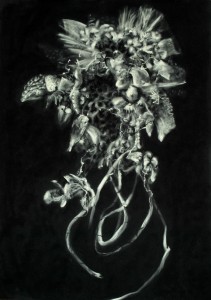 Untitled' by Gina Kalabishis, pastel on velour paper, 50 x70cm
Have you found your artwork to be healing?
 Yes, there is definitely that emotional quality to the work. Especially during my residences-it's a journey that I take. It is a therapy of sorts, in that all the anger and anguish and built up emotions of the work can be released through the work.
Gina has also been drawing at the Harry Brookes Allen Museum of Anatomy and Physiology at Melbourne University in 2013 and has mentored the medical students when she was invited to be the judge of the inaugural Anatomy Student Art Competition in 2013 at Melbourne University.
I'd like to see more of a merge and collaboration between the arts and sciences. It can be perceived as crazy farfetched idea, but the act of drawing anatomy and specimens either by direct observation or in an imaginary application may somehow assist or trigger discoveries for the medical profession in finding cures for many diseases in the world.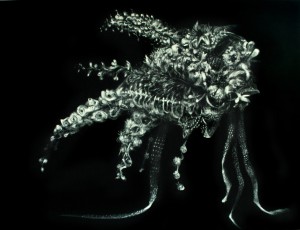 'Honeysuckle' by Gina Kalabishis, pastel on velour paper, 50x70cm
What are plans for the future as far as subject matter in your work?
 I have been looking at the idea for a while now of introducing food into my work. I like the idea of food for feeding the soul and life within the body. There is also that conundrum of the complexities of the emotional attachment to food and also its harm it can do the human body. I also want to explore the idea of the Hunter/ forager/gatherer. When I was a child as part of a large extended family of grandparents, uncles, aunties and cousins, we would travel to various rural locations around Australia to catch feral rabbits, forage for mushrooms, seal snails, urchins, blue swimmer and sand crabs, sea snails, octopus and even wild spinach off the side of the road.
Are you continuing your interest in the bones and flowers?
 I'm going to Japan in September to pursue my interests in Ikebana (Japanese flower arranging) specifically the Sogestu school and styles like Nageire, Moribana and Rikka. These will inform my further investigations in the 'naturalistic' objective approach and the  'free style' or "expressionistic' subjective approach.  And I expect that that trip should also open up other interests. I will also continue my ever-evolving garden planting of native/indigenous Australian flora for inclusion into my work. There will be further exploration of the human anatomy, its diseases and the emotive embodiment of the spirit and soul. My residency at Caritas Christi will be my next exciting phase in the work- through the direct observations within the hospice community, this will definitely feed my fascination of man's mortality.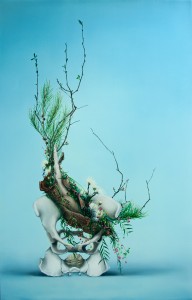 'Greta' by Gina Kalabishis,oil on linen, 166x106cm
Gina Kalabishis is represented by Flinders Lane Galllery, Melbourne.