You may recall the work of Julie Shiels here. A public artist and lecturer, Shiels has been prominent in her ongoing role of documenting abandoned inner city suburban objects. She has preserved moments in time without any alterations, expect for the addition of text.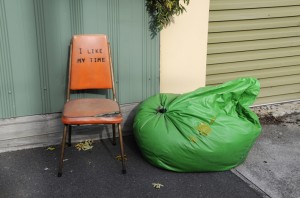 Julie Shiels works primarily in sculpture and photography and combines text, hard rubbish and discards to create temporary interventions and gallery based installations. Her practice is grounded in working with whatever comes to hand and exploiting chance encounters with her found materials (objects or resources). Shiels' transformation of these materials explore ideas of abandonment, redemption, banality and impermanence against a backdrop of global mass production and consumption.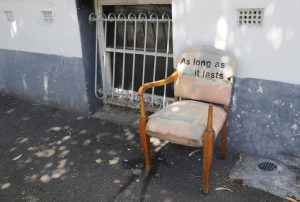 Read more below:
A new book, 'As Long As It Lasts', is a collection of photographs that record Julie Sheils' ephemeral text interventions on urban waste but have become a body of work in their own right. For the last nine years Shiels has transformed hundreds of abandoned objects on local streets with stencils of quotations and truisms sourced from the public domain.
Over the years, the focus of the project has repeatedly changed. In the early days the work was about gentrification and the tensions that occur as inner city suburbs become both more desirable and simultaneously homogeneous. As the work has evolved it has become less about the social and more concerned with impermanence and the passing of time.
Chance is a consistent player in this project and is reflected in the photographs. While these images sit uncomfortably within the tradition of the choreographed photograph, Shiels exploits this tension. She does not move furniture to get a better location or photo and she always shoots the image immediately after the stencil has been completed. Consequently these photographs consistently reproduce the prevailing light and weather conditions – factors beyond her control. The images, like the texts stencilled on the objects, reflect the banality and uncertainty of everyday life.
Heide Museum of Modern Art Director Jason Smith will launch
As Long As It Lasts: Launch of Julie Shiels ' exhibition and book at
6.00 for 6.30pm, Wednesday 23 April: The Gallery, St Kilda Town Hall