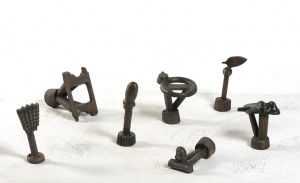 By Celeste Hawkins
Julie Shiels, a lecturer at RMIT, current PHD student and artist, enjoys the challenge of creating work for different environments, in galleries and public spaces. The themes remain constant throughout her work and are concerned with the idea of objects obsolescence and consumer culture. Work outside the gallery has its attractions, as she explains:"Having the work in a public space brings context to the work, so that there is an affinity between the content and its environs." Equally though, she also likes the 'architectural challenges' that exhibiting in a gallery brings. An example of an almost hybrid gallery/public space that got me in contact with Julie in the first place was her striking work in a glass Vitrine of small bronze sculptures at 'Platform'public gallery, Campbell Arcade.
Discarded plastic packaging was employed by Julie as moulds for these varied bronze objects. Her comment appears on the glass: "Their origins are obscured and abstracted, just as we are distanced from the industrial processes used to produce the original goods". They have a relic like presence and present well as forgotten fragments of the industrialised manufacturing process. "Familiar yet unrecognizable", as Julie describes. I ask her about her use of the plastic packaging and the challenges involved: "Part of the process of making a bronze sculpture is making a model with a coffee cup on the end so that the bronze can be poured into the mould. Usually this armature is cut off but in this case, I kept the rods and the cups so they became a structure for the work to sit on." Julie explained that the whole process had solidified these redundant spaces.The result is a visual reference for the transformation of spaces, making the invisible visible." By showcasing these normally empty spaces, Julie is drawing our awareness to the forgotten residues of consumption."
The Platform space itself was originally display cabinets for Advertising for passing commuters and for the last 20 years it has been a popular public art space. The art deco style glass Vitrine is situated centrally, opposite a small coffee place, and immediately on the other side a hairdresser. Other shops include: a 'zine' shop, record shop, clothes and computer repair shop. Above the underpass is the popular Flinders Street train station and Degraves street. This area attracts all sorts of artists, fashionistas, students mostly youthful, all looking for a slice of inner city action. Occasionally buskers or homeless people occupy the site. Julie refers to her philosophical approach to her work by referencing the studies of Walter Benjamin and his look into the 'refuse and ruins' in the Paris Arcades after they had fallen into disrepair in the aftermath of what was the first modern consumer experience in the mid 19th century. Melbourne's Campbell Arcade as it was originally known, is a very fitting space for artists who want to make such statements about consumer culture.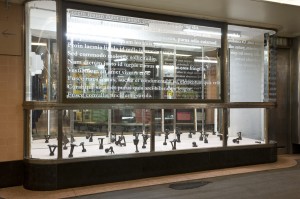 Other current work of Julie's centres on old television sets. Her new blog: contestedspace1.blogspot, documents this process where she brings together texts from abandoned websites and mergers them with discarded televisions. "It brings life to discarded screen based type technologies: redundant content in cyberspace and old analogue TV's that have been dumped in the street."
As a lecturer, she reflects on current students of the last few years and finds that they are more sophisticated in their approach to practice, than students past. "Students these days are more visually literate and they are more able to describe the theoretical component to their artwork. They seem to be interested in exploring new and complex ideas and aren't afraid of research". Her advice for aspiring artists is to 'get out in the street and practice' and practice in a way that is unauthorised, where funding, exhibition space or permission is not needed. "Having the freedom to take your work to the public keeps you sane in a very competitive art world", says Julie.
Find out more about Julies work, past and present here: