By Celeste Hawkins
One of the topics that is hot right now and will continue to be is art and social change. This weekends forum "2970 º The Boiling Point" on the Gold Coast, which will see a combination of local and international innovative creatives come together,promises to be an event for futurists,artists, activists,cultural workers, academics and those interested in social change. And with the impressive line up, this is undoubtedly the case. Stelarc, Alex Kelly, Liam Young, Dr Daniel Glaser and Alex Monteith will take centre stage. What else is so great to hear is that the Gold Coast Mayor-Tom Tate is very supportive of the arts, so it will be interesting to see how this support helps to develop the art scene there into the future.
Ahead of the big event, I have spoken to Curator David Pledger and Australian filmmaker and activist, Alex Kelly. 
Firstly, I asked David how he orchestrated the forum, especially in regards to choosing the particular speakers that he has:
"I think of the speakers as a constellation of five points in a galaxy of knowledge and imagination. I wanted a certain chemistry of positions, points of view and different qualities of brightness. They are all very distinctive in their use of language and their way of thinking and approaching ideas. But their starting point is the same – they are human beings interested in and grappling with the things that occupy the time, space and thinking of all human beings."
So why hold the forum on the Gold Coast?
"The Gold Coast does not have the constraints of other Australian cities. It's operating at a high rate of evolution in terms of its identity, which is always driven by cultural imperatives; how we behave and what we do and how we do it defines who we are. Other Australian cities have this worked out and their job is mostly about maintenance. The Gold Coast, on the other hand, is less defined. The stereotypes that used to be attached to it don't fly anymore so artistic and cultural production are crucial to the process of creating a new identity. It's this space of play, of aesthetic experience, of a sense of wonder that will determine what the Gold Coast becomes."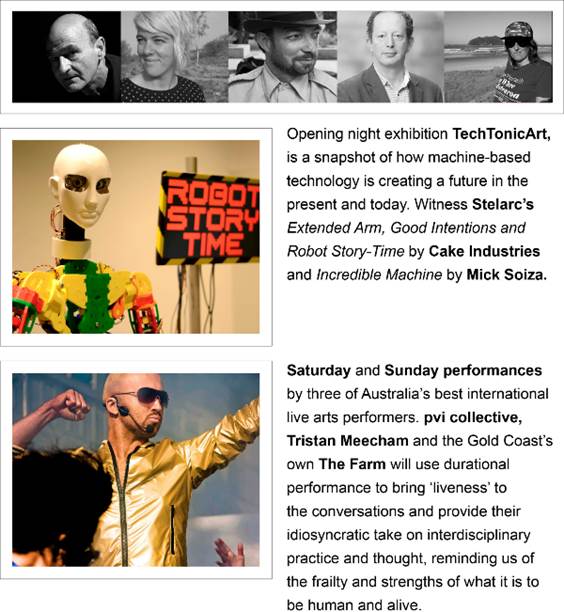 Alex Kelly grew up with a strong sense of justice. "My mum works in the union movement and my father came form a poor working class background, so I guess that had a strong impact on the way I view things". At the age of 19, she went to the Jabiluka Blockade in the Northern Territory. These were very formative times in terms of setting her career path with a trajectory for social justice. "I watched the court case when Yvonne Margarula was charged for trespass on her own country. I was in the courtroom. But what I read in the mainstream media was not that of my own experience at the blockade. I was reading the press but not seeing the actual story as it occurred – I didn't see a reflection of my own experience until I saw the film 'Fight For Country' by Pip Starr."
For a number of years, Alex had the opportunity to work with Pip Starr who made the independent documentary about the Jabiluka campaign. Pip has since passed away, " Watching Pip's film I realized that you don't have to rely on the mainstream media. For me, working with Pip and the rest of the team at SKATV's Access News was my big epiphany, I could see art, film and social justice all combining and saw the power of telling your own story – and working with other communities to support them to tell their stories."
It wasn't long after this that Alex was involved with setting up Melbourne Indymedia, an independent grass open publishing website. Since then, this Filmmaker, artist and activist has worked on community and environmental programs, in Australia and around the world, with a strong focus on social change.
One of Alex's major works over 6 years was the Big hART Ngapartji Ngapartji project based in Alice Springs and working across Pitjantjatjara communities in Central Australia. Alex is heartened by the uplifting determination of the indigenous community despite all the difficulties they endure. "Despite the severe impacts on indigenous people they show an incredible cultural resilience. Amazing Indigenous artists and filmmakers are leading the way-bridging culture and-film and comedy over the last few years- I believe that it has shifted the Australian consciousness".
Alex's film Queen of the Desert – featuring beautifully shot footage by cinematographer Anna Cadden – captures the level of strength in these communities and focuses on the empowerment of cultural stories and leadership-despite levels of structural racism and systemic marginalisation. "I am constantly inspired", she says. Her short film-Queen of the desert about transgender hairdresser Starlady really captures a level of spirit and creativity in the Areyonga (Utju) community in NT.
"There is such a vibrant youth culture in the desert with the hairstyles, music, culture and fashion, there is a really amazing a blend there –I really wanted to show that in the film. With the NT intervention, remote indigenous Australia is often framed as dysfunctional. Yes, there are social issues but also amazing beautiful vibrant spirited people."
Alex's current job that she has been working on for the past 18 months is that of impact producer with world-renowned writer and activist Naomi Klein. The book entitled This Changes Everything  is her third major book, which also has a companion documentary directed by Avi Lewis. "Our philosophy is that books and films don't change the world, social movements do." Alex says that people tend to get 'stuck in silos', in that they may just focus all their detail on one issue, but that its important to bring a stronger coalition of people and social movements together.
"Basically it seems we are being given two choices when it comes to responding to climate change; "Its too late it's stuffed" or, "we just need to look after the status quo look and after economic growth and everything will be fine". Neither of these choices are good." I asked Alex how she plans on delivering this message to as many people as possible. "What we are doing is building a sophisticated hybrid distribution strategy that has a mainstream release alongside a grass roots distribution strategy." Alex says she also wants to see movements working together and not just 'getting the choir signing', but get the choir signing more loudly and in harmony – more connected to each other." One of the key things she said was that we know the environmental challenges are happening, its up to creative and collaborative communities to rise up to the challenge of bringing about change. " It can be a beautiful thing, any time there has been sickness or a flood-the community rallies together to respond to a crisis, we need to tap into that resilience and sense of caring for each other in responding to climate change"
Learning from other speakers at the forum is one of the main things Alex is looking forward to as well.
"Art and culture have significant role in our future. I believe we are facing one of the biggest crises humanity has ever known and the inspiration for the many changes we need to make in terms of how we respond to this moment is going to come from the artists. Now we need the work of the imagination."
26 – 28 June 2015
Art gets hot with science, politics, sport, technology and architecture
2970° is three days of simmering thought and action. Fuelled by invention, imagination and ideas, we will interrogate the space where art, science, technology, architecture, politics and sport meet.
Program Highlights:
Take your thinking into the future with Stelarc, Alex Kelly, Liam Young, Dr Daniel Glaser and Alex Monteith who will take centre stage. Together we will forge ideas, collaborate and determine a new way of looking at the world. The future is here.