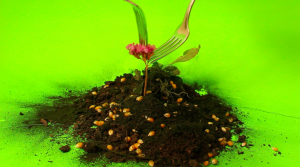 As part of her Garden City art residency at Testing Grounds, Melissa Deerson is holding a Garden Encouragement event on Saturday April 12. Testing Grounds is a plot of land in the middle of the city that has been abandoned for a long time and is only just beginning to get some love. Come down, channel your inner druid/biodynamician/corn god convert and create and bury your own magical talismans to nourish the gardens and the grounds.
Participants will be using materials from the Testing Grounds garden, as well more up-to-date charms sweeping the health-loving world – bee pollen, coconuts, seaweed, sugar-free mints and multivitamins, to name a few. Think biodynamics' cow horns full of manure, but updated for a modern lifestyle.

Arrive between 12pm and 5pm, grab a drink at the bar and crank up your mystical powers till 11.
Testing Grounds – 1-23 City Road, Southbank.
ABOUT THE GARDEN CITY RESIDENCY:
Melissa Deerson is continuing her exploration of Melbourne's unloved and out-of-the-way spaces. Fresh from her analysis of the flora and fauna of the barren Docklands precinct, she has turned her attention to Testing Grounds, a bare patch of earth being revitalised in the heart of the city. For three weeks, Melissa will use the land as a base to reflect on the role plants and gardens play in urban areas.
In addition to her Garden Encouragement event, she will undertake a number of other activities on site:
On Tuesday April 15, Melissa will camp out overnight in Testing Grounds. Recording wind direction, weather and visible stars, collecting and eating edible plants, noting flora and fauna on-site, making sketches and maps and conducting sound recordings, she will conduct what she calls a 'stationary expedition' in a homage to plant collectors and explorers of the past and today.
The week of the 21st – 27th of April will see Testing Grounds lit up each night with a series of Deerson's tongue-in-cheek 'how to' gardening videos. Sit amongst the fruit trees and nasturtiums and watch projections of ad-hoc tools, weeds and improbable flowers dancing in a lurid green world. 7-9pm, Monday to Sunday.
The residency concludes with a closing event on Sunday April 27. Come down for a drink and see the fruits of Melissa's work during the period in a one-off exhibition. 6-9pm.
Melissa will be in the Testing Grounds studio from 12-5 Friday to Tuesday, 7-27 of April. Visits, cuttings and gardening tips welcome. 
Melissa will maintain a blog during the period detailing her research and the progress of her work –www.gardeninthewilderness.tumblr.com